An Evening With Sandi Patty & The 100 Voices Choir

Location: The Oak Ridge Boys Theatre ,

Description
An Evening With Sandi Patty & The 100 Voices Choir Photos (3)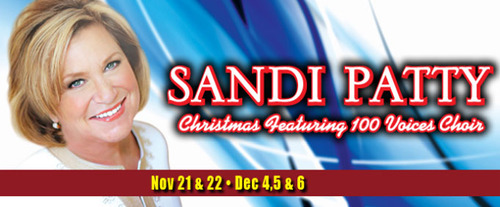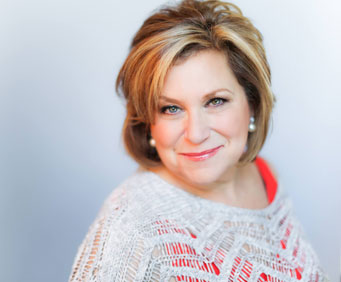 As one of the most highly acclaimed performers of our time, Sandi Patty will put on an outstanding performance for this holiday show with the 100 Voices Choir!
As the most awarded female vocalist in contemporary Christian Music History, Sandi Patty has won 40 Dove Awards, five Grammy Awards, and four Billboard Music Awards, and she has released over 30 albums, including three platinum records and five gold records with eleven million units sold. She was inducted into the Gospel Music Hall of Fame in 2004. To her fans, she is simply known as "The Voice," as she is known for her versatile vocal abilities. She will wow you with her powerful, flexible voice and her ability to effortlessly climb to a high C. Drawing from a variety of places, Sandi combines the traditional gospel music in which her career is heavily rooted with pop ballads and modernized gospel standards.
Sandi began her career in 1979 when she signed to an independent record label, and only a few years later, she won her first two Dove Awards. It was not until 1986 that she gained national recognition with her rendition of "The Star-Spangled Banner" during the rededication of the Statue of Liberty. Overnight, she became one of the country's best-loved performers, and her version of the National Anthem has been synonymous with patriotic celebration.
While her music is greatly influenced by the gospel music industry, Sandi has had the opportunity in more recent years to extend her career outside the genre, and she continues to perform with symphonies across the country. She holds music very dear, as she considers singing as her way to tell her story of hope, life, and love.
Reviews
3.8 | 5 reviews
Richard Vliet
Woodstock, GA
✓
Verified Traveler
"Very good show."
Very good show.
Beverly Savarese
Pensacola, FL
✓
Verified Traveler
"What a voice "
What a voice
Cary Eaves
Plainview, TX
✓
Verified Traveler
My wife and i enjoyed the concert. It was a wonderful evening of quality music. Great presentation and a surprise at the end with dino and sandi playing and singing together.