Branson Landing Cruises on Lake Queen

Location: Branson Landing,

Description
Branson Landing Cruises on Lake Queen Photos (8)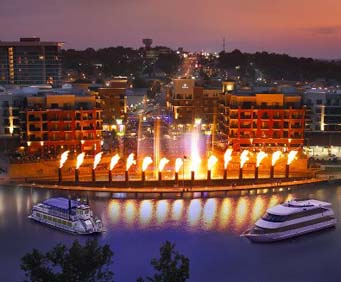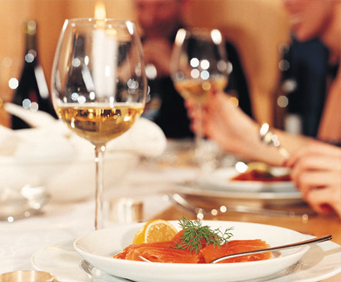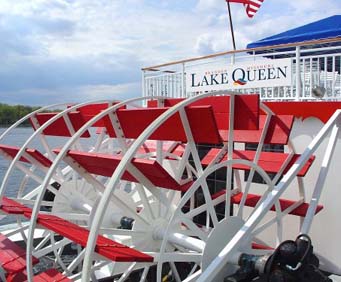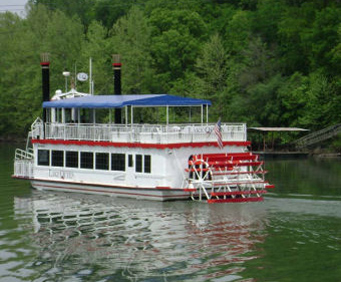 Paddling across the beautiful landscape of Lake Taneycomo is a whole new adventure when experienced from the deck of this luxurious riverboat, Branson Landing's Lake Queen. With options including sightseeing, lunch, and pizza cruises, passengers have the opportunity to see historical sites of the Ozarks while enjoying a meal and listening to a guide tell accounts of the Baldknobbers, Taneycomo Bridge, and even Branson's first roller skating rink.
This is an afternoon or evening activity that the whole family will love as guides provide a fun, interactive tour and history of the city's beginnings and growth over time. The dialogue of the guides is only enhanced by the elegant presence of the Lake Queen riverboat. Lots of wildlife can also be discovered in the scenery of this 2,000-acre landing including species such as the American Bald Eagle, Night Heron, coyotes, minks, and many more. One of the famous stops on this cruise is at the Branson Landing Fountain, an astounding water performance boasting a $7.5 million production including synchronized water, neon lights, music, and pyrotechnics. Read descriptions below to find out about the different tours available. Each are great for any family getaway.
Ozark Sightseeing Cruise
Experience the sights, landscape, and wildlife of the Ozarks with this Lake Queen cruise. You will also enjoy the Branson Landing Fountain Show for a thrilling cruise experience that focuses solely on sightseeing. The cruise features narration of the sights and snacks are available for purchase aboard the paddle boat.
Cruise lasts approximately 1.5 hours.
Sightseeing Lunch Cruise
The Lake Queen Lunch Cruise includes all the sites, landscape, and wildlife of the Sightseeing Cruise as well as a delicious deluxe deli lunch.
Cruise lasts approximately 1.5 hours.
Paddle Wheel Pizza Cruise
An afternoon pizza lunch cruise in now an available sightseeing tour option aboard the Lake Queen. Sites and guided commentary will be featured in this tour as well, but passengers will also enjoy an all-you-can-eat pizza buffet.
Cruise lasts approximately 1.5 hours.
Moonlight Cruise
You will love the fabulous Moonlight Cruise aboard the Lake Queen! On the cruise, you will get to experience Lake Taneycomo under the starry sky and see the spectacular night performance of the Branson Landing Fountain Show.
Cruise lasts approximately 1 hour.
Fireworks Cruise
Spend a festive evening aboard the Lake Queen with the special fireworks cruise. Snacks and beverages are available for purchase during this cruise as you enjoy the Liberty Light-Up Display over Lake Taneycomo.
Cruise lasts approximately 2 hours.
Reviews
3.9 | 14 reviews
Brett Adams
Springfield, MO
✓
Verified Traveler
The crew were very nice and very helpful. I found the whole experience to be rather underwhelming. The boat was clean and well maintained except for the upper deck had spiders everywhere along the railings (we saw 5 just next to our table). We started out up top and stayed for about 10 minutes before the wife just couldn't handle it anymore and went downstairs which was much more pleasant. The prices were very reasonable for drinks and snacks. I paid 1.75 for a hot chocolate that was about 12 or so ounces. The fire and water show was rather underwhelming as well which wasn't the crews fault either but it took away from the experience. Overall it was okay, but if you're looking for a romantic evening there's better things to do.
Jessica
Little Rock, AR
✓
Verified Traveler
My grandparents recently took a dinner cruise on branson landing cruises for their 56th wedding anniversary. I wanted it to be special, so i called blc to see if i could surprise them with flowers or a gift. Blc referred me to a local florist who did a fantastic job with the floral arrangement. Michelle arranged for the flowers to be placed on my grandparents table and the captain and crew made them feel like royalty once aboard. My grandparents said their dinner cruise was the highlight of their trip and i can't thank branson landing cruises enough!
Betty Weeks
Lenore, ID
✓
Verified Traveler
Relaxing, good food, great service, wonderful scenery. Wish it would have been longer...
Larry Hill
Little Rock, AR
✓
Verified Traveler
It was an enjoyable ride but a little short.