Description
Cat's Pajamas Photos (5)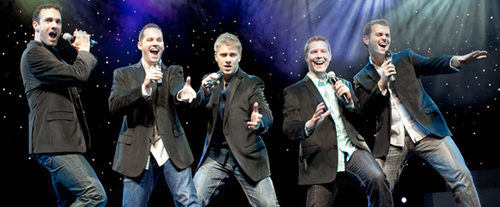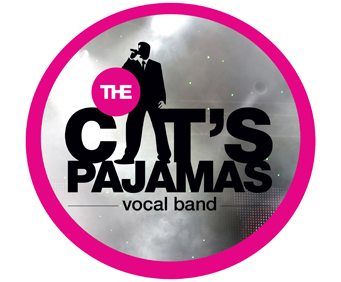 Visit the Ozarks today and see the Cat's Pajamas, a unique a capella group that has performed on NBC's hit show The Sing-Off and was voted the Best Group in Branson 2011.
The Cat's Pajamas Vocal Band brings you an amazing performance with a wonderful selection of chart-topping and rememberable hits spanning over 60 years using only their world-class vocals. These spectacular vocalists will stun you with their skills and astound with their showmanship. Using no instruments, only their voices they can create hundreds of sounds to bring you all the music. This spectacular and energetic group blends classic songs in a modern, unique a cappella style. Check out their incredible show at the Andy Williams Moon River Theatre.
They engage audience members with their high energy, wit, charm, and powerhouse vocals. These guys perform not just lyrics, but create the sound of an entire band!
The popular quintet displayed their talent by reaching the top 10 in Randy Jackson's National Oreo Cookie Jingle Competition. They have toured for five years and have been seen all over the world on global television and in live performances. With four albums released since 2010, the Cat's Pajamas Vocal Band is sure to draw many new fans with each performance.
This show will please all age groups and you may hear old and new favorites such as 'Love Potion Number 9,' 'You've Lost That Loving Feeling,' 'Only You,' 'Some Kind of Wonderful,' 'Meet Virginia,' and more.
Christmas with The Cat's Pajamas Vocal Band
Enjoy a unique and fabulous Christmas show, as The Cat's Pajamas Vocal Band brings you a show filled with exquisite music and festive decor. You'll be amazed at their talent as they perform holiday music, a capella style that will include tunes from their Christmas album Purr-fect For The Holidays. Be ready for favorites like 'Sleigh Ride,' 'Winter Wonderland,' 'O Holy Night,' 'Mary Did You Know,' 'You're A Mean One, Mr. Grinch,' 'The Chipmunk Song,' and many more.
Book your next getaway today and find tons of fun things to do for an unforgettable time.
Reviews
4.4 | 16 reviews
Jan Dotson
IL
✓
Verified Traveler
E had such a great time in branson. The cats pajamas was an amazing show to see and our seats were wonderful. I would definitely recommend that others see this show. Thank you so much
Ronald Kershner
Alden, MI
✓
Verified Traveler
"Very enjoyable and fun."
Very enjoyable and fun. Great talent
Carroll Besing
Peoria, IL
✓
Verified Traveler
Music was a little too young for me. I am a senior citizen.
Gerald Cool
Sylva, NC
✓
Verified Traveler
High energy, they try their best to put on a great show and they suceed! Best show we have seen in years.