"Kings" A Tribute to Garth Brooks and Elvis Presley

Location: Branson Hall of Fame Theatre,

Description
"Kings" A Tribute to Garth Brooks and Elvis Presley Photos (3)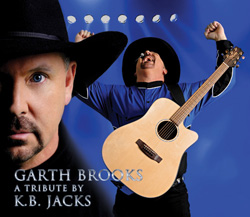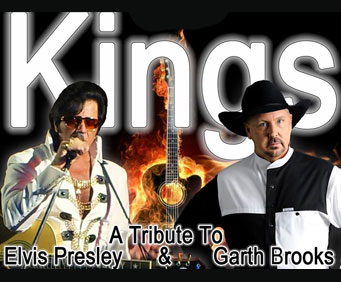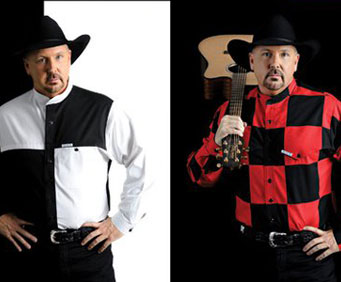 Country and rock 'n' roll legends are combining forces and appearing on stage together to bring audiences 'Kings' A Tribute to Garth Brooks and Elvis Presley.
This popular tribute show features the engaging personality of the talented K.B. Jacks taking on the role of the 'King' of Country, Garth Brooks and Bill Chrastil taking care of business as Elvis Presley, the 'King' of Rock n' Roll. Backing them up will be the live 'Kings' Band to really rock the stage.
Garth Brooks was and continues to be one of the hottest legends of all time, a true 'King' of country music. Some of his most famous hits have included Friends in Low Places, The River, Ain't Goin Down Till The Sun Comes Up, Rodeo, The Dance, Thunder Rolls, and Shameless. These are just a few of the hits you might get the chance to hear performed live on stage. KB Jacks has the uncanny talent of looking, acting, and sounding so much like the superstar that you will actually feel like you are at a Garth Brooks concert.
Bill Chrastil is 'The King' when he hits the stage, and audiences will believe that the 1970's Elvis Presley himself is back in the spotlight as Chrastil matches the movements, voice, and style of the greatest rocker who ever lived. Singing tracks like Kentucky Rain, Blue Suede Shoes, Suspicious Minds, In The Ghetto, C.C. Rider, and so many more, this reenactment of a 70's Elvis concert is a Las Vegas type high energy show that will leave you speechless.
With both of these talented entertainers gracing the stage in one night, this show is sure to be a treasured experience and leave you wondering which performance you enjoyed the most. Grab your tickets today to see two 'Kings' for the price of one!
Reviews
4.9 | 12 reviews
Bill Simpson
Mount Vernon,
✓
Verified Traveler
"Really liked garth imitator."
Really liked garth imitator. Elvis was good but his moves needed improvement.
Lyhne
Omaha
✓
Verified Traveler
I thoroughly enjoyed this show. I am an elvis fan so of course the elvis set was my favorite. I had seen bill before in his hometown of lincoln ne. Bill gave an exceptional performance as always. I also saw his variety show at the hall of fame theatre. He is without a doubt a seasoned entertainer.. Kbjacks did an excellent job as well. He looks alot like garth and gave 100 as well. This is definitely a show i will see again !
Laura
Winthrop Harbor Il.
✓
Verified Traveler
"We Loved this show."
We Loved this show. K.B, jacks sounded and looked just like garth brooks. I would recommend this show to all of my friends. It was great. I loved how he was in the crowd and how he had the crowd dance. He is a great entertainer... Loved this show. Thank you garth for a wonderful night. One i will never forget...
Ally
Branson
✓
Verified Traveler
"K.B."
K.B. JacKs as garth was awesome. I was amazed how much he looKs and sounds liKe garth BrooKs. He Kept the energy up and everyone was truly having a good time. You can tell he enjoys performing and entertaining the audience. K.B. Made everyone feel like he was performing just for them. Great show and i can't wait to see it again.