Jeff Foxworthy & Larry The Cable Guy
Location: Andy Williams Moon River Theater,

Description
Jeff Foxworthy & Larry The Cable Guy Photos (1)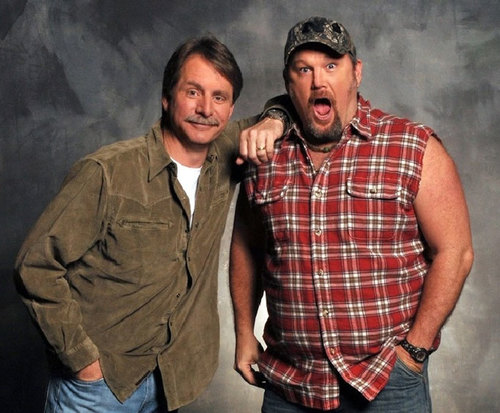 If you are looking for a hilarious night in Branson, MO, make sure you catch the comedy duo of Jeff Foxworthy and Larry the Cable Guy; these two are sure to have you rolling on the floor with laughter.
Jeff Foxworthy is famous for clean-cut country-style comedy. He not only holds the title for the largest selling comedy-recording artist in history, but he is also a best-selling author of eleven books as well as having several Grammy Award nominations under his belt. As well as these achievements, he also hosts a TV show called the American Bible Challenge in which contestants battle it out in Bible trivia, and previously hosted Are You Smarter Than a Fifth Grader?.
Joining him onstage is Larry the Cable Guy. With his blue collar comedy, Larry has taken America by storm in the last several years. Portrayed in his signature cut-off and ball cap, he retells tales of family, everyday life, and more with a 'redneck' twist. After appearing on the Bob and Tom Show and ending his segment with the trademark, 'Get 'er done', he went on to embody the character.
In the mid-1980s, he met Jeff Foxworthy and the two became quick friends as they worked on material and traded accents with each other. Larry the Cable Guy went on to be a regular performer on Foxworthy's Country Countdown Show and the Blue Collar Comedy Tour, and the two have been working together ever since.
If you love down-home comedy and clean jokes, this performance is for you. Come enjoy this limited engagement in Branson, MO, and 'Get 'er done'.
Reviews
4.7 | 12 reviews
Kenneth Tucker
AZ
✓
Verified Traveler
"Fantastic show!!!"
Fantastic show!!!
Jeff Snyder
Melbourne, AR
✓
Verified Traveler
Enjoyed jeff's portion of the show more than larry's mainly because we just like the way he takes everyday situations and makes them hilarious. I think the last portion of the show would have been better if the two of them would have done an interactive banter between themselves rather than simply taking questions from the audience.
Ronnie Baumann
Montezuma, IN
✓
Verified Traveler
Very good show enjoyed jeff and larry
David Mueller
Naperville, Illinois
✓
Verified Traveler
Great show and nice venue with decent parking. Traffic to show was terrible. As it seems to be a nightly issue, would have been nice to know in advance as we'd never been to branson.