RockIt! Branson's Award Winning Rock and Roll Show
Description
RockIt! Branson's Award Winning Rock and Roll Show Photos (8)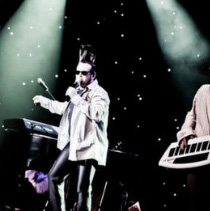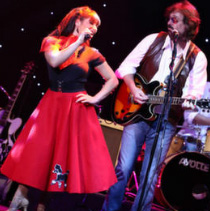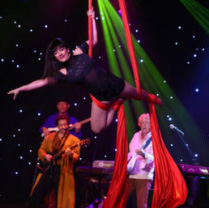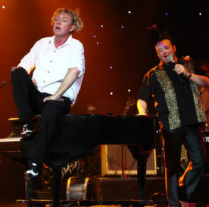 Embark to Branson to the RockIt! Branson's Award Winning Rock and Roll Show which offers music from the 50s to the 70s in a fun and energetic performance of some of the greatest rock and roll of all time.
You will laugh along as you remember the old classics that have helped rock and roll emerge into the genre it is today. Branson famous saxophonist 'Marvelous' Marvin Short is featured in the show, and his haircut will cause plenty of grins. A Tribute to Joltin' Jerry is performed by Darrel Croy as he pays homage to the wild entertainer Jerry Lee Lewis. There will be fabulous dancing, exciting shouting, dazzling lights, and brilliant costumes throughout this remarkable show.
Throughout the show, you can expect to hear songs from Buddy Holly, Fleetwood Mac, Leslie Gore, The Supremes, and others. The house band includes guitarist Steve Ragsdale, bassist Randy Hall and drummer Mike Lacey who back up the stars in a magnificent way. Take a journey to the past with Lionel Richie, Sam Cooke, the Mamas and Papas, Eric Clapton and many more superstars as this incredible cast brings the music, vocals, and performances that everyone raves about. Crowds and critics claim this to be one of the best shows they have ever seen that gets to the roots of rock and roll. You'll have an unforgettable time at RockIt! Branson's Award Winning Rock and Roll Show. Reserve your tickets today to get the best seats in the house.
Visit more of Branson's top attractions while in town and find the best lodging and vacation packages to Branson today.
Reviews
5.0 | 23 reviews
Kirk F.
Kansas
✓
Verified Traveler
This show is no doubt the best show i've been to in branson. Great music and fun from beginning to end.
Rick Cadden
Waco, Texas
✓
Verified Traveler
Saw your show on new years eve and loved it. The whole night was super and the entertainment was top notch. Thanks for a super fun evening with so much great music and talent. Every band member was awesome and fun to listen to and watch. Thanks again for making new years eve so fun for us.
Buddy Hodges
Granbury, Texas
✓
Verified Traveler
Branson has a lot of great shows and there is no debating that. But if you love rock & roll......Well....Day..Set..Go man go..Your gonna really love this show! These guys make you want to get up and dance. And you will! Dave lawrence delvers an electric performance as lionel richie . Marvelous marv short is an act that can't be followed. And darrel croy will make you believe that jerry lee is himself is on the stage. Don't want to forget mr. Ragsdale's fabulous eric clapton & steve miller tributes. You just can't write about it. It has to be experienced. If you go to branson and don't see this show.....Well....You just don't like rock & roll!
Patricia
El Dorado, AR
✓
Verified Traveler
You will love this show, best in branson!