Tony Roi Elvis & More

Location: Tribute Theatre,

Description
Tony Roi Elvis & More Photos (12)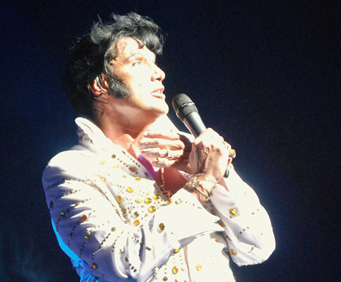 Tony Roi's high energy show will leave you clamoring for more of the King and more fun from the best show in Branson. Tony himself has won Branson's Entertainer of the Year and is one of the best Elvis impersonators in the country.
The Tribute Theatre is proud to have Tony and his powerhouse band rocking their stage with numbers from Elvis and Tony's favorite artists, plus Tony's own music.
Come see this award winning show, and you will experience an event that you aren't soon to forget. The Tony Roi Elvis & More show will make your vacation a memorable one. For a great experience, find similar things to do nearby.
Reviews
3.8 | 6 reviews
Lynda Hall
Melbourne , Florida
✓
Verified Traveler
"Toni was wonderful."
Toni was wonderful. Great entertainer and truly a consummate elvis artist. He was warm, humble, and a magnificent talent. We were celebrating my mother's 90th birthday. He wished her happy birthday from stage. I didn't want the show to end!!! I would recommend toni roi as elvis artist to anyone making a trip to branson. I will definitely see him again if the opportunity comes to return to branson, or any other venue he may be appearing.
Linda
Eagan MN
✓
Verified Traveler
This is the best show in branson and tony was fantastic. Was able to get an autograph and my picture taken with him. Also, they had cd's available of him.
mary jones
lone oak, texas
✓
Verified Traveler
Excellent show excedllent front row seats. Thanks for making this show one of the coolest .
Jerry Hines
Burley, Idaho
✓
Verified Traveler
Excellent show: if your an elvis fan, i believe he is as good as it gets.