Now Accepting

The Revollusionists Magic & Illusionist Show 2019 Schedule
Location: Music City Centre,



Show Lasts Approximately 2 Hours

Appropriate for All Ages

Handicap Seating Options Available: Wheelchair Seating, Aisle Seating, Limited / No Stairs Seating

Neither Cameras nor Video Cameras are Permitted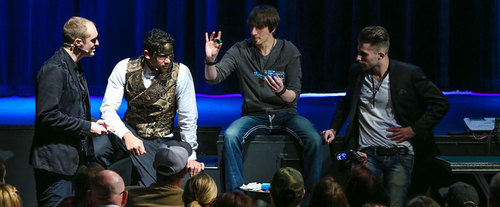 The Revollusionists Magic & Illusionist Show 2019 Schedule
Branson, Missouri has many shows and entertainments, but few as dazzling, as mystifying, as The Revollusionists Magic & Illusionist Show. World-renowned magician Brett Daniels presents the next generation of illusionists and prestidigitation artists, The Revollusionists. Brett Daniels presents a rotating cast of magicians, including but not limited to Kevin James, Reza, and Kid Kadabra. The show lasts approximately two hours, and is appropriate for all ages.

Book Now!