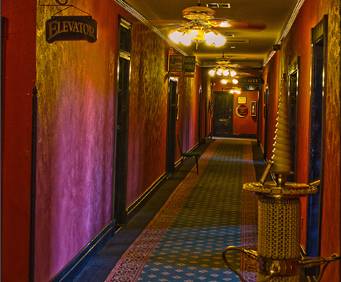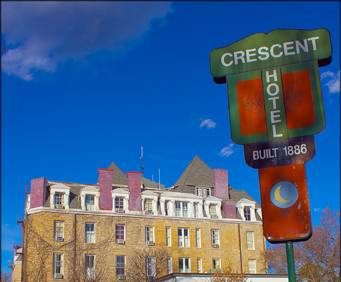 1886 Crescent Hotel in Eureka Springs, AR
75 Prospect Ave Eureka Springs, AR 72632





(
5.0
)
Based on

25

reviews ↓
Nestled in the beautiful and quaint town of Eureka Springs, Arkansas is the historic Crescent Hotel & Spa. You'll have that country peace and quiet while only being a scenic hour drive away from Branson, MO.
This gorgeous hotel boasts an incredible history and an impressive amount of legend and lore. The hotel was built in 1886 and featured stables so guests could enjoy early morning horseback rides. Tea parties and dances were frequent events at the hotel, and guests also enjoyed hiking, picnics and streetcar rides. When you're ready for some adventure you can check out all the fun things to do in Branson.

The hotel's long and rich stories have been the subject of much speculation, and the hotel is said to be haunted. The hotel has been investigated multiple times for paranormal activity, and the hotel regularly hosts ghost tours that inform guests all about the hotel's past. Room 213 of the Crescent Hotel has a long history of stories with guests' items being moved around and guests reported being "poked" by a ghost at night. There are many other stories involving the hotel's dining, room, where many employees have reported seeing the ghost of a woman dressed in Victorian garb. There are reportedly stories explaining these "personalities" that grace the dining room, and the hotel has the reputation of "The Most Haunted Hotel in the United States."

The beautiful hotel is a popular spot for weddings and events, and guests can enjoy several on-site dining options, including the Crystal Dining Room Restaurant and Dr. Baker's Bistro. Also located on-site is the New Moon Spa, where guests can enjoy a variety of spa treatments including facials and massages. The hotel truly has whatever a guest could want, with so many great amenities located conveniently on-site. Plan your vacation now!