Dolly Parton's Stampede Branson

1525 W 76 Country Blvd Branson, MO 65616
1-800-987-6298
Description
Dolly Parton's Stampede Branson Photos (13)
Customer Photos (12)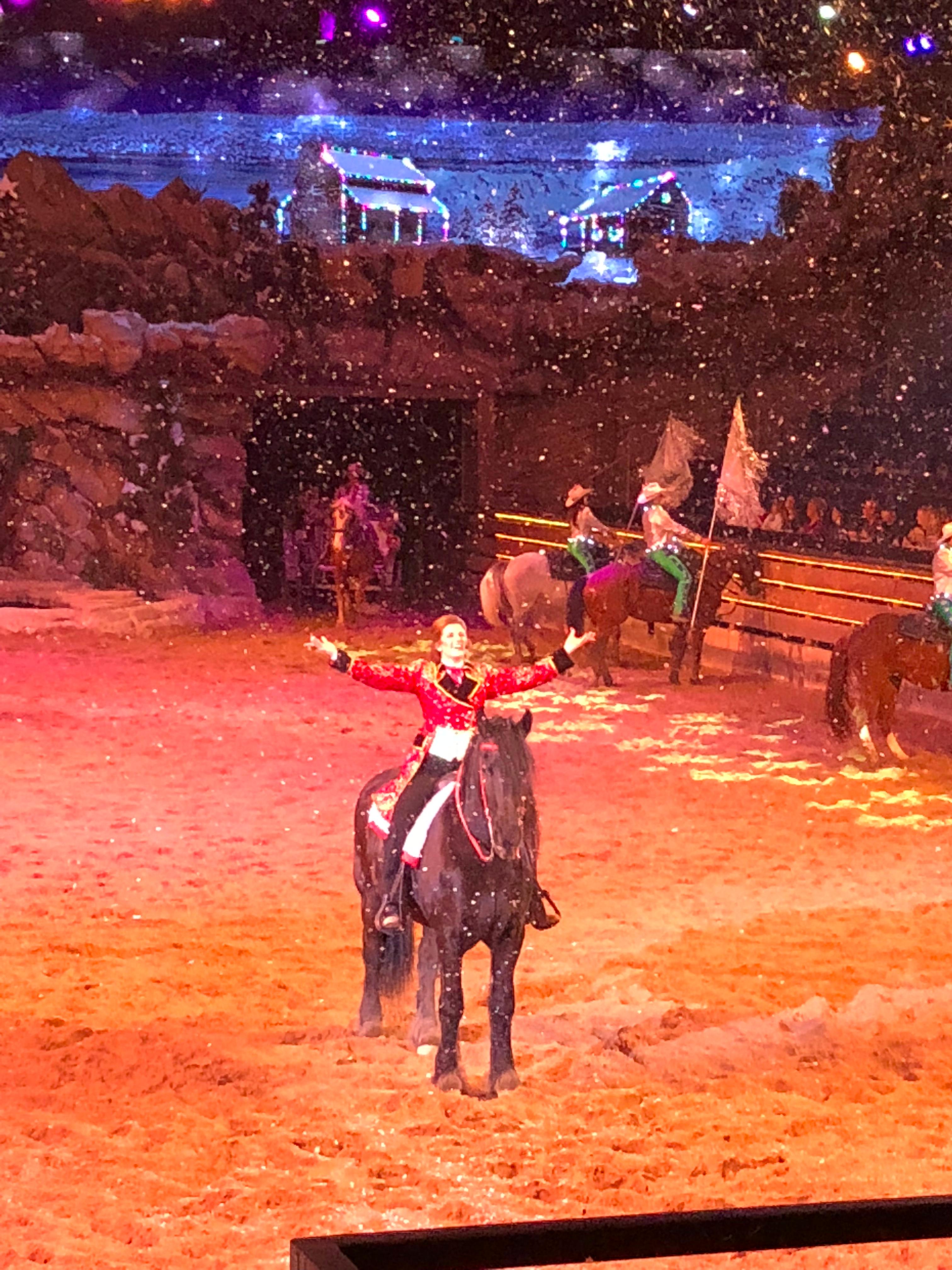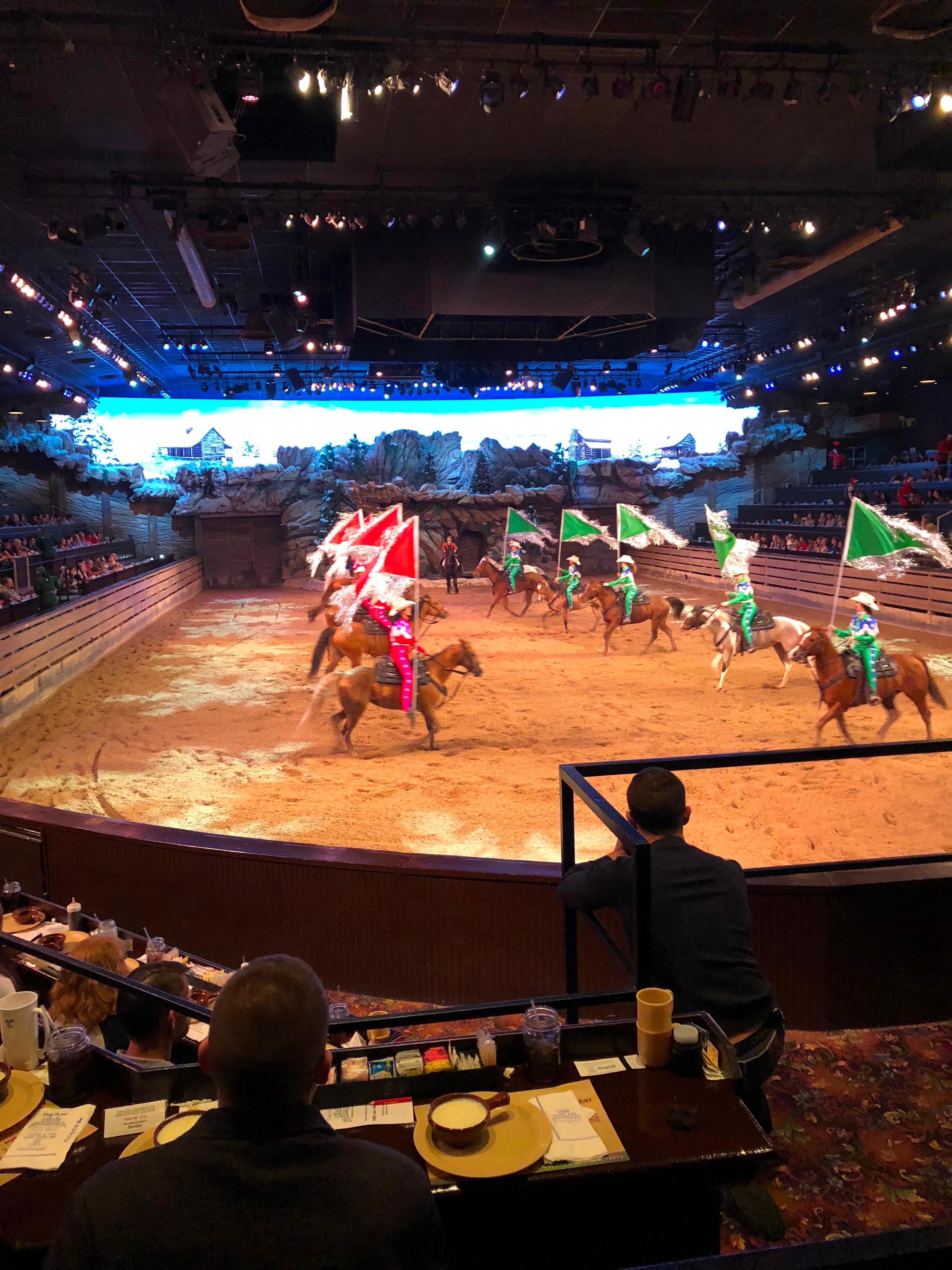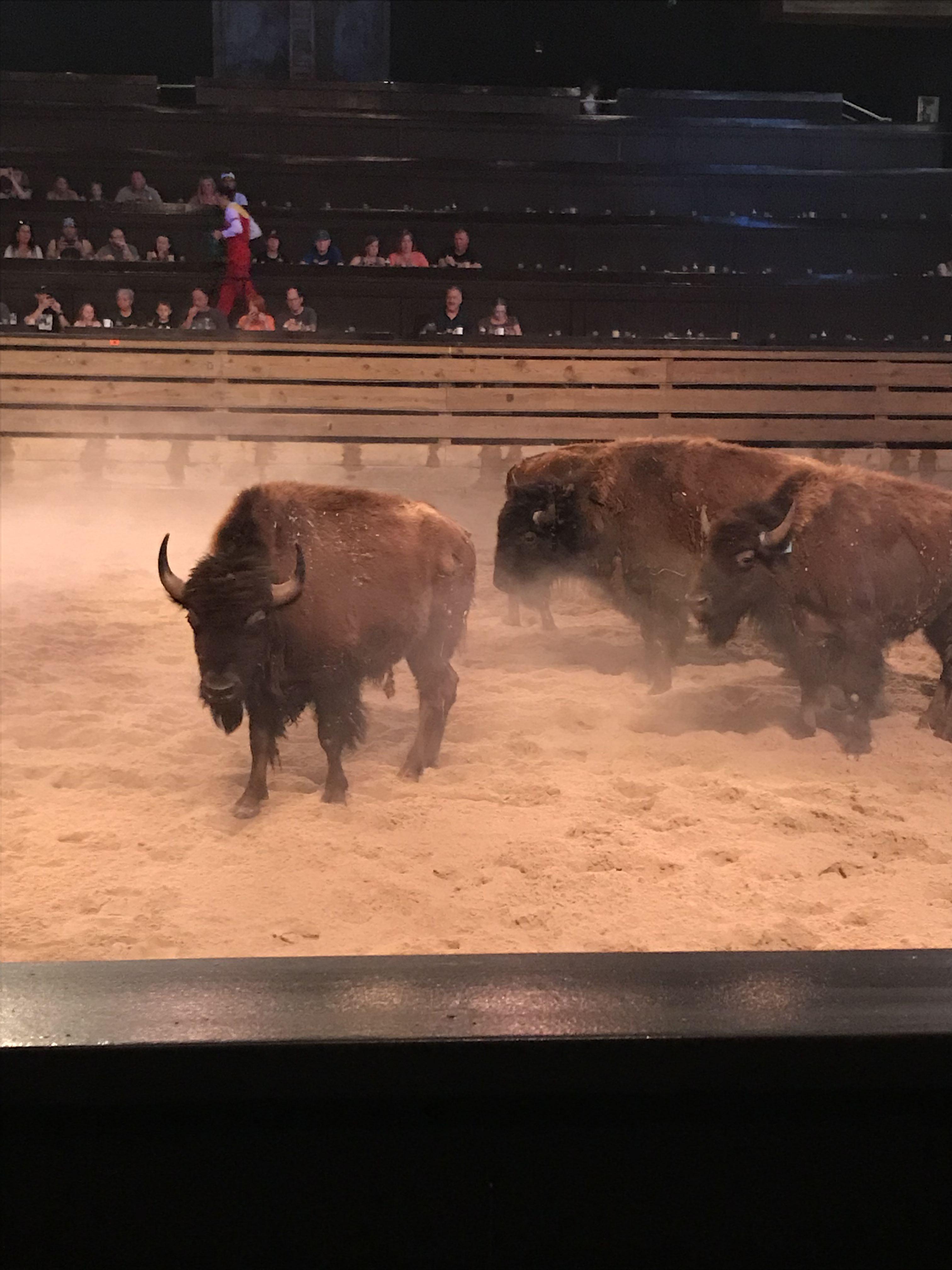 Magnificent riders, live buffalo, and a delicious meal is just the beginning of the excitement offered at the Stampede Dinner and Show. See an amazing mountain ruckus the next time you visit the Ozark mountain area in Branson, MO!
This show features a friendly competition between the two sides of the theater, while you and other guests enjoy a delicious four-course meal complete with beverages. It's an all-out evening of country entertainment that can't be beat. Stampede began as a dream for Dolly Parton, and today it is one of the most spectacular dinners and show attractions in the country! Featuring 32 horses, their skilled riders and dinner seating for 1,100 in a giant 35,000 square foot arena, Dolly Parton's Stampede Dinner & Show is an amazing feat.
To start out the excitement, you will meet your fierce competitors and their beautiful horses. Learn which side you will be cheering for as they are introduced, and be prepared to see them in a number of challenges including carriage racing, pig races, lumberjack relays, and barrel racing. When you aren't watching the riders perform, you'll be experiencing the comedy of the cowboy Skeeter or enjoying a waltzing performance by the 'Belles of the Ball.'
As if that wasn't enough excitement, you'll even get to see a real buffalo stampede. After the showtime adventure, the show's patriotic finale is themed in sparkling red, white and blue. Horses, riders, singers, and dancers all pack the arena to create a glittering tribute to life in America. At the breathtaking finish of the show, celebrate with the Grand Patriotic Finale. Dolly Parton can't be wrong when she claims that the Stampede is 'Branson's most fun place to eat!' Be sure to book it during your next Ozarks vacation.
Pre-Show Entertainment
Start out your Stampede experience with their exciting pre-show. The performances vary, so you never know what fun performance awaits you. Magicians, jugglers, and many other wonderful showmen will give you almost a full hour of entertainment before the main show! Showing up early to a performance has never been so thrilling as it is with the Stampede, where guests can stroll the amazing Horse Walk and meet the four-legged stars of the show! Now in the Stampede Carriage Room is an amazing opportunity to experience unique audience participation opportunities. Head to the two-level Carriage Room where your Southern Belle guide will take you to see the gorgeous horses and experience an amazing pre-show performance of bluegrass, comedy, and country favorites. There are also concessions available in the Carriage Room including popcorn and fruity drinks served up in awesome Souvenir Boot Mug.
Main Arena Stampede
The world's most visited dinner attraction, Stampede in Branson, presents its most high-spirited adventure ever! The Dolly Parton's Stampede comes alive with trick riders, beautiful horses, pyrotechnics, amazing sound, a patriotic display celebrating the red white and blue, and so much more all in Branson MO! The Stampede's 32 magnificent horses and a cast of top-notch riders will thrill you with daring feats of trick riding and competition. Experience the Stampede of the Buffalo, hilarious racing pigs, fan favorite competitions, and a Grand Patriotic Finale to top everything off.
About the Four-Course Meal
Of course, the ticket price also includes a delicious four-course meal that will make your mouth water! Served up by friendly Southern Belle waitresses with fun and hospitable attitudes, you will enjoy a spread with plenty to try! The meal consists of rotisserie chicken, hickory smoked barbecued pork loin, the Stampede's famous creamy vegetable soup, a home-style biscuit, all topped off with Coke products and a delicious Stampede dessert. There are also vegetarian and gluten-free options available to those with special dietary needs do have a choice.
All this pageantry is proudly served with a fabulous four-course feast. The Stampede is Branson's most fun place to eat! Book your tickets today to see why it is one of the most beloved dinner theaters with locations that expand from the mountain region of the Ozarks to the Great Smoky Mountain area of Pigeon Forge, TN.
Frequently Asked Questions for Dolly Parton's Stampede Branson:
What is included in the admission price for Dolly Parton's Stampede Dinner & Show Branson?

Included the show and a four-course dinner.

Approximately how long is the Dolly Parton's Stampede Dinner & Show Branson?

The dinner and show lasts approximately 2 hours.

In what theater is the show held?

The show is held at the Dolly Parton's Stampede theater.

Is there a pre-show before the main show? If so, what are some details?

Yes, there is a pre-show. Guests can visit with the horses in the Carriage House and enjoy concessions and a short show.

What is the length of intermission at Dolly Parton's Stampede Dinner & Show Branson?

There is no intermission, but there is a 15-minute break between the pre-show and the main show.

What type of parking do you have?

Parking is free at the theater.
Reviews
4.7 |
2053 reviews
Dave Torma
Wyoming, Minnesota
✓
Verified Traveler
"We love the food, fun and action"
Our family has been to the dixie stampede 3 times over the past 6 years. We love the food, fun and action. We travel from minnesota to branson to get an early spring usually in april. Great time of year to be there. The first time is especially fun since you are so into what is going on continually in the show. The kids love the food without utensils. My eldest daughter was so impressed because as she said 'i get my own chicken!' (cornish game hen) along with all the 'welcome to my barbeque' fixin's. You won't leve hungry! Show up early to see the horses, read about them and get a good seat for the preshow, which changes, but is usually very good as well. All in all a well done show. 'everybody now, stam pede!' (your cue to stomp your feet) to the show.
Janice West
AR
✓
Verified Traveler
"Absolutely loved the show"
Absolutely loved the show, also the pre show is something very special. It was funny and entertaining. The main show was stupendous. Can't see this show enough. The food is out of this world, for the mass production and getting so man served in a very timely manner and the food is hot. Unbelievable, actually better than a restaurant. Keep up the great work. Your staff is friendly, entertaining, and not at all pushy, really appreciated that. Thanks for a really great fun time. Will be back
Marvin Graves
WA
✓
Verified Traveler
"Appreciated the beauty."
Appreciated the beauty. The food was delicious and so efficiently and swiftly served by a delightful server. We especially enjoyed that the true meaning of christmas was portrayed so beautifully in the nativity scene. We enjoyed the pre-show as well. And to know such talented a juggler/comedian can get raving applause without needing to use any vulgar or suggestive language! We truly appreciated that!
John Groebner
La Marque, TX-Texas
✓
Verified Traveler
"Dixie Stampede was one we will judge all other events by"
The whole experience at the dixie stampede was one we will judge all other events by. From ordering the tickets to the final walk past the horses after the show, we could not have asked for a better experience for our kids, their spouses, and our grandchildren. Thank you for such an enjoyable atmosphere and show.
Book Now!