Great Woodsman Zipline Tour
5586 W 76 Country Blvd Branson, MO 65616
1-800-987-6298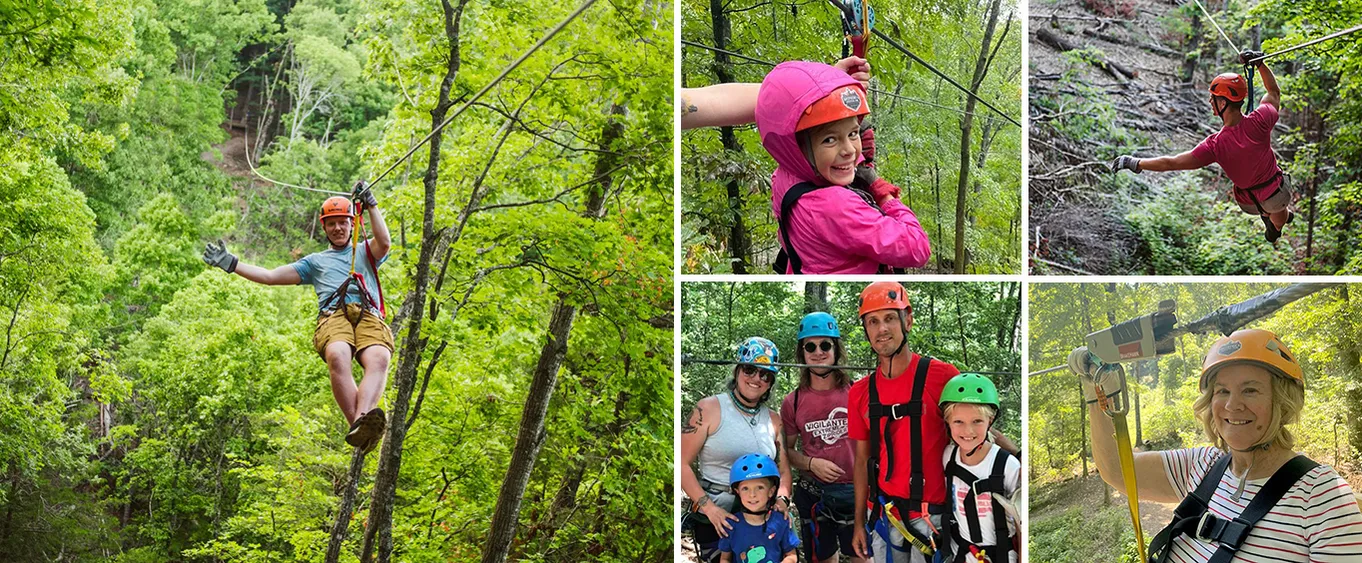 Enjoy some of the best adventurous times in the Ozarks with an afternoon at the Shepherd of the Hills Historic Homestead with a fun zipline tour. Here, visitors will be able to participate in a variety of awesome activities, including the Great Woodsman Zipline. This exciting ziplining experience is great for those looking to add a little thrill to their Branson travels.
Shepherd of the Hills is absolutely gorgeous, and visitors can experience it in an adrenaline-pumping way with this exciting zipline journey. During this excursion, visitors will soar above the lush green canopies and view the homestead sceneries surrounding them. It's a wonderful way to enjoy thrills while combining sightseeing and fun into one activity. With the Great Woodsman Zipline ticket, participants will be able to conquer all 8 of the thrilling ziplines, making this the homestead's most extensive ziplining experience.
As you glide from one suspended platform to the next, feel the wind rush in your hair and discover the exciting nature of the Shepherd of the Hills. For those looking for an adventurous time in the Ozarks, there is no better activity to combine sightseeing with some heart-pounding zipline action!
About the Shepherd of the Hills Historic Homestead
As one of the most stunning and historical places in Branson, MO, the Shepherd of the Hills Historic Homestead is one of the most appreciated landmarks in the Ozarks. Having fueled the inspirations for the novel with the same name, the homestead pays homage to days of the past and is the best place to go for insight into the area's historic past.
Experience tons of adrenaline-pumping fun and witness the picturesque sights of the Ozark Mountains with the Great Woodsman Zipline Tour. This awesome venture presents visitors with the opportunity to enjoy some adrenaline-packed action as they glide along the green forests of the Ozarks. Participate in everything that Shepherd of the Hills has to offer and add other activities and even a Branson hotel reservation to complete your itinerary.
Frequently Asked Questions for Great Woodsman Zipline Tour:
What is included in the admission price for Great Woodsman Zipline Tour?

Includes all 8 ziplines.

What level of physical ability is required?

250 lbs max weight. No height restrictions.

Is Great Woodsman Zipline Tour guided or a non-guided timed equipment rental?

This is a guided ziplining experience.

What type of clothing is appropriate?

Comfortable clothes & close-toed shoes.

What age is Great Woodsman Zipline Tour appropriate for?

Great for all ages! The zipline requires children to be at least 3 years old and up.

Is parking available for Great Woodsman Zipline Tour? If so, is it free?

Yes, free parking is available.

Is photography & video recording allowed?

Yes.
Book Now!