Legends in Concert
Click for More Information

Exclusive Online Offer: Family Pass Available
(Must purchase in advance online or toll-free at 1-800-987-6298)
Location: Dick Clark's American Bandstand Theater, 1600 HWY 76 Branson , MO 65616
1-800-987-6298
Description
Legends in Concert Photos (15)
Customer Photos (13)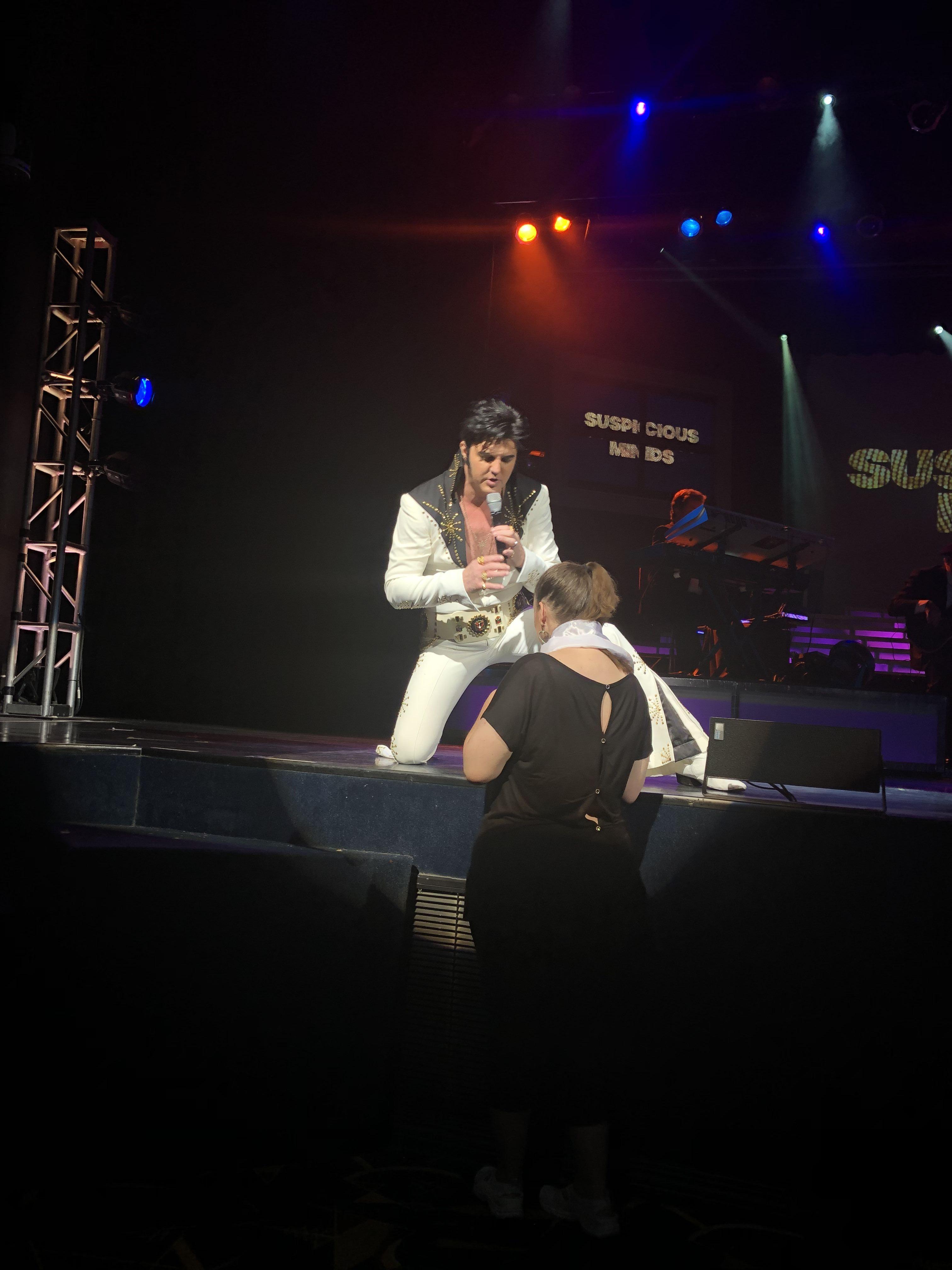 This awesome show is family-friendly and features awesome and talented celebrity impersonators whose energy brings the true essence of your favorite superstars to the stage. Do not miss out on all of the fun Legends in Concert Branson will bring you with tribute music from rock n' roll and the world's greatest performers. Get your box office tickets today!
The talented cast members portray an array of the most legendary musicians with authentic voice impersonators and a fun live band. The stage truly comes to life and guests will be dancing in their seats to songs from artists such as The Blues Brothers, Elvis, Marilyn Monroe and other legends of yesterday and today! The show captivates with this music, and you are sure to have an unforgettable time with your favorite artists and their music. Each song is backed by a talented live band.
With an ever-changing array of performers, a band, singers and dancers, and more, this show stays new and fresh by bringing in old favorites at different points of the year. Although the performers do change throughout the year, the talent and awe-inspiring features of the Legends in Concert Branson show always remains and showcases its success. Fans will be able to sing along with hits from a variety of genres from rock n' roll to country and modern hits. The Legends in Concert show also utilizes state-of-the-art sound equipment, beautiful costumes, and the best music in the world.
Every part of this live performance plays an important role in combining together to form a fantastic show. Featuring choreography, theatrical sets, hair, and makeup, as well as the music, video, and special effects, this show is definitely a must-see. From the amazing singers to awe-inspiring dancers and the live band, this show creates a fantastic time for everyone who attends. Some of the performers that have been represented in Las Vegas Nevada shows and across the country have included Barry Manilow, Adele, and Elvis Presley. With talented natural voices and on-point impressions, you truly will believe that the original stars are in the theatre performing for you!
2019 Lineup

August 1 - September 3:
Blues Brothers
Alan Jackson
Elvis
Johnny Cash
Pat Benatar
September 5 - October 31:
Blues Brothers
Marilyn Monroe
The Temptations
Elvis
November 1 - January 1:
Blues Brothers
Elvis
Garth Brooks
Trisha Yearwood
Stevie Wonder
About Legends in Concert
Known for bringing quality entertainment, an amazing group of tribute artists, and tons of fun to the
Branson area
, Legends in Concert Branson is an absolute favorite in the Ozarks. This show originally began as a six-week run at the Imperial Palace Hotel and Casino in Las Vegas The Imperial Palace truly saw the start of this legendary performance. From there, the Legend in Concert brand went on to entertain millions with a legendary 35 years, making it one of the most famous shows in Las Vegas history. .
This show has received many different awards. These include:
International Press Association's Grand Slam Award
International Press Association's Entertainers of the Year Award
International Press Association's Show of the Year Award
International Press Association's Show of Shows Award
The International Press Association gives out very coveted accolades to the greatest performers in the country. The show has appeared on Broadway and around the world. Their shows are internationally acclaimed and offer an incredible time.
Be sure to experience all of the fun in Branson, MO by hearing the amazing music of the 'good ole days' and modern times during your next trip in the area. The Legends in Concert show is a must-have addition onto your vacation. Audiences will have an incredible time hearing the hits of music legends during these performances!
Legends in Concert Preferred Seating
Preferred seating includes the first five rows of the middle floor Section B.
Legends in Concert VIP Box Seating
Enjoy amazing views in the limited 66 seat VIP Party Box. This area allows guests to enjoy beer and wine service during the show.
Legends in Concert Standard Seating
Includes admission to the Legends in Concert. Standard seating includes all back sections AA - DD, right side Section A, and left side Section C, and the seats in the back 10 rows of middle Section B.
Frequently Asked Questions for Legends in Concert:
Approximately how long is the Legends in Concert?

The show lasts approximately 2 hours.

In what theater is the show held?

The show is held at Dick Clark's American Bandstand Theater.

Do the performers of the Legends in Concert sign autographs and meet the audience after the show?

Yes. First 3 acts do a meet and greet at intermission; last 2 acts do meet and greet after the show in the lobby.

What is the length of intermission at Legends in Concert?

Intermission lasts 15 - 20 minutes.

What type of parking do you have?

Parking is free at the theater.
Reviews
4.4 |
276 reviews
Jean Manzelli
St. Louis
✓
Verified Traveler
"Legends is the best show I've seen."
Legends is the best show i've seen. It is always a fast moving show that makes you want to dance in the isles. I have seen the show over a thousand times . The performers are absolutely great. This show is a must for everyone to see you won't regret it.
Karen Wolk
MO
✓
Verified Traveler
"How GREAT was this show."
How great was this show. Not a fan of the tim/faith thing, but it was over pretty soon. The performers protraying the blues brothers are manic! How they get that much energy is beyond me. The michael jackson guy was pretty good, kept it pretty clean, then, there was elvis. My husband, (6'5) commented to 'elvis' as we were getting pictures at the lobby i thought you were bigger he says 'don't need to be bigger, you can be my bodyguard the guy is about 5'7 but he makes up for it with his performance. What a show... Loved it all, but he really was the topper.
John Pratt
-
✓
Verified Traveler
"... we enjoyed the show so much!"
Each performer was great, we enjoyed the show so much! Meeting the performers after the show was also a fun part of the evening. Thank you for providing such a great evening for us a memory that we will treasure.
Kathryn Cosgrove
LA
✓
Verified Traveler
"This is definitely a must see while in Branson..."
Omg! I thought my 21 year old and 17 year old were going to suffer through it on behalf of their father and i. Boy, was i wrong! They laughed and sang along during the entire show. My husband and i enjoyed watching them as much as we enjoyed watching the show. I think this was the longest period that they went without touching their phones. The cast members were available to pose for pictures, they were gracious and welcoming. This is definitely a must see while in branson...Each and every visit!
Book Now!
Exclusive Online Offer: Family Pass Available