Branson, MO: Shows: Tribute Shows
Impersonators at these Branson tribute shows bring the stars of the past to a new glow on the 76 strip entertainment circuit. Join the production as these performers bring back beloved legends such as Elvis, The Beatles, and John Denver. Talents that changed music history are being relived and paid respect at these Branson tribute shows listed below.
Of all the available tribute shows in Branson, Legends in Concert presents the widest array of acts, and we would love to present these acts for you and your family soon.
"Sherry" and "Big Girls Don't Cry" are two very popular Frankie Valli songs and now you can see them performed in one of the finest tribute shows that one could possibly hope to see.
This two hour tribute to ABBA will preform all of the greatest hits. This show is fun for the entire family and is handicap accessible. The guests are allowed to bring cameras and there is a gift shop on site.
Available 119 days between May 22, 2018 & Dec 29, 2018
View Schedule
California Dreamin' : A Walk Down Memory Lane takes you to a time when the Vietnam War was in full swing, and music was experiencing one of its greatest creative eras, with groups such as The Mamas And The Papas, The Drifters, and many others; guests will learn that after the 1960s, the world was never the same as California was a huge influence in today's society.
Available 119 days between May 22, 2018 & Dec 29, 2018
View Schedule
Good Ole Boys: Hits From The Eagles, Alabama, Exile & More is among Branson's great tribute shows, and we perform every number with expert precision and heart, and we would love to see you in the audience very soon.
Available 75 days between May 21, 2018 & Dec 7, 2018
View Schedule
Jerry Presley will be performing a tribute show to his cousin, "The King of Western Bop" Elvis Presley, in a concert style that brings Vegas to Branson, including high energy Gospel music that will have you dancing in the aisles.
Available 91 days between May 21, 2018 & Dec 29, 2018
View Schedule
Enjoy Branson's best tribute tour with the Temptations Motown Legends at the God and Country Theater, featuring favorite hits from the Temptations, including "My Girl," as well as classic songs from Motown legends like The Four Tops and The Delfonics.
Available 62 days between May 21, 2018 & Nov 30, 2018
View Schedule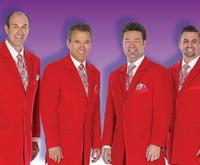 ne of country music's legendary groups is honored in the tribute show The Statler Brothers Revisisted as they perform such hits as "Flowers on the Wall," "That'll Be the Day" and "Silver Medals and Sweet Dreams." T
Available 40 days between May 22, 2018 & Dec 6, 2018
View Schedule