Noah The Musical at Sight & Sound Theatres
Location: Sight & Sound Theatres, 1001 Shepherd of the Hills Expy Branson, MO 65616
1-800-987-6298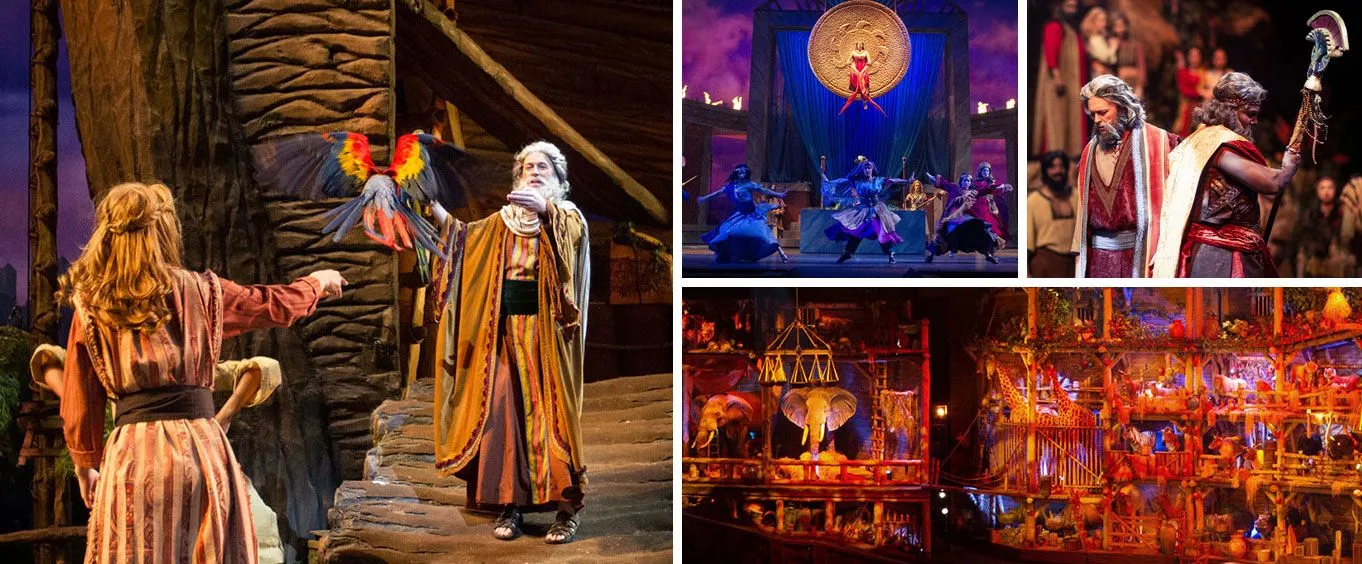 The Sight and Sound Noah The Musical proudly presents a historically truthful re-telling of the story of Noah and the Ark from the Bible, presenting a tale that is all at once familiar. Of course, chances are you've never seen the story of Noah presented in such grand fashion, complete with on-stage ark, live animals and overall intricate and detailed set design, Noah the Musical will bring the story of Noah to life like never before. This is great for any family vacation.
You'll travel with Noah along his epic journey as he attempts to fulfill the wish of God, even amidst seemingly impossible odds and the scrutiny of non-believers. From experiencing the joyous sensation of Noah's work coming to fruition as he leads live animals through the crowd to feeling as if you are stepping inside the Ark as the set design towers four stories above the stage, Noah The Musical presents an overwhelming suspension of awe through its intricate, enormous state-of-the-art live stage set designs for a monumental live performance experience in Branson! The show itself lasts approximately 2 hours and 15 minutes.
About the Sight and Sound Theater
While the shows featured at the Sight and Sound Theater are certainly grand in their own right, it takes a certain sort of theater to be able to present these tales in their full glory. With decades of amazing production endeavors to its name, Sight and Sound Theater is the place for this awe-inspiring entertainment! Noah Sight and Sound is no exception!
Complete with a massive stage capable of rotating set pieces and holding designs over 40 feet in height, 3D movie imaging enhancements, pyrotechnics, and laser lighting special effects, the Sight & Sound Theater is more than equipped to place you directly in the middle of the story for an impressive, immersive time of theater in Branson, MO!
The performing arts venue has been family owned and operated since it opened and debuted in the 70s. For decades, the Eschelman family has impressed both the Ozarks and Amish Country in Lancaster, PA with an awesome musical production even when the show was just played on a single slide projector. Each show features original musical scores, a talented live cast of actors including live trained performing animal members, and an original script.
About the Productions
Creating such an amazing theatrical production takes time - and each Sight & Sound production can take approximately years to produce! Just a few of the great theatrical productions that Sight and Sound entertainment center is known for include Miracle of Christmas, Joseph at Sight and Sound, Sight and Sound Noah, and Samson!
Some of the greatest entertainment awaits the audience when you see Noah at Sight & Sound Theatre in Branson, MO. Do not miss out on the return of this beloved musical when it returns to the Sight & Sound theater stage for one season only in 2020! Grab tickets today and take a trip to Branson for an all-ages event that the entire family will enjoy! Sight & Sound entertainment is a highly anticipated endeavor that you and your family absolutely must see!
By visiting this famed theatrical show and venue, visitors to the Ozarks Mountains area will be able to see what the area's entertainment industry is all about while making memories and forging a bond with their loved ones during this exhilarating and inspirational display. Whether you are nine or ninety years old, you are sure to have an evening you will always remember. when will sight and sound reopen
Reviews

Julie Pierce
Quitman, AR
✓
Verified Traveler
"It was amazing and the choreography was spectacular."
It was amazing and the choreography was spectacular. We were seated in the isle where actors and animals went up on stage. God is at work. The ending brought me to tears. I have already made plans to go the miralces of christmas. All i can say is keep up the work of the lord and i and family were blessed. It takes a lot of dedication and prioritization of all involved to make it work. God bless

Brenda Fout
Pocola, OK
✓
Verified Traveler
"Noah The Musical was one of the very best shows we have seen."
Noah the musical was one of the very best shows we have seen. We took our 14 year old grandson and 3 year old granddaughter and they both enjoyed it. The 14 year old commented on the biblical side and the 3 year old was just in awe of it all. She sat through the whole show without a problem! It was great! Brenda

Joan Hamblin
Danville, CA
✓
Verified Traveler
" This is an incredible production"
This is an incredible production, much better than the dolly parton show. The original music was great, and i was amazed at how well the real animals were trained and how real the stuffed animals appeared. When the second act opened, the three tiers of the inside of the ark with all the animals in their stalls was awesome. Good dialog and beautiful music.

Al & Wanda Harris
Gorgetown, TX
✓
Verified Traveler
"Noah, the Musical was beyond anything we had expected. "
Just returned from a trip to branson. Noah, the musical was beyond anything we had expected. The actors, production, and set design was awesome. The animals were so well trained, and comical at times. We will be back for future presentations. Hope they bring the birth of christ to this theater soon. It is now playing at the theater in lancaster, pa. Wonderful from start to finish. You won't regret going to see this production.
Frequently Asked Questions for Noah The Musical at Sight & Sound Theatres:
What is the length of intermission at Noah at Sight & Sound Theatres Branson?

Intermission lasts approximately 15 minutes.

What type of parking do you have?

Parking is free.

Approximately how long is the Noah at Sight & Sound Theatres Branson?

The show lasts approximately 2 hours and 15 minutes.

In what theater is the show held?

Noah the Musical is held at Sight & Sound Theatres in Branson, MO.