Branson, MO Theater and Plays
Amazing Shows to See at Branson Theaters
The Branson Theater and Play productions bring audiences a talented cast to perform song, dance, and storytelling in the shows listed below. Whether you want to visit Sight & Sound Branson Theatres, catch a show at the Clay Cooper Theater Branson Missouri, see a show at the Americana Branson Missouri Theatre, or visit the IMAX theaters in Branson Read More
Branson Theater and Plays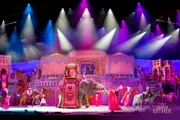 The captivating tale of Queen Esther is taken from the Old Testament. Visitors will be astounded by the storyline twists that keep them hooked to their seats as the story of Esther is revealed through creative scripts and music. The action takes place in the lavish Persian Empire, which is both gorgeous and terrifying. Enter Esther, a regular girl who is abruptly taken to the Persian Palace and forced to start living a life of royalty. Of course, she will face many dangers and challenges along the journey that will put her faith and resolve to the test. This show is perfect for the entire family and includes some of the best passages from the Bible along with pyrotechnics and other features to bring Esther's story to life.
Jun 03
11:30 AM
3:30 PM
7:30 PM
Jun 04
N/A
Jun 05
N/A
Jun 10
11:30 AM
3:30 PM
7:30 PM
Jun 11
N/A
Jun 12
N/A
Jun 17
11:30 AM
3:30 PM
7:30 PM
Jun 18
N/A
Jun 19
N/A
>
Enjoy this beautiful world famous love story that was made for the stage and bought to life under the stars of the premier outdoor amphitheater in Branson, Missouri. Shepherd of the Hills has been serving up an outdoor drama experience that has revolutionized Branson entertainment and the theater scene. Head to this interesting and informative historic play which features not only local actors but live animals as well. Guests of all ages will be entertained during this two hour show which dives into the history of the Ozarks and its 1800s past. Do not miss out on all of the fun available in the beautiful Ozarks Mountain Region!
<
Jun 04
N/A
Jun 05
N/A
Jun 07
N/A
Jun 09
N/A
Jun 11
N/A
Jun 12
N/A
Jun 14
N/A
Jun 16
N/A
Jun 18
N/A
Jun 19
N/A
Jun 21
N/A
>
Hear some of the best music in Branson at the Americana Theater. With tickets to see the Once Upon a Fairytale Show, visitors will hear Disney music and experience the best entertainment in the Ozarks.
<
Jun 04
N/A
Jun 05
N/A
Jun 06
N/A
Jun 08
N/A
Jun 11
N/A
Jun 12
N/A
Jun 13
N/A
Jun 15
N/A
Jun 18
N/A
Jun 19
N/A
Jun 20
N/A
Jun 22
N/A
>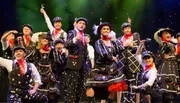 Enjoy a musical hit show with Broadway! The Star-Spangled Celebration. Bringing you wonderful singing performances of your favorite Broadway shows making it an unforgettable evening for the whole family to reminisce these great songs, stories, and performances of Broadways best. Enjoy amazing Branson, MO tribute show entertainment at the King's Castle Theatre's Anthems of Rock production. Witness a bunch of talented local musicians perform the rousing, crowd-pleasing hits of rock's greatest legends. Whether you remember stomping on the football stands to 'We Will Rock You' or dancing to 'I Don't Want to Miss a Thing' at your prom, you'll be transported back to the days of nostalgia and classic rock music. This high-energy show will have you tapping your feet, making it suitable for families and audiences of all ages, even if you haven't been a long-time lover of rock 'n roll.
Final Year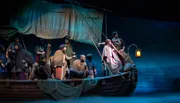 JESUS at Sight and Sound is sure to be a fantastic time, offering a wondrous look into the Biblical stories and fables that have shaped Christianity. With this show, guests will watch in awe as Jesus' journey unfolds on the stage. Complete with elaborate costuming, original music scores, and even live barn yard animals, this show is one that you do not want to miss out on. Bringing Branson's finest entertainment value to audience members of all ages, this is a must-see! Bring the entire family along with you to see this wondrous show. Make new memories in the Ozarks today!
You will definitely be enlighten when you come to see the epic, inspiring,invigorating,incredible real to life stage production of Branson's Sight and Sound theater play production of the incredible biblical story and life of the prophet Jonah.
Inspiration awaits at Sight and Sound Theater in Branson, MO. This lovely show is sure to inspire with its original musical scores and accurate depiction of the Bible.
In 2016, at the Sight and Sound Theatre, you can see Moses' life, from the basket by the Nile to the Red Sea and Mount Sinai, brought to life by professional actors, live animals, incredible special effects and much more.
For an amazing experience of theater entertainment in the Ozarks, Noah the Musical at Sight & Sound Theatres is a must-see show. Do not miss out on this epic tale as it is brought to life with live animals, original music, and more! Each production at Sight and Sound is carefully curated from start to finish. By utilizing special effects and live creatures, the theatre brings the story of Noah and the Ark to life right before your eyes. Guests of all ages will be in awe as donkeys and other animals track across the stage. Watch the life of Noah unfold as he achieves God's will by bringing all of the creatures onto the ark. You and your loved ones can create lasting memories for your getaway.
Bring your entire family to the Sight and Sound Theatres in Branson to experience the story of Samson as never seen before. With world-class actors, live animals roaming around on stage, and hand-crafted stage settings you are sure to be captivated by the performance.