Branson, MO Theater and Plays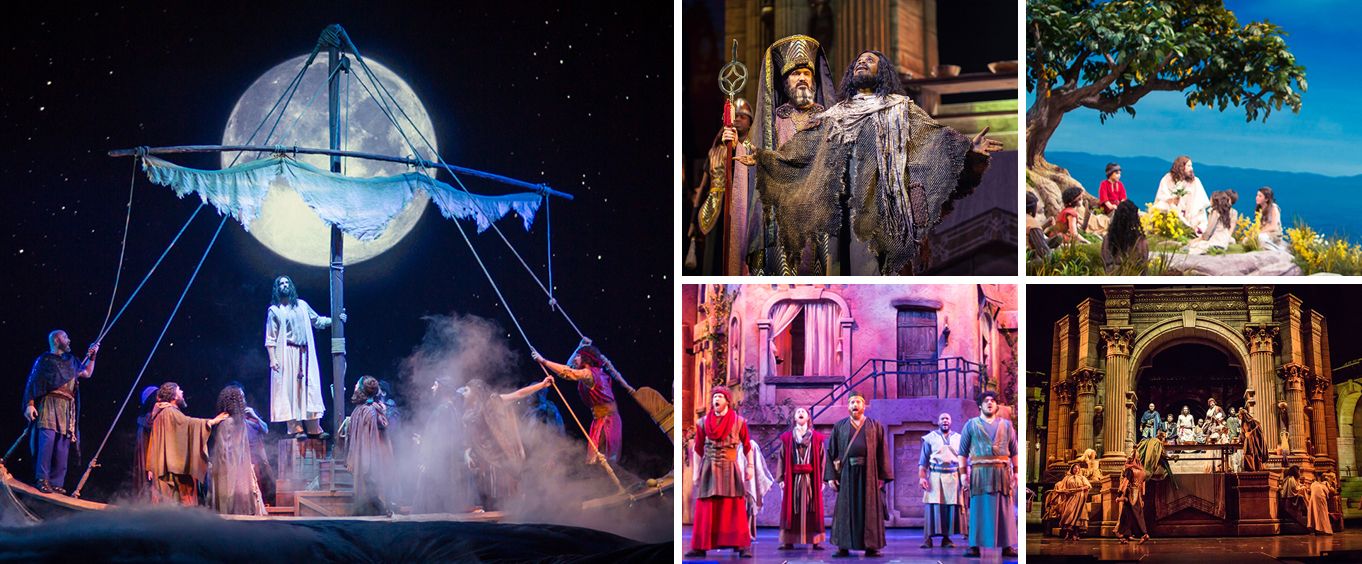 Branson Theater and Plays
An inspiring show awaits all ages with Sight & Sound's JESUS, which tells the life history of the most iconic Biblical figure and how he began his teachings!
Available 200 days between Mar 13 & Dec 31
Mar 14
N/A
Sold Out
Mar 15
N/A
Sold Out
Mar 20
11:30 AM
3:30 PM
7:30 PM
Mar 21
N/A
Sold Out
Mar 22
N/A
Sold Out
Mar 28
N/A
Sold Out
Mar 29
N/A
Sold Out
>
For an amazing experience of theater entertainment in the Ozarks, Noah the Musical at Sight & Sound Theatres is a must-see show. Do not miss out on this epic tale as it is brought to life with live animals, original music, and more! Each production at Sight and Sound is carefully curated from start to finish. By utilizing special effects and live creatures, the theatre brings the story of Noah and the Ark to life right before your eyes. Guests of all ages will be in awe as donkeys and other animals track across the stage. Watch the life of Noah unfold as he achieves God's will by bringing all of the creatures onto the ark. You and your loved ones can create lasting memories for your getaway.
Available 157 days between May 16 & Dec 31
May 17
N/A
Sold Out
May 18
N/A
Sold Out
May 24
N/A
Sold Out
May 25
N/A
Sold Out
May 31
N/A
Sold Out
Jun 01
N/A
Sold Out
>
Enjoy this beautiful world famous love story that was made for the stage and bought to life under the stars of the premier outdoor amphitheater in Branson, Missouri. Shepherd of the Hills has been serving up an outdoor drama experience that has revolutionized Branson entertainment and the theater scene. Head to this interesting and informative historic play which features not only local actors but live animals as well. Guests of all ages will be entertained during this two hour show which dives into the history of the Ozarks and its 1800s past. Do not miss out on all of the fun available in the beautiful Ozarks Mountain Region!
Available 231 days between Apr 13 & Dec 31
Apr 14
N/A
Sold Out
Apr 16
N/A
Sold Out
Apr 18
N/A
Sold Out
Apr 19
N/A
Sold Out
Apr 21
N/A
Sold Out
Apr 23
N/A
Sold Out
Apr 26
N/A
Sold Out
Apr 28
N/A
Sold Out
Apr 30
N/A
Sold Out
May 02
N/A
Sold Out
>

By Date: