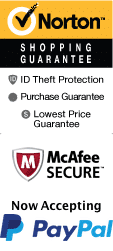 The Magic of Rick Thomas
Location: Mickey Gilley Theatre, 3455 W 76 Country Boulevard Branson, MO 65616
1-800-987-6298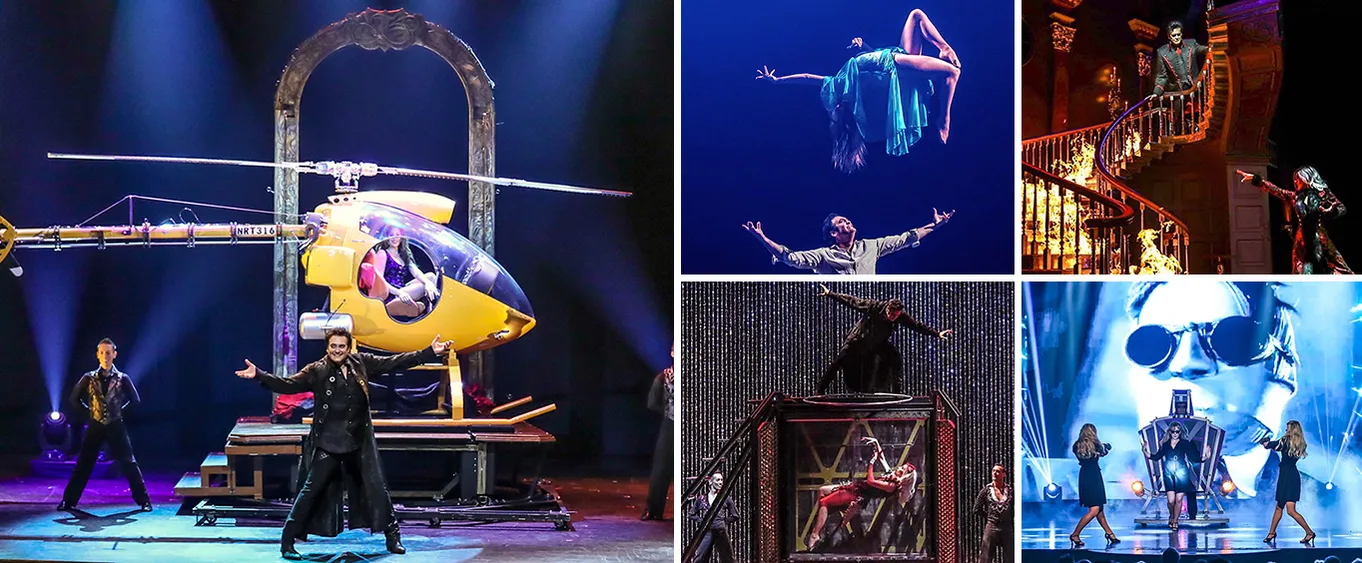 While you're in Branson, Missouri, head to The Magic Of Rick Thomas for a mystical magic show hosted by world-renowned illusionist Rick Thomas! This amazing performer will put on a show that the entire family will be talking about for years to come with the greatest magic and grand illusions that will inspire. Enjoy the Rick Thomas magic show for an awesome time in Branson!
As a world-famous illusionist, he has completed five world tours covering over 50 countries and received countless honors including the coveted 'Magician of the Year' from the Academy of Magical Arts! Rick has performed for more than 15 straight years in Las Vegas, making him known to Las Vegas audiences as one of the most fascinating performers in Las Vegas history.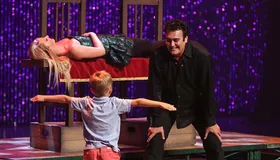 Rick Thomas illusionist has even been featured on numerous television specials including The World's Greatest Magic and his very own special on ABC that aired throughout Asia. Audiences will be mesmerized by the talented magician as he performs the most incredible illusions in the world with a style all his own. Rick Thomas Branson is an experience that you do not want to miss out on!
"EPIC!" - New York Times
This exciting experience features stunning illusions and some of the greatest magic tricks that the has ever seen. This award-winning entertainer will impress with fun audience participation and grand illusions that will leave your jaw on the floor! This stage magician possesses an extreme talent for the art and weaves magic through every show for an unmatched experience. You will be itching for info on just how he completed these illusions! Every child and adult alike will be on their feet at the end of the evening and are sure to enjoy this event while they experience amazing magic and more.
Rick, a renowned Las Vegas performer, is known for his charismatic stage presentation as he weaves magic, music dance, and more into an effortless production. As part of his unbelievable act, Rick incorporates brilliant birds, Great Pyrenees, and assistants into the show.
There are beautiful costumes, hilarious extreme comedy routines, and exquisite dancers to create a seamless spectacle. Audiences will be left in awe by his disappearing acts, mind-boggling illusions, and magical acts! You'll see this incredible performer levitate, disappear, and captivate even the biggest non-believer. Since it is very interactive, you'll never know what's going to happen next. YOU could be the one that he calls up on stage!
About Rick Thomas Magician
"The most amazing show...brilliant!" - TripAdvisor
Thomas comes from a family of performers. At the age of five, he joined his sister in ballroom dance competitions where they earned the title 'Amateur United States Ballroom Dancing Champions' while they were just in their teens! He grew up having an audience watch him and he learned practice, perseverance, dedication, and the struggle between winning and losing at a very young age. He began his stunning magic career at the early age of seven. At eighteen, he had his own production at the Disneyland Hotel! Impressive, right? This show ran for two years before he began performing on over 300 cruises and fifty fairs.
Cultivating a reputation for himself with his amazing illusions and slick showmanship, he easily perfected his craft. He also performed numerous national television specials on many television programs including Animal Planet, MTV, and more! He has also been the recipient of countless awards including the 'Magician of the Year' award from the Academy of Magical Arts(perhaps magic's highest recognition) and other high honors such as the 'Illusionist of the World' award from the World Magic Award, as well as 'Branson's Entertainer of the Year' award for two consecutive years. After being loved on several world tours, fifty countries, and fifteen years in Vegas, he brings his talent to Branson.
Rick Thomas Branson is inspiring and leaves the audience with a positive feeling as each illusion unfolds onstage. Don't miss out on the chance to see one of the best magicians and magic shows in the world and many other great activities while you're on vacation in the beautiful city of Branson. Get your Rick Thomas tickets today!
Options:
The Magic Of Rick Thomas
Available 10/4/2023 until 12/31/2024 View Detailed Schedule
You won't believe your eyes as talented illusionist Rick Thomas whisks you away into a world of magic with his incredible sleight of hand, jaw-dropping tricks and his strong passion for pursuing dreams.
Reviews

Jeff Speight
Cypress, TX
✓
Verified Traveler
"We are so glad we went."
Six family members had difficulty deciding what branson show, but eventually decided on rick thomas' show. We are so glad we went. It was very professionally done. I would just like to come back to see him when branson is full of people. When we were there the streets were empty and there were only 200 in the large theater. Everyone in my group said they had a great time. Thanks rick and tara!

Rosalie Rose
Hardin
✓
Verified Traveler
"BEST show we have ever seen"
This was a last minute decision to see this show, we are so very happy that we saw this! Best show we have ever seen, it was an anniversary gift to my husband and myself and we could have not had a better gift ever! It was worth every penny of the ticket price! Excellent for the entire family. We will return in a couple years when our grandson is 10 so we can bring him to see this..Thank you very much!

joe johnson
minnesota
✓
Verified Traveler
"Rick's show was top notch."
Rick's show was top notch. A huge level above the other shows in branson. As someone else said, he is a professional, while the other shows are amateur. He has excellent stage presence, fun audience interaction, very funny banter, and very impressive illusions. By far the best show we have seen in branson.

Jacquelyn Cato
Waynesville, MO
✓
Verified Traveler
"He is a remarkable, charitable man."
The rick thomas magic show turned out to be the favorite event of our trip to branson! We are 2 grandparents traveling with 3 grandchildren ages, 11, 9 and 8. We have seen many magic acts to include penn and teller in vegas, but this show was just as amazing. Our grandchildren set on the edges of their seats and our granddaughter was called up on stage to help with one of the illusions. The story of mr. Thomas is very interesting. He is a remarkable, charitable man. Tip: he sells wonderful gifts in the lobby afterwards magic sets, bengal tigers, etc. They make excellent christmas and birthday gifts.
Frequently Asked Questions for The Magic of Rick Thomas:
Approximately how long is it?

It is approximately 2 hours.

In what theater is it held?

It is held at the Mickey Gilley Grand Shanghai Theater.

Do the performers sign autographs and meet the audience?

Yes, he will meet with the audience!

What is the length of intermission?

Intermission is approximately 15 - 20 minutes.

What type of parking do you have?

Parking is free at the theater.

What is the dress code?

Dress code is casual.
Book Now!