Branson, MO Magic Show Options
Magic Shows in Branson MO
See an amazing magic show in Branson! The talented magicians of these Branson Magic Shows are masters of illusion and will perform unbelievably astounding tricks. The live animals, costumes, and world-class showmanship of these stars combine to create unmatched magic shows in Branson that the whole family will love. Get tickets today to shows like Reza Branson because Read More
Top Pick
We are confident you and your family will enjoy this top pick.
For an unforgettable afternoon or evening, one of the Lunch & Dinner Cruises is the perfect addition to your itinerary.
<
Oct 07
12:00 PM
4:00 PM
8:00 PM
Oct 08
N/A
Oct 09
N/A
Oct 14
12:00 PM
4:00 PM
8:00 PM
Oct 15
N/A
Oct 16
N/A
Oct 21
12:00 PM
4:00 PM
8:00 PM
Oct 22
N/A
>
Best Seller
This is one of our most popular activities. Be sure to book soon before it sells out!
Visit Reza Edge of Illusion Magic Show when it comes to Branson, MO, and it will blow your mind; the show is appropriate for all ages and lasts about two hours. Reza is an extremely talented magician who has been dazzling Branson travelers and locals alike for years. Head to his self-titled show to see his amazing repertoire of tricks from classic illusions to his famous 'Oreo' trick. You and your entire family are sure to be left in awe by this impressive performer, and it makes the perfect activity for a night out on the town in Branson, MO. Get your fantastic booking tickets today!
Oct 02
N/A
Oct 06
N/A
Oct 09
N/A
Oct 13
N/A
Oct 16
N/A
Oct 20
N/A
>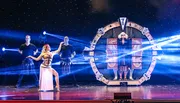 Hamners' Unbelievable Variety Magic Show is sure to entertain as the talented cast wows people with magic tricks in this approximately 2 hour show that is appropriate for men, women, and children of all ages. This magical endeavor stars the talents of Dave and Denise Hamner. This couple works together to bring some of the most iconic magical feats to the stage with them. Get ready to be on the edge of your seat during an evening of magic and fun. The illusions are certain to impress as they delight with mind-bending tricks that will keep you guessing. Remain entertained through the production and walk away with a new appreciation for the brilliance of magic.
<
Oct 06
N/A
Oct 09
N/A
Oct 13
N/A
Oct 15
N/A
Oct 16
N/A
Oct 20
N/A
Oct 22
N/A
>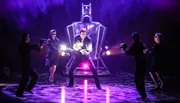 Rick Thomas puts on magic shows that amaze crowds with the way he makes large objects seem to disappear and reappear, and this expert at the craft of magic has been doing his thing for years! At The Magic Of Rick Thomas, Branson's crowds often stare in awe wondering "How did he do that?" when Thomas makes vehicles move with slight of hand and presents a show that will amaze the whole family. This dazzling show gives off an amazing energy and allows visitors of all ages to revel in the magical illusions of this talented Branson magician. Don't miss out on all of the exciting tricks that will have you on the edge of your seat.
<
Oct 03
N/A
Oct 05
N/A
Oct 08
N/A
Oct 10
N/A
Oct 12
N/A
Oct 13
N/A
Oct 15
N/A
Oct 17
N/A
Oct 19
N/A
>