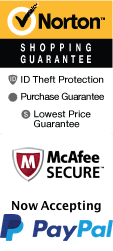 YOUR PEACE OF MIND IS OUR TOP PRIORITY
Should you need to cancel at any time, you have up to 48 hours from your vacation start date to do so for a 100% future travel credit.
Things to Do in Branson for May 2020

Top May Things To Do In Branson
May 28, 2020
to
May 30, 2020
Hamners' Unbelievable Family Variety Shows
Schedule

Enjoy one of the top variety shows in Branson, Missouri this May at Hamners' Variety Theater. Denise and Dave Hamner have been in this industry for a long time and have taken their show all over the country. They have performed in Disneyland, Las Vegas, and Hollywood's Magic Castle, just to name a few. This show is so amazing that it has received numerous awards. It has been featured on NBC's World's Greatest Magican as well as getting awards like the Bronze Lion Head, Magic Master's, and the Merlin Award by the International Musicians' Society. You will get to enjoy this two-hour-long performance in an amazing venue. This venue offers state-of-the-art lighting and video effects. The performers are dressed in colorful, quality costumes that you won't forget anytime soon. It is appropriate for all ages and is sure to impress anyone that gets a chance to see it.
May 27, 2020
to
May 30, 2020
Anthems Of Rock
Schedule

May is here. Are you bored? Are you wondering what or where to go to find that fun? Well, buckle up and get ready, the Anthem of Rock is here. Get ready for the awesome music, the entertainment and dance. The Anthem f Rock at Kings Castle Theater provides rock music from all decades. The legends of rock music are well presented here. If you love rock music or you want someplace you can rest with your loved ones, Anthem of Rocks is the place to be. Join this talented live cast for some exceptional fun and create long-lasting memories that will take you back to the good old days. The legendary performance will throw you off balance. There will be amazing artists that have been celebrated over the years. Do not get bored when you can have a fun evening at the Anthem of Rocks. Do not let may slide away without some fun. Rock the cowboy outfit and get your evening started at the Anthem of Rocks.
May 27, 2020
to
May 31, 2020
Yakov "Make America Laugh Again" Show
Schedule

May 26, 2020
to
May 30, 2020
Pierce Arrow Shows
Schedule
For several years there has been only one show that has offered family fun, which incorporates tons of comedy and an array of music, and that show is The Pierce Arrow Show. This two hour jam packed show has been known around the Branson area as the hottest family-friendly show, because of the energy executed throughout the whole show, as well as the unique lighting, moving stages, and special effects. A very important part of the show is the very accomplished Quartet, which has performed for George Bush, Sarah Palin, Jay Leno,and they even became finalist on American Idol. Besides the Quartet, there is also the very accomplished and multi-talented comedian James Sibley, who is also a gifted singer and actor, who incorporates all of his many talents to help add onto the shows clean fun. All in all The Pierce Arrow Show is just an amazing fun filled event for the month of May, that will help keep the whole family entertained, as summer is rolling in.
New Jersey Nights a Frankie Valli & the Four Seasons Celebration
Schedule

There is pure talent in New Jersey at the New Jersey Nights A Frankie Valli The Four Seasons Celebration. Of course, you'll have a good time with your friends and family. You'll get a chance to drive to different locations and party all night long. If you love quartet music, you'll love this tour. New Jersey is known for having the best bars and the best fun. In reality, you'll find yourself participating in different activities. For example, if you want to sing karoake songs, you should travel there and have fun. For that reason, it's time to book your vacation today. In general, New Jersey is a good place to travel with your family. If you want to impress your wife or husband, this trip should be booked. You can have a tour guide explain all of the landmarks. In actuality, your vacation will be the most exciting to you.
May 27, 2020
to
May 31, 2020
Bigfoot Discovery Expedition
Schedule
The Bigfoot Discovery Tour will be up and running again this May! Be one of the first guests of the year to go on a 4x4 adventure in the beautiful Ozark mountains where Bigfoot has been spotted many times! The expedition is informative and exciting for all ages. Along the way you will see several of the biggest attractions in Branson as well as visit a real working farm! The areas history, scenic views, and a thrilling ride on Parakeet Pete's Zipline will infuse you with both wonder and excitement! You will be able to observe the beautiful and fascinating Scottish Highland cattle on a 450 acre farm. Best of all will be the offroad adventure part of the tour which winds through wooded areas and alongside the scenic cliffs. While you ride you will learn the Native American legends of how they interacted with the "hairy people" (Bigfoot) in the area. Stories of Bigfoot encounters, the chance to see local wildlife, and kid friendly activities at the family fun park will be a fulfilling conclusion to the days adventures. Come to the Bifgoot Discovery Expedition this May for an adventure that the whole family is sure to enjoy!
View all events occurring during your stay