Samson at Sight & Sound Theatres® Branson
Location: Sight & Sound Theatres,
1-800-987-6298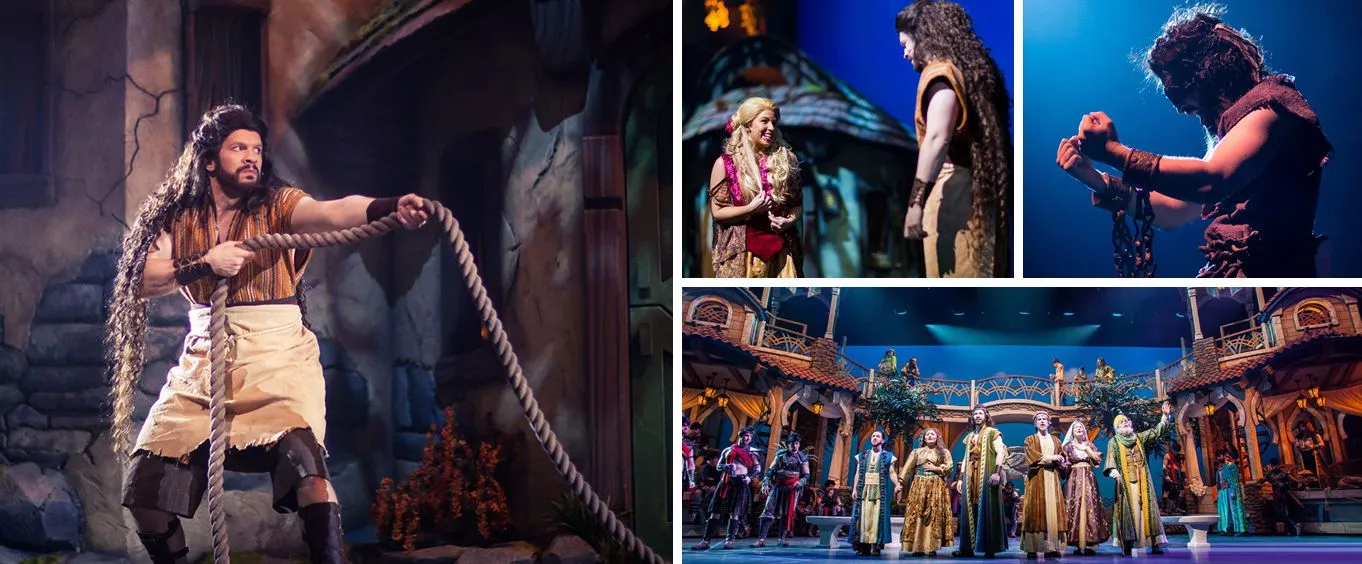 Head out to Branson, Missouri and see Samson at Sight and Sound Theatre for an unforgettable exploration of the story of Samson, in its last season. The theater expertly combines an original script and music with unforgettable on stage special effects, acting, vibrant costuming, live animals, and sound production.
Get tickets for your next vacation today!
Travel along with this Biblical figure as he follows his calling in life and fulfills his journey of obeying God. Audiences will be amazed and inspired as Samson conquers his person demons, fights with the Philistines, and battles a lion on his journey while showcasing superhuman strength. With stunning costumes and visuals, this show is brought to life on stage in front of your very eyes for an unforgettable Samson show in Branson.
The story began when Samson's mother is approached by an angel before Samson's birth which informs her that her son will save the city of Israel from the Philistines so long as he allows his hair to grow and never drinks wine. Both of these were huge obstacles of temptation that he faced but he obeyed God's word. When he was born, he had been given amazing strength. He grows to face many trials in his life such as being betrayed by Delilah and held captive where he prays and gives himself over to God. He slays a lion with his bare hands given to him with the strength of God. Explore and learn his trials, tribulations, and his triumphs in this amazing Biblical story production. This show tells the story of Samson in a delightful and new way, using colorful characters, original musical performances, and a professional cast that brings this epic experience of supernatural strength and faith to God to people of all ages.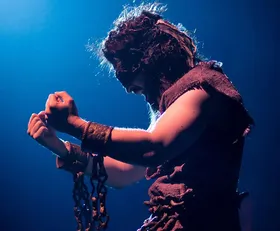 About the Samson in Branson MO Venue
This theater is known for its amazing array of shows, including the Samson show in Branson. This well-known theater truly prides itself on an immersive experience featuring biblical stories brought to life before your very eyes. The venue has seen many shows throughout its years in the Ozarks. Just a few of these beloved live stage productions include Jonah, the Miracle of Christmas, Moses at Sight and Sound, and more. Visitors to this Christian theatre have been able to see an array of biblical characters brought to life. They have seen Samson fight temptation, Moses part the Red Sea, and have uncovered the inspiring true reason of Christmas. The theater has been bringing these amazing and uplifting stories to the world for decades, having debuted in 1976. This family-owned attraction has utilized everything from live pigs and horses to state-of-the-art production elements and lights. They truly do a great job in allowing guests to learn all about these biblical events. Each production is carefully crafted to provide the best experience. This is a beloved theater, though this amazing theater also brings its epic tales and stage production flair to Lancaster County, Pennsylvania. The theater is also showing the Miracle of Christmas show for the season. Be sure to see Samson in Branson MO or one of the other great shows!
Did You Know? 2019 is the Final Season for Samson in Branson.
Each year, the two locations host more than a million people from all over the world who travel to see these epic performances. The company wasn't always so big, though. As a family-owned and run theater, Sight and Sound had humble roots. It all began in Lancaster County with the founder, Glenn Eshelman. This artist truly prided himself on everything from painting to photography and created a side show in 1964. It was the first ever S&S production! At first the show was a traveling experience, but in 1976 it found a permanent home first known as the Living Waters Theatre. The Behold the Lamb show was the very first production that used live theatrical elements that Sight and Sound is known for today. Now, Sight and Sound has grown from a side show to an amazing production complete with a 2,000 seat theater with a 300 foot panoramic stage in Lancaster County, and of course the beautiful stage which was opened in 2008.
About the Productions
Each Sight and Sound Theatres production is truly an inspiring experience to all who see it. Not only are the shows themselves fantastic, but the theater absolutely knows how to use state-of-the-art equipment and effects to their advantage. Each show takes approximately 42 months to complete. The scripts, stories, and music are all completely original. As well as providing a live music aspect, the soundtracks are original music that is created and recorded specifically for each show. These soundtracks can be purchased as well. Each song is performed live, though, by talented vocalists. A new show is produced every other year!
photo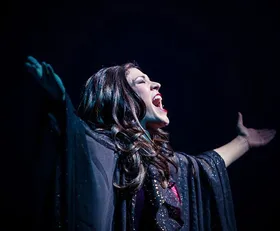 About the Animals
One of the most striking features is its utilization of live animals in each production. These animals include everything from pigs, horses, dogs, cats, llamas, camels, cattle, donkeys, and much more! Each animal is treated like a member of the Eshelman family, and there are animal care facilities featuring large grazing pastures for both the Lancaster County and Branson locations. The animal caretakers are knowledgeable and truly love and enjoy working with the animals who are happy, healthy, and well-loved.
This immersive production is bound to be one of Branson's best attractions, so ensure that you do not miss out by taking a trip to see this production in all its glory! This epic production will have the entire crowd on their feet in a standing ovation, so do not miss out on this inspiring attraction and many other popular attractions during your next vacation to Sight and Sound Theater.
Get your tickets today! Be sure to visit some of the other awesome attractions in Branson, Missouri including Dolly Parton's Stampede, Titanic Museum, Oak Ridge Boys, Table Rock Lake, Presleys' Country Jubilee, and Silver Dollar City during your trip. samson showtimes sampson sights
Reviews

Chad Williams
Little Rock, AR
✓
Verified Traveler
"my family and I were on the edge of our seats the entire time"
This was the most amazing play my family and i were on the edge of our seats the entire time we plan to come back in december and hope to see it again, everything and everyone was no nice and welcomed us the lighting and sound affects were great, the ending was awesome felt like we were part of the play we were jumping as if the wall was falling down on us i can't say enough about the play it definitely is a 5 star if i could give more i would

Judy Bryan
Birmingham, AL
✓
Verified Traveler
"100 Stars to this show."
I have seen a lot of broadway shows including phantom of the opera and les miz. Samson is the best show i have ever seen and i am 69 years old. The staff was so kind and efficient. I broke my foot the day before and they provided excellent and comfortable seating to accommodate me. The set and scenery was breathtaking. The voices and all actors were amazing. I'm hoping i can make a return trip to see this wonderful show again. 100 stars to this show.

Judith Dunwoody
Fulton, Missouri
✓
Verified Traveler
"We thoroughly enjoyed the production of Samson!"
We thoroughly enjoyed the production of samson! We have gone to church most all of our lives and still learned several things about samson that we did not know. We did check the facts in our bible to confirm which were actual biblical facts and which were poetic license. We appreciated the heads up before the performance that a small part of it would be added to make the story unfold more clearly. That was a good thing to do. It was a very accurate biblical account however, and such a magnificent production!! The use of live animals is fascinating. Quite extraordinary to say the least. We saw moses last season so can't wait till next year. It will be a family event from now on.

Camille
Cookeville, TN
✓
Verified Traveler
"It is an amazing production."
It is an amazing production. The voices, the movement, the acting, the action, all get 5 stars. I just wish i could go and see all of the sight and sound productions. The two i've seen are unforgettable! And biblically sound!
Tip: Go! Go! Go! If at all possible.
Frequently Asked Questions for Samson at Sight & Sound Theatres® Branson:
Approximately how long is the Samson at Sight & Sound Theatres® Branson?

The show lasts approximately 2.5 hours.

In what theater is the show held?

The show is held at the Sight and Sound Theatres

What is the length of intermission at Samson at Sight & Sound Theatres® Branson?

Intermission lasts approximately 15 minutes.

What type of parking do you have?

Parking is free.