Titanic Museum Branson - World's Largest Titanic Museum Attraction 2023 Schedule

Titanic Museum Branson - World's Largest Titanic Museum Attraction 2023 Schedule
Titanic museum in Branson, MO is a step back in time. Replicas and over 400 actual artifacts from the Titanic are on display, including an iceberg and a 3rd class replica. The museum creates a feel of being aboard the Titanic on her maiden voyage. Upon entrance into the museum, you will be handed a ticket with an actual name of a passenger that traveled on the Titanic. Through your tour of the museum, you can figure out if your person lived or died when the ship sank. The museum is open every day of the year except Christmas with tours taking about 90 minutes. Artifacts from the motion picture, including the 155 carat sapphire heart necklace worth $250,000 and a showing of 'Titanic' are also a part of the museum tour.
Titanic Museum Branson - World's Largest Titanic Museum Attraction Schedule
Titanic Museum

Most guests spend approximately 2 hours at the attraction.

Reservation Are Required Due To Covid-19 Attendance Limits, Reservation Are Required In Advance Of Visiting The Titanic.

Date / Day
Available Times

Titanic Museum is not set to open on this date.

Titanic Museum is not set to open on this date.
Full Calendar
Titanic - World's Largest Museum Attraction (Reservation Required):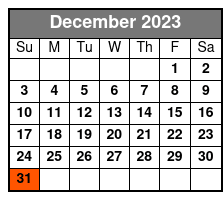 Book Now!