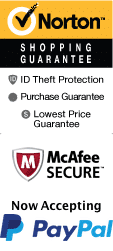 Branson Zipline and Canopy Tours
2339 US Hwy 65 Walnut Shade, MO 65771
1-800-987-6298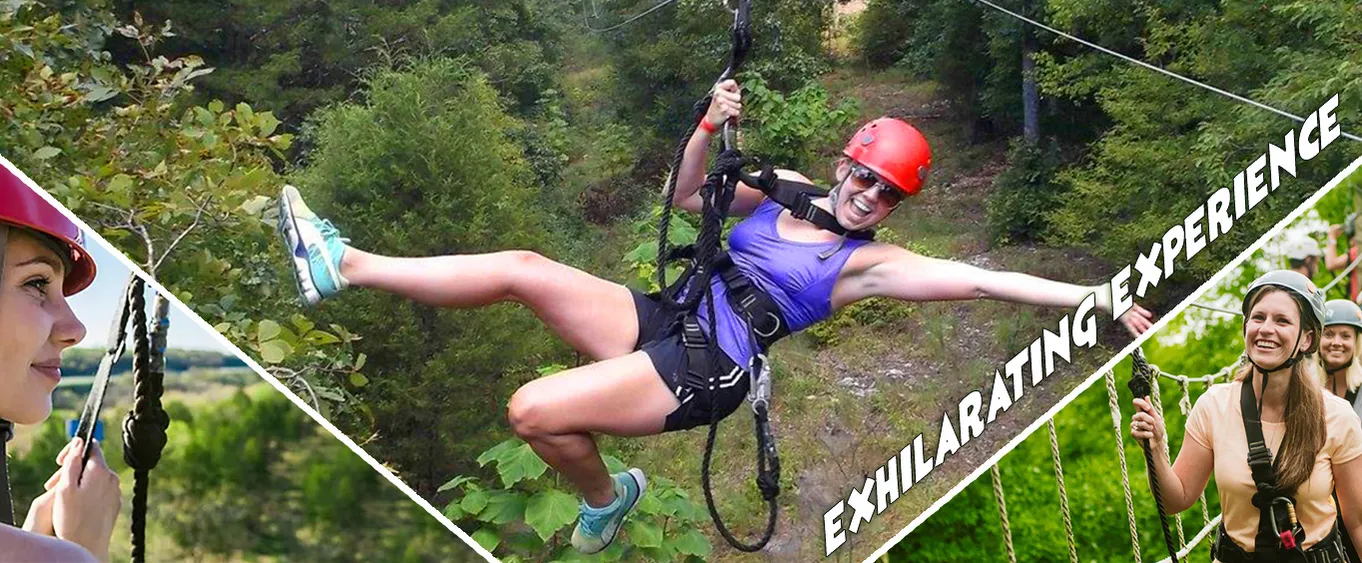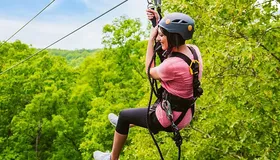 Are you ready for a thrilling experience and a bird's eye view of the Ozark Mountain area via a zipline tour? By embarking on one of Wolfe Mountain's zipline adventures, you sign up for hours of fun! These canopy tours are unlike anything else out there; every decision that is made in regards to the courses is to ensure that every guest has the time of their life while on these world-class adventures. For awesome aerial views, this Branson zipline canopy tour attraction is a must, as it includes numerous ziplines to help you create picturesque memories.
Adventure Ziplines of Branson Orientation
Before you head out to the zipline in Branson MO course, you will have a brief ten minute orientation that will go over the basics of safety. After that, you are taken from Wolfe Creek Station to the top of Wolfe Mountain in a Pinzgauer Swiss Army Troop Carrier. On the way up, you will begin to be immersed in the beauty of the Ozarks on a gorgeous canopy tour. You will truly be one with nature within the trees.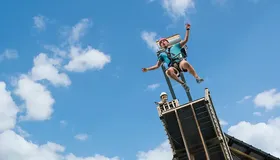 Now that you know the basics, it's time to choose a canopy zipline tour for your next vacation to the Ozark Mountains. There are several different adventure zipline options to choose from. The zip line tour features 7 different ziplines, a 40-foot Dynamic Drop, 10 Sky Bridges, and tons of fun! During your adventure tour, you will see the beauty of the Branson Missouri area. There are plenty of things to see on this guided canopy tour, from lush green forests and rolling hills to abundant wildlife. These adventure ziplines of Branson are unique, allowing visitors of all ages to experience nature in the region.
Zipline Branson MO Tours: Experience Awesome Fun at this Branson Zipline
These zipline Branson MO tours are great for all ages! The only restriction is that you must weigh between 70 and 275 pounds. You will be provided with all of the necessary gear which meets the ACCT standards for zipline equipment. The full-body harness ensures maximum comfort and safety while on the course so you can feel confident knowing that you can focus on the fun stuff. When you take the tour, you should wear close-toed shoes and comfortable clothing. Dangly jewelry must be taken off and long hair must be tied back. For everyone's safety, you are not allowed to take cameras or recorders with you. Branson zipline at wolfe mountain
Conquer the numerous zip lines and see the natural beauty of the Branson area on this canopy adventure combo. Every traveler is sure to have a blast as they explore each tree canopy, zooming along on a fantastic eco adventure that is sure to delight. Ride the zipline and create lasting memories with the family, all in Branson, MO! branson view zipline wolfe mountain branson
Options:
Ozarks Explorer Canopy Tour
Available Now until 12/31/2023 View Detailed Schedule
The Ozarks Explorer Canopy Tour includes fantastic views and adventure including suspension bridges to conquer, ziplines to soar across, and beautiful sights to see. This zipline tour features a 40-foot free fall, 7 ziplines, 10 suspension bridges, and lasts approximately 2.5 to 3 hours. This adventure is perfect for a morning or afternoon.
Reviews

Christine Bucko
Chicago, IL
✓
Verified Traveler
"Enjoyed immensely the zipline and would do it again."
Enjoyed immensely the zipline and would do it again. I have told others about my experience using the photos and many indicated that it looks like so much fun. Where was it? Many asked. So i tell them all about branson including it's for families. The people are nice. It's pretty there.

Sonia Alpine
Austin, Texas
✓
Verified Traveler
"The scenery was beautiful...."
I had a fantastic time! My kids loved their guides miles and julie, and both of them helped us get through our fear of heights! Soaring through the trees and zipping over creeks was a once in a life time experience! The scenery was beautiful and all the staff was friendly and very helpful! :)

S.
Richland, MO
✓
Verified Traveler
"I would do it Time and Time AGAIN!!!"
I would do it time and time again!!! Awesome staff....! Very patient....Very personable and they all seem to really enjoy their job! You may consider it expensive, but consider you have 3 guides with you, someone making sure that you and your family are totally safe. They explain each time they move your cables and why...The importance of the safety!! They keep the groups small and very much fun...! So loosen up the pocket book and enjoy....

Timothy Figueroa
Columbia, MO
✓
Verified Traveler
It was awesome. A great experience.
Frequently Asked Questions for Branson Zipline and Canopy Tours:
What is included in the admission price?

The price includes the tour and all equipment.

Approximately how long could a customer plan to spend here?

Each tour is over a mile long. Plan to spend 2-3 hours at the location.

Is photography & video recording allowed?

For safety, cameras are not allowed on the ziplines.

For what ages is it appropriate?

This is appropriate for all ages as long as they meet the weight requirement: 70 - 275 lbs.

Is parking available? Is it free?

Yes, free parking is available at the location.
Book Now!