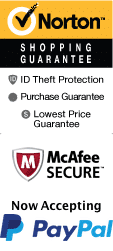 History of Fishing Museum
225 N. Wildwood Drive Branson, MO 65616
1-800-987-6298
With an intriguing variety of fishing memorabilia, the History of Fishing Museum Branson is the perfect place for anglers to visit. The museum is comprised of an impressive 40k piece collection, housing everything from various lures, rods, boats, motors, and more. From some of the most antique fishing lures to more modern and popular lures, you can see a variety of things to represent the fascinating history of the sport.
Items from the collection date all the way back to Native American and Eskimo eras as well as pre-colonial time periods. This insight into fishing of the past is a unique way to gain an appreciation for the hobby. Whether you have just picked up your first rod or have been a master angler for years and want to check out historic fishing paraphernalia, this museum is sure to have something to pique your interest.
Just a few of the most notable items that are featured in the collection include:
Haskell Fish Hook
Created by Riley Haskell in the mid 1800s, this is the very first American plug-type bait! Enjoy a look at antique tackle when you see this interesting lure, which was made from copper, silver, brass, and bronze. The specific lure on display is the bass size and is made from silver. Another Haskell lure sold for more than $100,000 in 2003!
Spike Reel
Hailing from the 1730s, this antique lure was made in Europe. It is also known as the first known reel to exist and was heavily used by American fishermen.
Skeeter Boat
This impressive vehicle was the first manufactured Bass Boat. Not only is it the first off the line, but it also is made up of some of the first parts created as well, including production hull #1 and fiberglass #3.
Comstock Flying Helgramite
Engineered by Edward Comstock, this 1883 model is the first wood plug ever made. Not only does the collection feature the original lure, but it was also used in the court case between Pflueger and Comstock.
Snyder Reel
This piece from the 1840s is known as the very first casting reel that was manufactured in the U.S. Created by George Snyder, this reel is one of only four in existence.
Buel Trolling Spoon
This is the oldest patented artifact in the museum! It was patented in 1852.
As well as these interesting patented lures, the museum has an astonishing array of antique lures ranging from colonial times to the times of Native Americans and Eskimos. Visitors can also enjoy the most recent display: a collection of interesting aquatic animal bones and fish fossils!
With a variety of coveted pieces, Karl and Beverly White's collection is the best in the country. If you are a fishing connoisseur, a trip to this amazing museum is definitely something that should be on your agenda the next time you visit. Not only is Branson home to this marvelous museum display, but you can find plenty of your own fishing adventures throughout the Ozark mountain area. From the gorgeous Table Rock Lake to Stockton Lake and Lake Taneycomo, there are plenty of amazing sites, boat rentals, and marina locations to enjoy. You can even grab a bite to eat at White River Fish Company or visit Bass Pro to get the latest fishing lures and more.
Whether you want to catch crappie, trout at Table Rock Dam, or even go fly fishing, there are tons of opportunities in Branson to catch your next biggest fish! Of course, be sure to check out other Branson attraction options, from the fun of Silver Dollar City to the fantastic Branson area shows. Book your hotel and enjoy your Ozark Mountain area fishing adventure!
Reviews

Greg Malone
Wadena, Minnesota (MN)
✓
Verified Traveler
The guy that gave the tour is very knowledgeable in his history. We all enjoyed it even our daughters who does not like to fish.

Sharon W
Daytona Beach
✓
Verified Traveler
"We absolutely loved this!"
We absolutely loved this! The personal tour from the curator is a must do. He is passionate and knowledgeable—seems to know the details of every one of the thousands of items lovingly mounted and labeled (individually typed by his wife). So glad we went.
Frequently Asked Questions for History of Fishing Museum:
What is included in the admission price for History of Fishing Museum ?

Includes all of the exhibits.

Approximately how long could a customer plan to spend at History of Fishing Museum ?

Visitors spend approximately 1 hour here.

Is History of Fishing Museum handicap accessible?

Yes.

Is photography & video recording allowed?

Non-flash photography allowed.

For what ages is History of Fishing Museum appropriate?

Great for all ages.

Is parking available at History of Fishing Museum?

Yes. Parking is free.
Book Now!