Branson's Christmas Wonderland
Click for More Information

Exclusive Online Offer: Buy 1 Get 1 Free
(Must purchase in advance online or toll-free at 1-800-987-6298)
Location: King's Castle Theatre , 2701 W 76 Country Blvd Branson, MO 65616
1-800-987-6298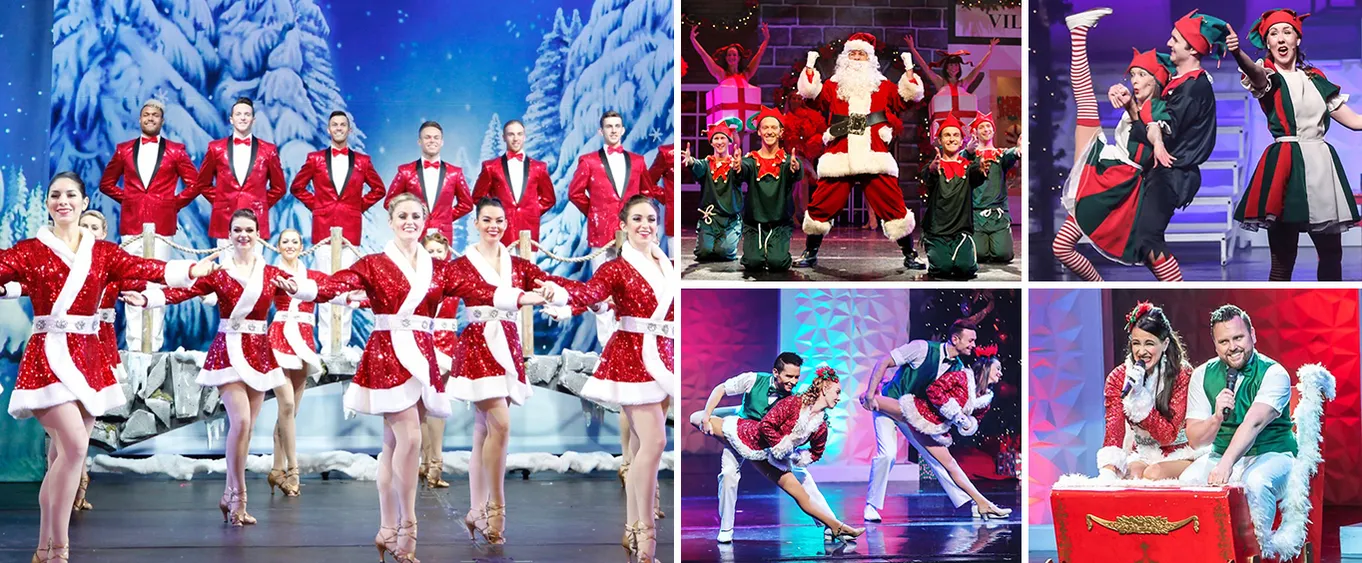 You won't want to miss one of Branson's largest holiday Christmas show celebrations with a dazzling variety of singers, dancers, and performers at this beloved holiday show, Branson's Christmas Wonderland! It is one of the best things to do in Branson at Christmas and is sure to be a blast! Take a break from the hectic holiday season and enjoy a show that is sure to put you in the spirit. Full of red and white costumes and sparkles galore, this show will amaze you as performers spread yuletide fever. This show will play all of your favorite seasonal tunes including, 'Happy Holidays', 'I'll Be Home for Christmas,' 'The First Noel,' and more with dancing girls straight from the North Pole! Visit Branson during Christmas for an amazing time.
About the Christmas Wonderland Show
The two-hour show sure is guaranteed to put a smile on your face and leave you wanting more jolly spirit. With lights, colors, and music, this show is known for its eccentricity. The backdrops for the show features lights, faux snow, and frosted windows to make you feel like you're inside a classic holiday movie or book. Enjoy the holiday traditions of your favorite characters such as Santa Claus, Mr. Scrooge, and Frosty the Snowman. Plus, you will be able to hear songs like:
White Christmas
Silent Night
O Come All Ye Faithful
Rockin' Around the Christmas Tree
Joyful Joyful
and more! Each of these songs is performed by a talented cast of actors and actresses alongside choir girls for an incredible evening of harmonies and your favorite classics.
The set resembles the bright and beautiful streets of New York City. You'll see Santa's helper elves in the North Pole as they prance around preparing for the holidays to come as well as special scenes from the famous show, The Nutcracker. Each of these backdrops is elaborate with gorgeous decor and a real Christmas feel. Plus, they are complemented by dazzling costuming and props for a true Christmas Wonderland!
About King's Castle Theatre
This lovely annual production is known for being one of the biggest holiday celebrations in the Ozarks. Plus, it is held at one of the most beloved theaters in the city! Head to King's Castle Theater where you will be treated to a display unlike any other. With state-of-the-art equipment, a beautiful stage complete with handcrafted sets and sparkling costumes, and a lighting and sound system that will blow your mind, King's Castle Theater truly showcases the essence of Branson entertainment. This theater is also known for other Branson favorites such as Broadway's Greatest Hits, Dublin's Irish Tenors & the Celtic Ladies, and New Jersey Nights featuring the music of Frankie Valli and the Four Seasons. A show here is bound to be an amazing time, so do not miss out!
Relish in bringing the entire family to Branson for an extraordinary Yuletide season! Christmas in Branson 2015
Options:
Christmas Wonderland
Available Now until 12/31/2024 View Detailed Schedule
Escape the unforgiving cold weather of winter with a heartwarming holiday extravaganza featuring festive recreations of beloved Christmas scenes, candy-striped costumes and all of your favorite Christmas songs.
Reviews

Christopher Blockburger
Lansing, KS
✓
Verified Traveler
"The show was a great variety and Santa was a hit"
I would go see the winter wonderland again. The show was a great variety and santa was a hit.

Dennis Sartin
Collinsville, Oklahoma
✓
Verified Traveler
Thoroughly enjoyed our time in branson. Everything went as planned. We had excellent seats for shows and suspect partly because we had purchased tickets ahead of time. Would have liked to have seen more explanation of shows with advance tickets we received and also would have been helpful to have also received a small map showing general location of shows and events we had purchased tickets for . We had a great time.

Irene McCoy
Milford, IO
✓
Verified Traveler
High energy show with some very talented performers. A winner!

Phil Vp
Broken Arrow, OK
✓
Verified Traveler
"We would definitely recommend it to others."
We took our two boys to this show. It was a pretty long show with an intermission. It was high energy and a lot of fun. We really enjoyed it and all the dancers and singers were great. We would definitely recommend it to others.
Frequently Asked Questions for Branson's Christmas Wonderland:
What is the dress code?

Dress code is casual.

Approximately how long is the show?

The show lasts approximately 2 hours.

In what theater is it held?

The show is held at The Kings Castle Theater

What type of parking do you have?

Parking is free.
Book Now!

Exclusive Online Offer: Buy 1 Get 1 Free