Christmas In Hollywood presents Christmas Wonderland
Location: King's Castle Theatre , 2701 W. 76 Country Blvd Branson, MO 65616
1-800-987-6298
Description
Christmas In Hollywood presents Christmas Wonderland Photos (10)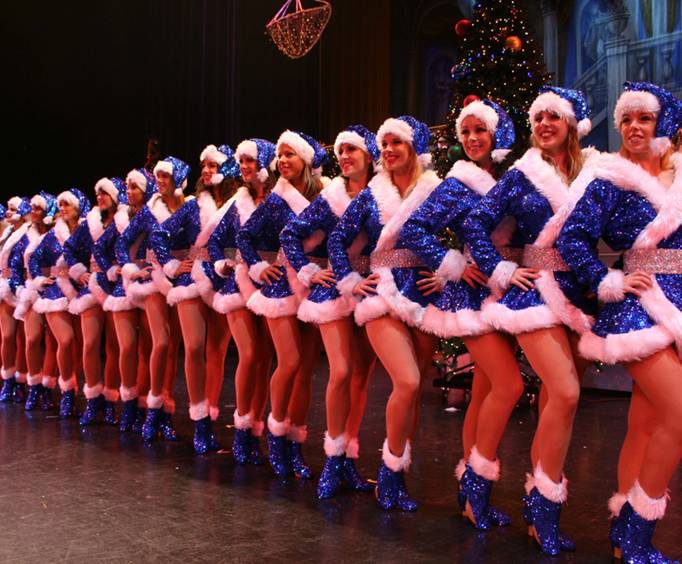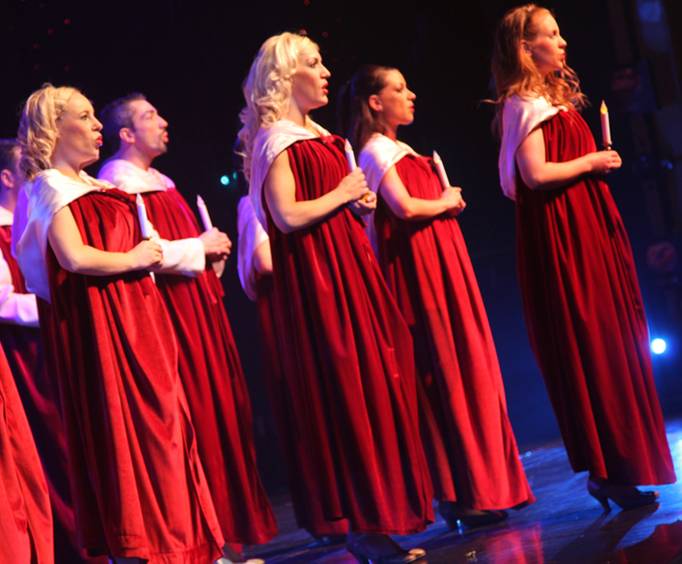 Experience Christmas Wonderland, a lavish production that will take you on a musical journey from the North Pole to California as the festive sights and sounds of the holiday season take over the stage.
Christmas Wonderland is one of Branson's largest holiday productions, boasting colorful, candy-striped costumes, exuberant choreography, and the magnificent harmonies of an incredibly talented cast of performers.
Throughout this heartwarming show, the stage will come alive with the gorgeous scenery of Santa's workshop in the North Pole, bustling with activity, the snowy, sparkling streets of Christmas in New York City, familiar scenes from the traditional story of The Nutcracker, and a glittering Winter Wonderland, complete with the highest-kicking chorus girls of the North Pole!
Sit back as scenes from beloved Christmas movies are recreated throughout the evening with an incredible backdrop of dazzling Christmas lights, fluffy, white snow, and the beautifully frosted windows that hold the dreary cold at bay while you soak up the warmth of the holiday season. You'll find yourself singing along to your favorite holiday tunes as this energetic cast stirs the old classics back to life with distinctive and uplifting renditions of 'White Christmas,' 'Happy Holidays,' 'I'll Be Home For Christmas,' 'The First Noel,' and so many more.
It's never too early for warm cups of hot cocoa, playful snowball fights, breathtaking Christmas trees adorned with glittering lights, decorative garlands, and of course, the wonderful sounds of Christmas music! So ring in the Christmas season with Christmas Wonderland in Branson, an unforgettable yuletide extravaganza that will warm the hearts and souls of all those who see it.
Reviews
4.1 | 75 reviews
Karen Gilley
TX
✓
Verified Traveler
Great show and the theatre was very accommodating to my elderly mother.
Phil Vp
OK
✓
Verified Traveler
We took our two boys to this show. It was a pretty long show with an intermission. It was high energy and a lot of fun. We really enjoyed it and all the dancers and singers were great. We would definitely recommend it to others.
Irene McCoy
IO
✓
Verified Traveler
High energy show with some very talented performers. A winner!
Paul Sykes
Hattiesburg, MS
✓
Verified Traveler
The entertainers and show were outstanding except for the frequently appearance of "santa claus" which for me, at least, was a distraction to the overall presentation, beautiful costumes, excellent dancing, and festive atmosphere. That was my only complaint. The performers were overshadowed by santa which was disappointing to me personally although the audience seemed to like the overall show. Please consider reducing his activities in the show so that the performers can "shine" with their remarkable talent. The cleanliness of the facility was also questionable. Floors were dirty from food or drinks dropped on it from previous performances. From my point of view, the audience seats seemed to have a musty smell to them as well. Overall appearance was of a building that was old or not well maintained. Improvements could be expended in both cleanliness as well as upgrading fixtures, seating, and other amenities.
BRANSON
SHOWS & ACTIVITIES
BRANSON MO
HOTELS & VACATION PACKAGES
MOST POPULAR THINGS TO DO
IN BRANSON MISSOURI
Book Now!