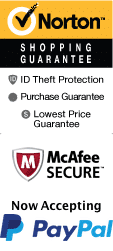 Showboat Branson Belle Lunch & Dinner Cruises
Showboat Lunch & Dinner Cruises
4800 Historic State Hwy. 165 Branson, MO 65616-8934
1-800-987-6298
For an unforgettable afternoon or evening, one of the Lunch & Dinner Cruises is the perfect addition to your itinerary. This classic showboat-style activity transports guests to the days of paddleboats along the Mississippi River right on Table Rock Lake. This authentic and fun experience is great for all ages, so be sure to book your tickets today and head to White River Landing to add something new and fun onto your Branson getaway!
A great Branson dinner cruise allows guests to relax and unwind while enjoying amazing sightseeing opportunities along the sparkling Table Rock Lake. As well as offering panoramic views of picturesque scenery, these cruises also feature energetic entertainment that will impress and delight and delicious meals that will make your mouth water. With tons of different themed cruises and options, there truly is an option for every vacation type.
About the Dinner Boat Cruise Ship & The Showboat Branson Dinner Cruise
The attraction was created to bring the good ole days of paddle wheel boats to the Ozarks. Completely modeled after the old ships found in the 1800s, this historic homage is a great way to get out an experience the views of Table Rock Lake. The ship itself is immaculate, comfortable, and provides tons of fun. The Showboat was launched on August 13, 1994, and since then thousands of visitors have taken a ride on this paddle wheel boat. The vessel towers over Table Rock Lake at an astounding 112 feet tall. Its two twin paddle wheels span a length of 16 feet wide and 24 feet in diameter. At a length of 278 feet, the Showboat can accommodate up to 700 passengers and can reach speeds of up to 11 miles per hour, though its average speed is a more relaxing 6 miles per hour to allow guests to enjoy the sights. It weighs an incredible 2,500,000 pounds. It is the largest showboat in the area and one of the best ways to experience entertainment and views from gorgeous decks. The Showboat is comprised of multi-level decks including three levels of dining space and an exterior deck that allows guests to view the surrounding scenery.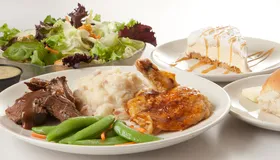 The Showboat itself isn't the only amazing thing about your experience. During a lunch or dinner cruise, guests will be able to enjoy live entertainment and delicious food. Each themed event features a different performance and menu, so no matter what you have a craving for, there is something to suit your style and taste buds.
About the Main Production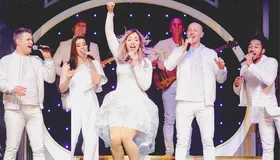 The main show on the Branson Belle schedule is a variety performance held in a dining theater and featuring tons of exciting elements. Guests will be able to enjoy everything from comedy and magic to music and dancing. With an extremely talented live band, guests are sure to be entertained. This four-piece band and group of performers create a journey through decades of music for all to witness. From the 60s to modern country music, all ages are sure to be able to dance and sing along with some of their favorite hits. It even features movie soundtrack hits from famous movies such as the Titanic, Risky Business, and Ghost Busters. Erupting alongside the band is the talent of the Showboat Dancers who will impress with their tight dance numbers and flawless performances that will have guests on the edge of their seats.
About the Meals
Did You Know? Table Rock Lake is one of the top fishing lakes in the US.
Of course, while you listen to the musical troupe and enjoy the show, you will be able to dine upon a delicious meal provided on the showboat dinner cruise. The general seating menu includes a salad, honey citrus chicken, slow-cooked pot roast, garlic mashed potatoes, and Silver Dollar City's Lemon Berry Ice Cream Pie. There are options to upgrade your ticket as well to enjoy the premium dining experience, the Captain's Club Menu, and children's menus are available to suit tiny taste buds. There are also vegetarian, allergen-free, and vegan meal options available upon request. Just let your server know upon arrival! Each meal comes with water, coffee, and iced tea. After the show and meal, head to the upper decks to enjoy the views.
About Table Rock Lake
The dock is found at White River Landing on Table Rock Lake. The landing is home to shops. Table Rock Lake is a beautiful landmark and famous spot. It is a huge lake that rises 915 feet above sea level and features a surface area of 43,100 acres with 745 miles of shoreline. The artificial lake was created by Table Rock Dam which is fed by the White River. Beautiful Table Rock Lake is a popular place because it offers tons of activities to guests. As well as offering fishing and boating opportunities, Table Rock Lake is also the home of the Showboat. Guests can enjoy stunning views and truly soak in the natural wonders of the Ozarks here onboard the paddle wheel boat.
With amazing sightseeing opportunities, an unforgettable paddle wheel boat venue, and astounding entertainment options, the Showboat Shows truly offer amazing fun. Do not miss out on the opportunity to embark on one of these journeys to dine upon delicious food and enjoy great entertainment. Your entire family is sure to have an amazing time making new memories on your next vacation. There are general admission and premium seating options available on this lake adventure. Book your Belle tickets today and cruise aboard the largest ship in Branson MO!
While in Branson, there are also some other amazing attractions to enjoy. See all of the awesome exhibits and artifacts at the Titanic Branson, see a great show at Sight & Sound with tickets to Queen Esther Branson, or check out great Branson Landing Restaurants. Combine all of the fun with a great hotel and enjoy everything the Ozarks has to offer!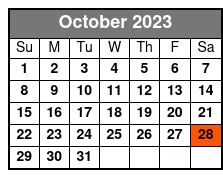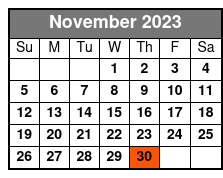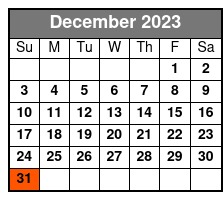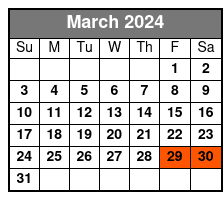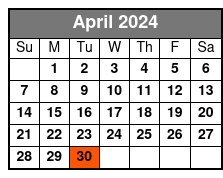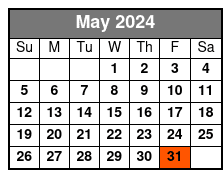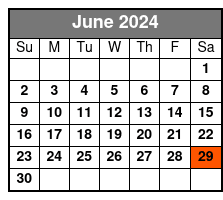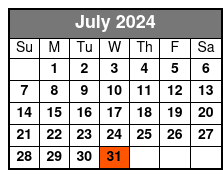 Options:
Showboat Branson Belle Lunch Cruise
Available 10/3/2023 until 10/26/2024 View Detailed Schedule
Enjoy the Showboat's awesome variety show along with a tasty lunch. Take an amazing afternoon out on the waters of Table Rock Lake with Branson's favorite boat. On the lunch adventure on the Belle, guests will be able to enjoy a fun show filled with music, dancing, and high-energy entertainment. The experience also includes sightseeing and a delicious meal to enjoy - all aboard the four decks of the Belle!
Showboat Captain's Club Lunch Cruise
Available 10/3/2023 until 10/26/2024 View Detailed Schedule
The Captain's Club Lunch is a great way to enjoy the fun at the Belle. Hear some of the greatest classic hits from the 60s to modern times all backed by a four-piece band and featuring a talented troupe of singers and dancers. Of course, you can also enjoy sightseeing from the four decks of the Belle and sink your teeth into a delicious meal. This Captain's Club ticket includes awesome premium menu options.
Showboat Branson Belle Dinner Cruise
Available 10/3/2023 until 10/26/2024 View Detailed Schedule
The Showboat can help create an amazing and unforgettable evening with their famous Dinner Cruise! This cruise features an exciting variety show featuring music from the 60s and beyond, all backed by a talented troupe of singers, dancers, and a live band. While you are entertained, you will be able to enjoy a delicious feast of Branson Belle favorites. All of this entertainment takes place aboard the 4-deck Belle as it cruises along Table Rock Lake.
Showboat Branson Belle Captain's Club Dinner Cruise
Available 10/13/2023 until 11/30/2024 View Detailed Schedule
The Captain's Club Dinner is a great way to enjoy the fun at the Branson Belle with an evening adventure. The entertainment at the Branson Belle is some of the best in the Ozarks, allowing guests to tap their toes along with musical hits from the 60s and beyond. The live band, singers, and dancers are sure to impress! Of course, you will top the evening off with a delicious dinner. This Captain's Club Dinner ticket includes awesome premium menu options.
Reviews

Hugh Grubbs
Graham, TX
✓
Verified Traveler
"What a wonderful cruise!"
Man! What a wonderful cruise! We took the lunch cruise and thoroughly enjoyed ourselves. We chose the captain's club option and i am so glad we did. We had great seats and a wonderfully cooked lunch. Everyone from the wait staff to the performers was just top-notch. We will definitely choose this cruise on any future trips.

Capt. Manfred Aschemeyer
Warner Springs, California
✓
Verified Traveler
"Would recommend it to ANYONE visiting Branson! "
We thoroughly enjoyed this show! It was wholesome, fun and entertaining in every way. Would recommend it to anyone visiting branson! The mc was funny and engaging the lady violinist/acrobat/pianist/singer was especially awesome! Loved the ventriloquist and his antics with puppets and humans on stage! And the young tenor singer did himself well, too. The only downside was the heavy rains that prevented us from enjoying the cruise portion -- but since the show was indoors and protected, that took the edge off of that negative. We appreciated the patriotic ending to the program as well. And we enjoyed the meal, too!

Kathryn Peil
Cloquet, MN
✓
Verified Traveler
" This was my favorite show of the trip."
This was my favorite show of the trip. The boat ride is nice, and we went out on the deck before the show. The weather was great. The dinner was good, considering all the people they have to serve in such a short time. The show itself was, in my opinion, awesome. They have some great talent there. Todd and his dogs are so much fun. I've seen the show three times, and never get tired of it. I highly recommend everyone to go to this one.

Lisa Han
Mccune, KS
✓
Verified Traveler
"The Showboat Branson Belle is a beautiful boat!"
The showboat branson belle is a beautiful boat! Our server mike was very polite and professional. We got seats near the front with a great view. We attended the lunch cruise and the food was great, though not very big portions. There was not enough time between the two shows to look around much after waiting in line for the restroom, but i later discovered a lesser used restroom on the upper deck. We saw a comedian/magician and a musical review stage show. It was fun for all ages as we were mid-40ish, teen and tween and all had fun. There is also a small gift shop onboard. There are two lovely shops on shore and the walk from the parking lot to the dock area is very pretty reminiscent of an old southern plantation with lost of beautiful plantings. I suggest getting there an hour or so early as the ticket line and line to board got very long quickly. Don't forget your camera like i did!!!
Frequently Asked Questions for Showboat Branson Belle Lunch & Dinner Cruises:
What type of seating does it have?

General seats include basic meal. Captain's Club includes premium meal. Seating is banquet style assigned seating with tables off to the sides & a middle aisle. Seats include views of Table Rock Lake.

What type of parking do you have?

There is free parking for this cruise.

Approximately how long is the experience?

The entire experience lasts approximately 2.5 hours.

How many decks or levels are there?

The dining area has three levels and there is one exterior deck.

What lake or river does it sail on?

It sails on Table Rock Lake.

How many passengers does the boat hold?

The boat can seat up to 700 passengers.

What is the dress code?

There is no dress code. Guests wear whatever they are comfortable in whether that is formal, business casual, or resort casual.

Are strollers and car seats allowed onboard?

Car seats are not allowed, but strollers are. Strollers will need to be stowed in the stairwell.

What is the seating like for the Captain's Club Main Floor option?

This option includes seats on the main floor. Each table seats up to six (6) guests, and parties with four (4) or fewer members may be seated with other guests. Guests seated here may also choose meal options from the special premium dining menu.

Does Showboat Branson Belle Lunch & Dinner Cruises feature a bar?

No. The Showboat Branson Belle is a non-alcoholic cruise.
Book Now!