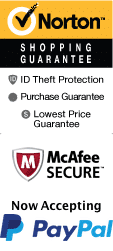 Titanic Museum Branson - World's Largest Titanic Museum Attraction
3235 West 76 Country Blvd Branson, MO 65616
1-800-987-6298
Explore the fascinating and tragic history of the Titanic shipwreck at the Titanic Branson Missouri Museum. Here, visitors will be able to explore a variety of intriguing exhibits featuring real artifacts and accounts of the event. Whether you are a history buff or simply want to learn something new, this Titanic museum attraction is a great addition to your Branson itinerary. Have a great vacation!
Where is the Titanic Museum Located?
The famous TItanic Mueum is located at 3 Branson Landing BLVD.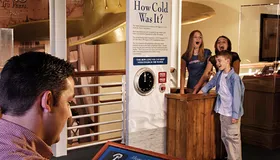 Visitors to this Titanic Museum Branson Missouri attraction will have the opportunity to become a passenger on the giant ocean liners tragic maiden voyage and experience the factual past of this unforgettable moment in history through a number of exhibits and more than 400 authentic artifacts. This ship-shaped building is an interactive display that delves into the history of this great ship. Visit the Titanic Museum in Branson MO for an interactive and interesting experience.
About the Titanic Branson Experience: See Real Artifacts and More at the Titanic Branson MO.
Inside Titanic Museum Branson Missouri, visitors will find a variety of interesting exhibits. Everyone knows the ship hit an iceberg and sank, but there is so much more to the story. As you enter the Titanic Branson MO building, which itself is a half-scale model of the actual ship, you will be handed a ticket with the name of one of the passengers. Your ticket follows an actual Titanic passenger, and your self guided tour allows you to enjoy the displays at your own leisure, providing plenty of time to explore and learn their story.
Make your way through the Branson Missouri Titanic Museum exhibits to the Memorial Room, where you will find out if your passenger died or lived through the disaster. The Branson MO Titanic museum is dedicated to their stories, offering a unique time at the real Titanic museum.
This Branson MO Titanic collection houses many priceless artifacts and historic treasures and allows each visitor to encounter the personal heroic and tragic stories of its passengers. The showpiece is the Grand Staircase, where visitors will experience the beauty of the Edwardian era.
This emotional, yet kid friendly journey in the Titanic in Branson Missouri allows guests to walk the Grand Staircase, see a first class stateroom, feel what a real iceberg feels like, learn how to send an SOS signal, steer the ship and look back in time with an exclusive Father Browne photographic collection. In total, you will see 20 different rooms each with plenty of artifact exhibitions.
The center now has a dedicated exhibit to the children who lost their lives. 133 of the 2,208 passengers were children. Their experiences, thoughts, and feelings are documented and recreated in this first of its kind. The spotlight on the youngest heroes offers a unique and harrowing perspective on the voyage.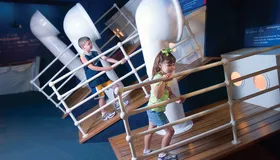 NEW for 2023:
Explore the stories of the Titanic's youngest passengers with many new displays and infographics dedicated to their lives. This harrowing tribute to these children is sure to move you.
Titanic Museum Branson MO Exhibits: All of these Exciting Exhibitions at the Branson Titanic Are Included with Your Titanic Museum Tickets.
18-foot Model

- See an 18-foot one of a kind scale model of the ship. This scale model was built exclusively for the exhibit by German designer Peter Davies-Garner from original drawings from shipbuilders Harland and Wolff.
Third Class Replica at the Titanic Museum Missouri

- During your tour, see what Third Class living quarters were like. Learn what it was like to stay in Third Class, where the bathroom was located, how many people shared a room, and also learn how much it would cost in modern standards to stay in Third Class living quarters.
Grand Staircase Replica

- One exciting highlight is the Grand Staircase Replica, which was constructed from the original blueprints. Guests can walk and admire the Grand Staircase, which cost more than one million dollars to construct. The Grand Staircase replica is hand-crafted and features wooden inlays and its classic elaborate railings.
First Class Replica

- See what it was like to stay in First Classrooms and also hear stories from First Class survivors. Learn answers to questions like who could afford a First Classroom, the cost, and what it was like to stay in the First Class cabins.
Interactive Bridge Area

- The one of a kind Titanic attraction in Missouri provides guests the opportunity to step into the Captains bridge to steer the ship, allowing you to feel like a real crew member. Also, learn more about the voyage from Ireland.
Interactive Child Area

- While here, step into the interactive children's area to see if you could have climbed the sloping deck as it met its fateful demise. Also learn how to send an SOS signal!
Children's Stories Gallery

- During your visit to the exhibit Branson Missouri, learn about the children whose bravery, innocence, and faith will be an inspiration to visitors of all ages.
Memorial Wall

- It also features a memorial wall with the names of over 2,200 passengers and their stories.
Survivors Wall of Stories

- There were 712 survivors and guests will learn about their individual journeys and other details of their lives after the sinking. This interesting display is at the museum Titanic in Branson.
Titanic World's Largest Museum Attraction Lobby

- In the lobby, guests will receive a 'boarding pass' to become a passenger aboard after navigating through the 'iceberg' entrance to the attraction in Branson.
Titanic Museum in Branson Missouri Worlds First Tribute Gallery

- New in 2014, this gallery will show the lives, loves, and legacy of the eight musicians who drowned out the sadness of that tragic night with heroic, self-sacrifice.
The collection at the Titanic Museum in Missouri is also one of the highest rated in the area and USA Today even said it is 'The most lavish monument to the sea's most famous disaster.'
The collection also features several events throughout the year, making it a place you will want to visit the Titanic Missouri location every season.
How Long is Titanic Tour?
Guests spend about an hour or two exploring the museum.
Titanic Museum Branson Events: Experience A Schedule Brimming with Fun, Artifacts and More at the Titanic Museum Missouri Location.
Fifteen-Hundred Magical Luminaries at the Titanic Museum Branson Missouri
This event is a sight to behold when it comes to the Titanic Museum in Branson! It will light its entrance with more than 1,500 festival lights to welcome visitors and give them a great photo opportunity. This event is one night only, so do not miss out!
Christmas and Winter Celebration at the Titanic Museum Attraction
Visit during the winter holidays to get an enchanting look into the ship as it is all dolled up for Christmas. Enjoy as the collection joins Branson in kicking off the Annual Ozark Mountain Christmas with official lighting ceremonies, decorations and more.
With the important historical content and fun interactive displays for all ages, the Titanic museum Branson MO allows you to enjoy an interactive exhibit while you learn about the story of a passenger or a crew member. It is an interesting chance to tell their stories and allows visitors to experience life on the huge ocean liner! Every person that walks through its doors will learn something new.
Experience history and tons of interesting artifacts at the Titanic Museum Branson. After you have completed your self-guided tour of the Titanic exhibit Branson, head out to experience the other amazing attractions in Branson, MO. Get your tickets to the Branson Titanic Museum today! After visiting the Titanic, visitors can enjoy some amazing shows in Branson MO like Queen Esther Branson, Gatlin Brothers, Jimmy Fortune, Ronnie McDowell, Dolly Parton Stampede Pigeon Forge, or catch a show at the Branson IMAX. They can also enjoy Silver Dollar City, Showboat Branson Belle, or check out helpful articles on topics like the Missouri State Bird, fine dining Branson Missouri options, and Big Cedar Branson Lodge Bass Pro Lodging.
Options:
Titanic - World's Largest Museum Attraction (Reservation Required)
Available Now until 12/31/2023 View Detailed Schedule
Reviews

Loretta Wood
Dallas, TX
✓
Verified Traveler
"...I would visit this one over and over again."
I have always had an interest in the titanic. I purchased the movie when it was released and have watched it many times over so of course i had to visit the museum when we booked our trip to branson. The history behind the exhibit was moving. The entire family, adults and child alike, enjoyed the tour. Since this was my adventure choice, i wasn't sure how the rest of the family would react to the exhibit. I was pleased to see that it captivated the attention of all. We were each handed a card with a person's name on it a person who either survived or didn't, on the actual sail. By the end of the tour we knew the fate of the person whose card we held. I knew my husband would at least tolerate my desire to visit the museum but wasn't so sure of my 6 year old son. He loved it. When we returned home i pulled the movie out and we watched it as a family together for the first time. The movie has now become my son's favorite movie. He like i, can watch the same movie numerous times, he's now watching it at least once a week. The sinking was tragic and the museum allows us a glimpse of what it was like during that tragedy while honoring and remembering those who lost their lives. Like the movie, i would visit this one over and over again.

Marcella Spahr
Sedalia, Missouri
✓
Verified Traveler
"I would highly suggest this attraction to everyone."
Me and my husband drove down to branson just sight seeing and while we were down there we stopped by the titanic. We were very impressed with the friendly staff and the display of the ship. It felt like we were really visiting the ship its self. The artifacts from the original ship was very interesting and thought provoking. We are planning our next trip to branson and one of our stops while in branson will be the titanic. I would highly suggest this attraction to everyone. You will be very satisfied that you you visited the titanic attraction.

Joy Rikli
St. Louis, MO
✓
Verified Traveler
Wonderful museum. I have seen other titanic exhibits and this one had more artifacts and pictures than any other. They also did a fantastic job of personalizing the victims' stories. The staff were friendly and entertaining, particularly captain smith.

No Name
Fort Worth, TX
✓
Verified Traveler
" It is a unique experience that I would like to do again."
Great for the whole family, although younger 8 and under might find it hard to stay interested. The museum did a great job with hands on information for the younger set but there is so much material to admire and read that won't keep younger ones entertained. From the moment you walk up to the moment you leave, you feel a part of the past. It is a unique experience that i would like to do again. I sure there is much material i missed simply because my 8 year old became impatient during the last part of viewing. What impressed me most was the information shown and presented was marvelous, however, it was fabulous to be able to ask any of the staff about the ship and they were able to offer unique information that created the most wonderful experience i had in branson. This was our first trip and i would come again simply to tour the titanic again. Simply wonderful!
Frequently Asked Questions for Titanic Museum Branson - World's Largest Titanic Museum Attraction:
For what ages is it appropriate?

This is great for all ages.

Is parking available at the attraction?

Yes, free parking is available at the location.

What is the dress code?

Dress code is casual, but please wear soft soled, well traction shoes.

Approximately how long could a customer plan to spend the attraction?

Visitors spend approximately 2 hours here.

What amenities are available?

There is a gift shop onsite.

Is it handicap accessible?

Yes.
Book Now!