Anthems Of Rock Branson MO
Click for More Information

Exclusive Online Offer: Buy 1 Get 1 Free
(Must purchase in advance online or toll-free at 1-800-987-6298)
Location: King's Castle Theatre , 2701 W 76 Country Blvd Branson, MO 65616
1-800-987-6298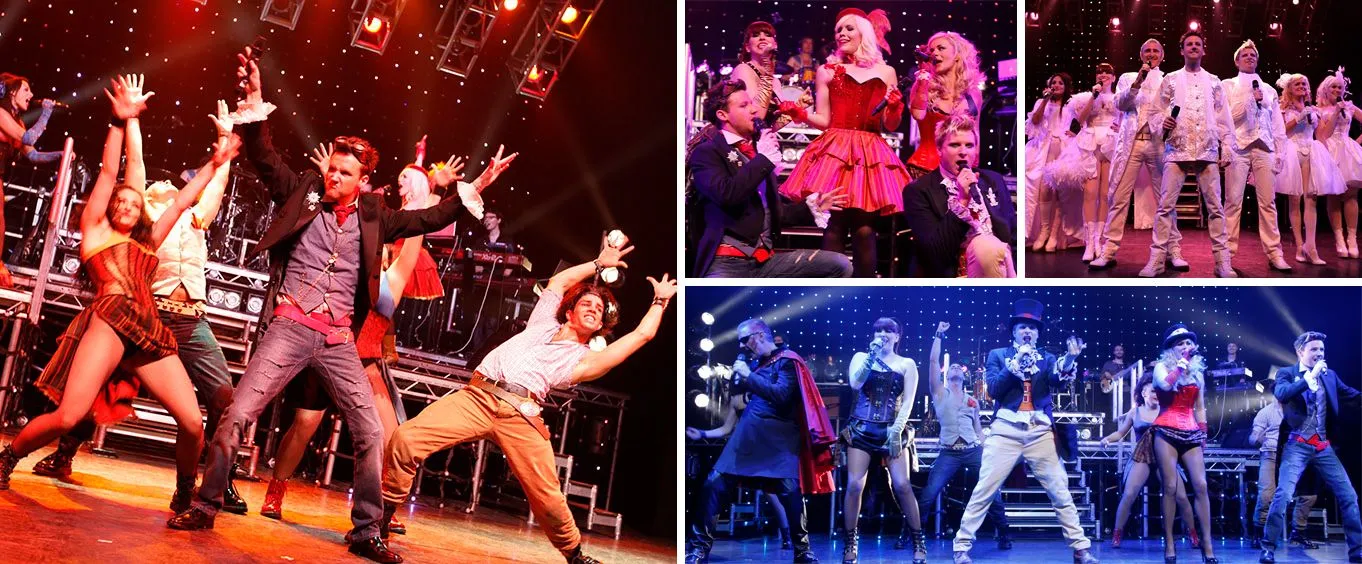 Get ready for an evening of awesome music and star-studded tribute show entertainment with the brand new Anthems of Rock show at King's Castle Theatre located in Branson, Missouri! This special tribute to rock's most famous bands takes guests of all ages through the decades of rock music, detailing the legacies of several legendary artists that shaped the genre. If you are a rock fan or just want to add an energetic concert to your Ozark Mountains getaway, this show is for you.
These rock 'n roll hits offer a great way for the audience to enjoy an amazing time with their loved ones, and Anthems of Rock brings plenty of entertainment to the stage. Join this talented live cast for an evening of fun, songs, and memories that will transport you back to the good ole days. Just a few of the rock artists and famous bands that are celebrated during this show include:
Queen: 'Bohemian Rhapsody', 'Don't Stop Me Now', 'We Are the Champions'
Rolling Stones: 'Paint it Black', 'Gimme Shelter', 'Satisfaction'
Bon Jovi: 'It's My Life', 'You Give Love a Bad Name', 'Livin' On a Prayer'
Led Zeppelin: 'Stairway to Heaven', 'Whole Lotta Love', 'Ramble On'
The Beatles: 'Hey Jude', 'Across the Universe', 'Yellow Submarine'
Journey: 'Don't Stop Believin', 'Wheel in the Sky', 'Any Way You Want It'
Aerosmith: 'I Don't Want to Miss a Thing', 'Dream On', 'Walk This Way'
During this energetic production, you'll be treated to awesome local talent as each song is performed on stage by a singer that emulates these legends' iconic sounds. Hear some of the greatest rock songs of all time like, 'Dream On' by Aerosmith, 'Don't Stop Believing' by Journey, 'Hotel California' by the Eagles, and 'Another One Bites the Dust' by Queen. Whether you're a longtime rocker or a new fan of these greatest hits, there's no better way to celebrate rock n roll's finest legends. Each song from every legendary performer comes alive with loud guitars and iconic sounds.
About King's Castle Theatre
This venue is one of Branson's finest! Located in a key location in downtown Branson, you will be able to enjoy countless tribute shows in a comfortable and clean theater. Each show is accented with a state of the art sound and lighting system on the expansive stage, allowing you to enjoy lively performances! The talented cast is filled with amazing performers who bring their extensive repertoires with them to bring each show to its highest potential.
Some of the best shows held at the King's Castle Theatre include classics like Anthems of Rock, Dancing Queen Ultimate 70s Show, New Jersey Nights Music of Frankie Valli and the Four Seasons, Dublin's Irish Tenors and Celtic Ladies, and Christmas Wonderland. No matter your tastes, these tribute shows are sure to make a great addition to your Ozarks itinerary.
Grab your Anthems of Rock Show in Branson tickets to enjoy an amazing Branson vacation as you rock the night away. With this magnificent rock experience, you'll hear the greatest rock hits of the 20th century, each anthem more energetic and fun than the last! When you're done rocking out at this musical event, be sure to check out the other wonderful tributes including Dublin's Irish Tenors & The Celtic Ladies and Dancing Queen at the King's Castle Theatre and other amazing Branson attractions.
Add a hotel reservation to your vacation planning to complete your getaway. Your time in the Ozarks is certain to be a blast! anthems of rock myrtle beach anthem rock
Options:
Anthems Of Rock
Available 12/1/2023 until 12/31/2024 View Detailed Schedule
Anthems of Rock is a musical experience that is sure to delight music lovers of all ages. During this fantastic tribute show experience, visitors will be able to hear some of their favorite nostalgic hits from the past. Just a few of the bands that are featured include the Beatles, Bon Jovi, Queen, Aerosmith, and Journey. Be prepared to enjoy the powerhouse anthems and classic hits for Branson's best musical journey!
Reviews

Everett Shanklin
Wolcott, IN
✓
Verified Traveler
"The New Jersey Knights really made this very special night for us."
The new jersey knights really made this very special night for us. This was the first show that we saw on our first day at branson. We we were very glad that we chose this show. We we hope everyone that visits branson also gets a chance to see this show, as it was unbelievable. God blessed us well by letting us choose this show. Thank you new jersey knights everett shanklin
Tip: Just cannot say enough about how good they were.

Barb King
Omaha, NE
✓
Verified Traveler
"The enthusiasm of the group and dancers was obvious."
The enthusiasm of the group and dancers was obvious. Loved going back and hearing all of the old songs and they did a splendid job. Thanks for a wonderful time.

Debra Werwinski
West Allis, WI
✓
Verified Traveler
"It was the best show that we have ever seen! "
It was the best show that we have ever seen! So professional, fun and exciting!

Gerry Labelle
Guelph , Ontario
✓
Verified Traveler
"This show was the highlight of our stay in Branson."
This show was the highlight of our stay in branson. The music,dancing,costumes and presentation were fantastic. It brought back great times through the music history and the crowd participation added to the whole success of the evening. It is a show not to be missed .
Frequently Asked Questions for Anthems Of Rock Branson MO:
What is the dress code?

Dress code is casual.

Approximately how long is the Anthems Of Rock ?

It lasts approximately 2 hours.

In what theater is the show held?

King's Castle Theatre.

What type of parking do you have?

There is free parking onsite.
Book Now!

Exclusive Online Offer: Buy 1 Get 1 Free