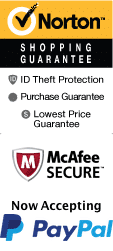 Oh Happy Day
Location: Hamners' Variety Theater, 3090 Shepherd of the Hills Expressway Branson, MO 65616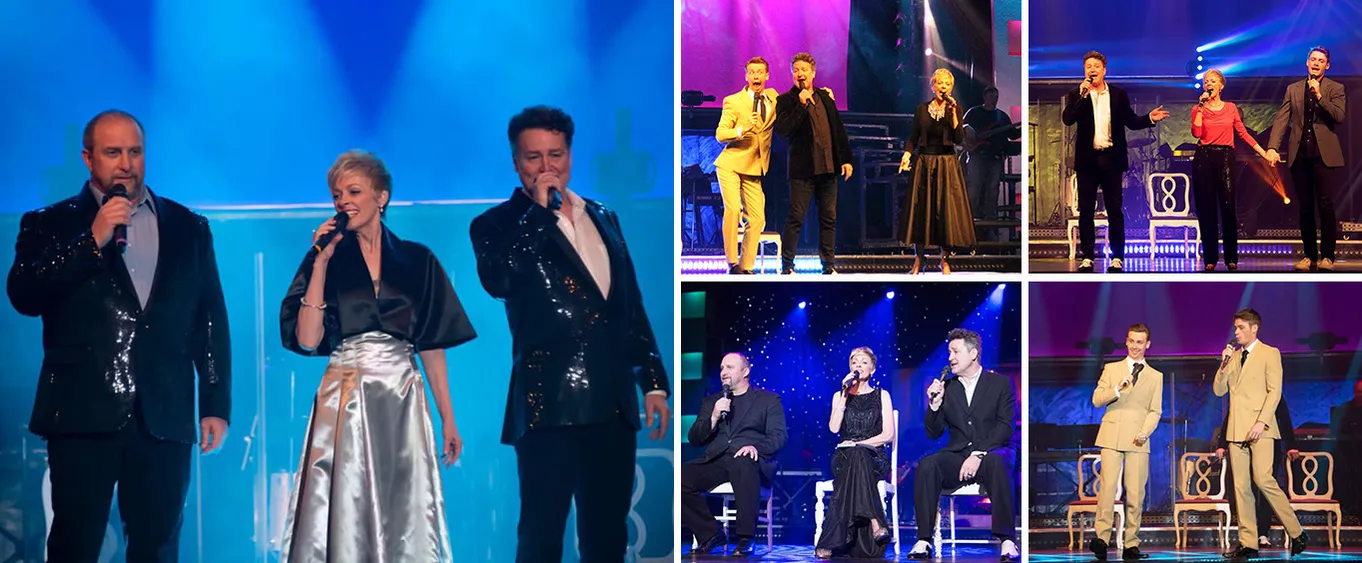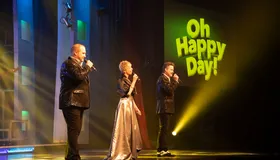 Head to the Ozark mountain area for great gospel music and entertainment in Branson, MO such as the Oh Happy Day Goin Back to Gospel show which is an amazing addition to any Ozarks getaway. Start your day off with the gospel of the Lord with some of the most talented Branson performers. The show is brought to life by performers Gary Koreiba, Kim Boyce Koreiba, Allen Asbury, and Debra Paxton, who got their roots in the Sunday Gospel Nights show. With plenty of experience and talent in the group, guests who take in this show are sure to be impressed as each gospel song is brought to life with talented vocalists and the essence of the Holy Spirit.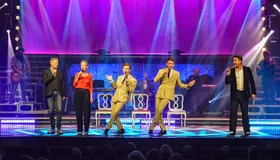 The show itself features some of the most popular and uplifting Christian gospel songs and hymn selections, including Christian music from Andre Crouch, the Gaither's, and the Imperials, performed by talented local performers and a live band.
About the Oh Happy Shows Performers
Kim Boyce Koreiba

: Kim is an amazing singer who has an incredible career in Christian music. As a recording artist, she created amazing hits on 8 CCM albums, including 11 #1 hits on the Christian Radio. She is a contemporary Christian singer that brings amazing vocals and charisma to the stage with her! When she isn't making music, she is an author who has written 7 books and tours throughout the country.
Gary Lee Koreiba

: Gary has been in love with music since he was a child! At 22, he became a renowned background vocalist for a Contemporary Christian singer named Russ Taff. As an acclaimed singer, he has also created jingles for popular companies and is sure to impress!
Allen Asbury

: Allen is a jack of all trades! As an actor, recording artist, and a singer, he brings a multitude of talent with him. He also portrayed Peter on a tour throughout the world. When he is not performing at Oh Happy Day, he is a worship pastor at a local church in Branson.
Debra Paxton

: Debra is no stranger to the stage, as she has sang background vocals for multiple genres. Having practically grown up in a recording studio along with her gospel music legend father, Paxton has honed her craft!
If you are looking for family-friendly, traditional gospel songs with some of the most uplifting song lyrics, make sure you head to Branson, MO for the Oh Happy Day Goin Back to Gospel Show. Also make sure to enjoy tons of other various things to do in town. The whole family is sure to love this show, so make it part of your unforgettable vacation. o happy days
Reviews

Scott Flippin
Independence, MO
✓
Verified Traveler
"Really good Southern Gospel music"
Really good southern gospel music with some big vocalists.

Philip Schmitten
Groveton, TX
✓
Verified Traveler
"We were so impressed with the show"
This will be our third trip to branson and our 2nd time to see oh, happy days. We were so impressed with the show , we are bringing our entire family to see the show.
Tip: Arrive early and get a good front row seat

Dean Freschly
Rockpoprt, IN
✓
Verified Traveler
"the singing and music was exceptional."
Both of us attended this show and we were both impressed! The attendance was low, which really surprised us. The comedians were hilarious having everyone in laughter, and the singing and music was exceptional. It was not just entertaining, but spiritually inspiring and uplifting. Want to see a very good lady drummer? Go here. Want to hear songs you probably have heard since childhood and some new ones? Go here. Want to laugh at good clean jokes and antics? Go here.

Gerald Geisler
Cranberry Township, PA
✓
Verified Traveler
My wife & i had wonderful time seeing the many christmas shows in branson mo. Nice variety , good food & nice people from all over the country. It's obvious that the town of branson values very much their religious heritage and love of country.
Frequently Asked Questions for Oh Happy Day:
Approximately how long is the Oh Happy Day?

The show lasts approximately 2 hours.

In what theater is the show held?

Hamners' Variety Theater

What type of parking do you have?

Parking is free at the theater.

What is the dress code?

Dress code is casual.