SIX Branson

Location: The Hughes Brothers Celebrity Theater, 3425 W 76 Country Blvd Branson, MO 65616
1-800-987-6298
Description
SIX Branson Photos (22)



Customer Photos (14)



Don't miss out on the chance to experience an a cappella performance at its finest with SIX Branson, an amazing music show that features the six Knudsen brothers using their own vocal talents to perform classic songs from all genres. The curtains will open to reveal the SIX brothers' incredible choreography and unforgettable vocals and you'll swear there's a guitar or drum set somewhere on stage — but there are no instruments, tracks or lip-synching. The show is almost indescribable as this incredibly talented vocal band consistently delights audiences with original arrangements of music from all decades and genres in six-part harmony. A perfect mixture of powerhouse vocals and family-themed humor, SIX Branson is one of those shows you'll want to see over and over again.
Dubbed 'an orchestra of human voices,' these brothers don't use traditional instruments in their Branson show. Instead, they provide their own instrumentation and sound effects with the use of their terrific vocal abilities as they perform a large selection of hits from Elvis, Frankie Valli, The Beach Boys, Psy, MC Hammer, Coldplay, Journey and more.
The SIX show has continually received rave reviews from visitors who just can't get enough of this group's energetic and electrifying performances. SIX is truly a one-of-a-kind show that you won't find anywhere else in town, so get your tickets now and experience the incredible showmanship and unforgettable vocals of these brothers. For the best vacation experience, be sure to check out other things to do in the area!
History of SIX

The men of SIX Branson Mo actually come from a family of ten brothers. (Their parents wanted a girl.) Each brother had a natural gift for music and creating melodies so they began singing gospel at church and performing at talent contests and community events. They quickly gained popularity and made their national television debut on the Donnie and Marie show in 1978. After that, they moved to Southern California where they lived off of a steady diet of Ramen and Cheerios and performed on the streets for loose change. Finally, they began to get regular gigs at local venues and continued to polish their powerhouse vocals. In 1995 the Knudsen brothers finally turned their love for music into a full-time career, and now consider
The Hughes Brothers
Theatre their home.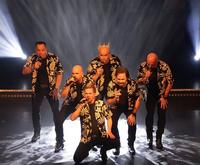 Awards and Accolades

In 1990, the men of SIX won Harmony Sweepstakes and have won a host of other CASA (Contemporary A Cappella Society) awards for their music. SIX has performed with many big-name performers including Diana Ross, Olivia Newton-John, The Beach Boys, and Rod Stewart. Their popular act has been featured on Royal Caribbean Cruise Lines since 1998 and received unparalleled ratings from passengers.
About the Performers

Barry Knudsen
: The oldest, is known for his falsetto and rich mid-range as well as his own distinctive mouth-made horn.
Kevin Knudsen: The second born, has a unique hairstyle that parallels the crazy sound effects he is able to create with his mouth.
Lynn Knudsen: Boy number three's rich vocals add a special quality to the group's sound and his impersonations of Frank Sinatra, Louis Armstrong, Tom Jones, and Wayne Smith are seamless.
Jak Knudsen: The fourth son — affectionately known as 'Bass Man' — provides the driving force and rhythmic bass that keeps the music going show after show.
Owen Knudsen: The fifth son, studied under a premiere vocal percussionist for just two days and discovered his talent for vocal drumming. His rhythms and rich, baritone voice are a solid addition to the show.
Curtis Knudsen: The sixth son and baby of the group, is a fantastic tenor vocalist and vocal electric guitarist.
Six Christmas Show
Available 12/16/2019 until 12/20/2019
Create brand new Christmas traditions this year in Branson, MO with SIX! Featuring six talented siblings, the holiday-themed endeavor features their classic harmonies and unique musical styling. Each show is sure to be a blast with entirely new levels of entertainment! Sit back and get into the Christmas spirit with the beautiful harmonies, percussion beats, and more - all with your favorite Christmas classics!
December 2019
Su
M
Tu
W
Th
F
Sa
1
2
3
4
5
6
7
8
9
10
11
12
13
14
15
16
17
18
19
20
21
22
23
24
25
26
27
28
29
30
31
Reviews
Peg and Ron
VA
✓
Verified Traveler
"we will make sure to get tickets again for SIX."
Just returned from branson. This was the 1st show we saw and these guys set a standard for entertainment. This is one of the best shows (i even saw elvis in person) that i have ever seen. We enjoyed the music, the comedy and the way you seemed to have so much fun on stage. I had to 'insist' that my husband came to this (since there was no girls on stage) and he absolutely loved the experience. We were so impressed that we bought their cd's and told everyone we met to make sure they went to see the show. We hope to return to branson & we will make sure to get tickets again for six.
Dave and Karen
CA
✓
Verified Traveler
"Would recommend this show very highly"
My husband and i just came back from our first time ever in branson. This show was recommended to us by several people and we are sure glad we went to see it! The brothers are fantastic and very wholesome. We left with a great feeling knowing that we had just experienced a very talented and loving group of brothers. The tribute to their mother was very moving and beautiful. Only wish that their cds were available online. Would recommend this show very highly
Mary Cestaro
IN
✓
Verified Traveler
" loved the show SIX that we saw"
We just loved the show six that we saw while in branson on our vacation recently. We were told by others that this show was excellent and by chance was able to go see it after a show we had previously booked was cancelled. Be sure and put it on your list of great shows to see if you plan to go to branson, you will be so glad you did. It was very entertaining in all ways, from dancing, great voices, laughter etc. We just loved it.
John Schmaltz
AZ
✓
Verified Traveler
"This was a 10 rating HANDS DOWN!"
My husband and i were absolutely blown awaway by the six show! They seem to have perfected every aspect to: *appeal to every age category performing music of every genre *extraordinary voice orchestra *designated colors to distinguish brothers apart (and know whose camaro is whose) *audience participation/interaction *comedy *homage to our vets *family video makes you feel like you've known them forever *love times ten to melt your heart *gospel to let you experience six angelic voices we cannot stop sharing our six experience with everyone! This was a 10 rating hands down!
Frequently Asked Questions for SIX Branson:
Approximately how long is the SIX Branson?

The show is approximately 2 hours.

In what theater is the show held?

The show is held at the Hughes Brothers Theater.

Do the performers of the SIX Branson sign autographs and meet the audience after the show?

Yes. After the show, guests can meet and greet with SIX in the theater lobby.

What is the length of intermission at SIX Branson?

Intermission lasts approximately 15 minutes.

What type of parking do you have?

Parking is free.
SIX Branson Schedule
| | |
| --- | --- |
| Date / Day | Available Times |
| | |
| | |
| | |
Book Now!