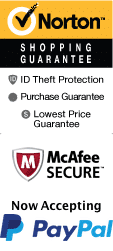 History of the Missouri Pacific Railroad
Known as the "First Railroad in the West," the Missouri Pacific Railroad played a vital role in United States history. The Missouri Pacific Railroad commonly called the MoPac, reflected huge changes in the U.S: from the development of the transcontinental railway system, to the labor strikes and boom times of the Gilded Age, through the financial difficulties of the depression, and finally into the modern age of business consolidation.
Early days of the Missouri Pacific Railroad
Work began on the MoPac in 1851 as part of the transcontinental railway boom of the mid-1800. Construction continued for several years, until it was interrupted by the Civil War. Towns throughout the Midwest and Southwest grew around the MoPac's junction stops. The line continued to grow and spread with the acquisition of other railway lines in the region, until it was eventually categorized as a Class I large freight railroad.
Great Depression Era
The MoPac went through many changes during its long history. The railroad faced financial turmoil in the early years. The railroad was initially called the Pacific Line but reorganized as the Missouri Pacific Railway following a debt crisis. Jay Gould, the famous financier, became the majority owner in 1879 and during this era, the MoPac grew steadily but faced large labor strikes common of the era. In 1917, the company declared bankruptcy and merged with several other railroads, emerging reorganized as the Missouri Pacific Railroad of the modern age. Like many other companies, the Missouri Pacific Railroad was bankrupt by the Great Depression and did not fully recover until the 1950s. The MoPac grew extensively in the following decades and became a forerunner in the field of computer-run railroad technology.
MoPac Era
The railroad industry was not immune to the mergers and consolidations of the 1980s. The MoPac era finally came to a close when merger with Union Pacific was finally completed in 1997. While no longer an independent railroad system, the history of the Missouri Pacific Railroad can still be seen throughout much of the Midwest and Southwest United States. Entire town histories are intertwined with the development of the Missouri Pacific Railroad and the MoPac legacy is preserved by historians who value its place in American history.
Resources:
If you're planning a trip to Branson, find fun things to do and great places to stay in the area.