60s Supershow
Location: Branson Hillside Theater, 1984 St Hwy 165 Branson, MO 65616
60s Supershow is no longer scheduled to appear in Branson this year.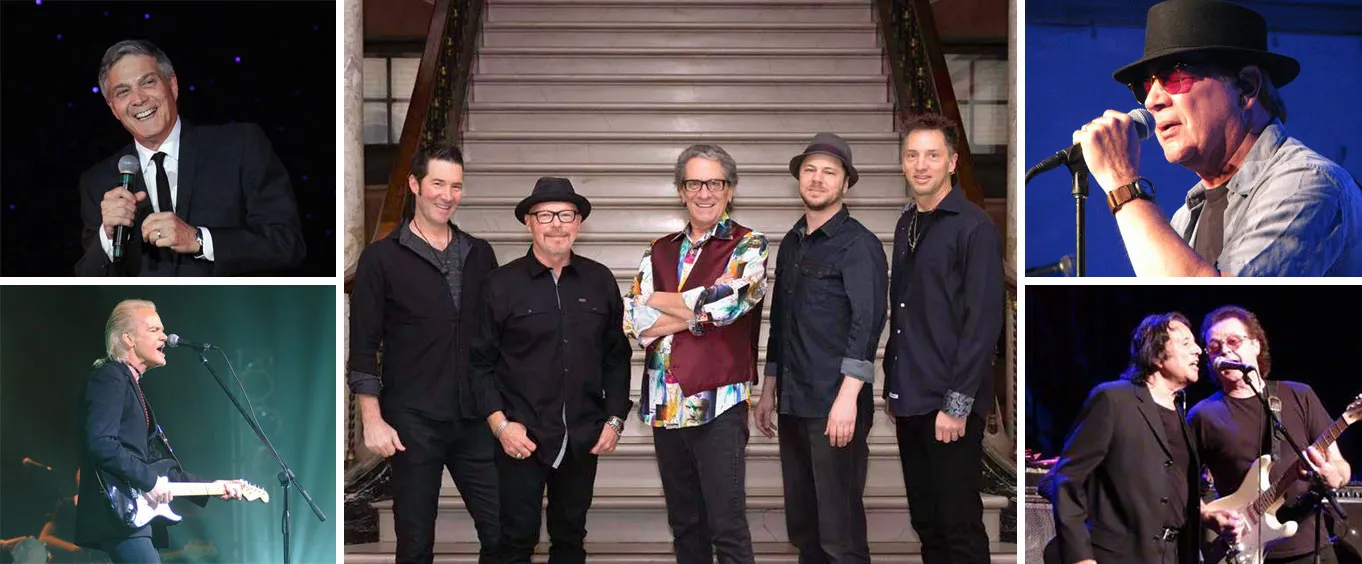 Head to the Branson-famous venue, Branson Hillside Theater, to experience some of the greatest music of all time right before your very eyes! This live show features some of the most talented artists from the 60s and beyond who completely reshaped the pop era of that time period. It is a wonderful way to reminisce with your favorite hits of the decade or simply share some awesome music with all of your loved ones.
This show is a high-energy performance that is sure to impress those who see it. With some of the greatest pop anthems from the 60s, this show captivates with harmonies and tunes that will have you tapping along. The show stars Gary Lewis & The Playboys, Mitch Ryder, Dennis Tufano, Chris Montez, and Bryan Hyland, who each influenced the decade. Relax and watch as they bring you their greatest hits and memories from the past during this fun endeavor.
About Gary Lewis & The Playboys
Known for their pop hits that took America by storm in the 60s, Gary Lewis & The Playboys bring a special spark to the show. Gary Lewis, the frontman, brings an astounding voice and personality with him to entertain along with the Playboys who have mastered their individual instruments to bring guests hits such as, 'This Diamond Ring', which reached No 1 on the Billboard Hot 100 Chart. Some of the other songs this group is known for include, 'Save Your Heart for Me', 'Green Grass', and 'Count Me In'. In total, they amassed an impressive repertoire during their career, earning eight gold singles, four gold albums, and twelve singles that charted the Top 40 chart.
About Mitch Ryder
Mitch Ryder has four decades of musical experience in which he has mastered his craft unlike any other performer. This dynamic singer has a personality that lights up the stage just by itself, let alone the awesome music he brings with him. After performing a long stint with the Detroit Wheels, he went on to pave a solo career for himself. During this part of his career, he created hits such as, 'Devil with a Blue Dress', 'Sock It To Me Baby', and 'Jenny Take a Ride' with the Detroit Wheels. His solo hits include, 'What Now My Love' and 'When You Were Mine'.
About Dennis Tufano
This talented artist got his start as the lovable lead singer of the Buckinghams. After performing with the band for a while, he decided to branch out to a solo career which truly launched his influence during the 60s. He has achieved impressive things including collaborations with Olivia Newton-John and even served as Elton John's lyricist. Some of his work includes hits such as, 'Susan', 'Funny What Love Can Do', and 'Hey Baby (They're Playing Our Song'.
About Chris Montez
Known for his songwriting and guitar-playing skills, Chris Montez is sure to impress with his jack-of-all-trades talent. His very first released single, 'Let's Dance', reached No 4 on the Billboard Top 100 charts, with his follow up single, 'Some Kind of Fun', reaching No 10 on the UK charts. Other pieces of his career included songs such as, 'The Face I Love', 'There Will Never Be Another You', and 'Call Me'. He also earned gold certification for his two first singles as well as sold millions of records across the world.
About Bryan Hyland
This final performer rounds out the production with songs such as, 'Gypsy Woman' and 'Sealed with a Kiss'. Known for his coined sound, 'puppy-love pop', he has helped to woo many women of the 60s. He, of course, is most well-known for the hit, 'Itsy Bitsy Teenie Weenie Yellow Polka-Dot Bikini' which reached No 1 on the Billboard Top 100 chart.
About the Theater
The Branson Hillside Theater is one of the most beloved performance venues in the
Ozark Mountain Region
. Known for the exclusive Up Close Concerts Series, this theater provides some fantastic entertainment from international stars and recognized names. Some of the performers that have taken to this stage include Herman's Hermits and Daniel O'Donnell. Each show here is complemented with a fantastic sound system and state-of-the-art lighting for a dynamic production guests won't soon forget! Do not miss out on seeing a show at this expansive 2,300-seat venue.
With five fantastic performers coming together to create a celebration of their musical decade, the 60s Supershow is sure to impress! Music lovers of all ages will enjoy hearing some of the greatest hits of the 'good ole days', from 'This Diamond Ring' to 'Itsy Bitsy Teenie Weenie Yellow Polka-Dot Bikini'. Do not miss out!
Frequently Asked Questions for 60s Supershow:
In what theater is the show held?

Branson Hillside Theatre

What is the length of intermission at 60s Supershow?

Intermission lasts approximately 15 minutes.

What type of parking do you have?

Parking is free.