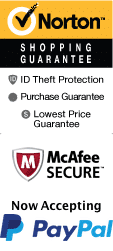 Bigfoot Discovery Expedition
3608 W Hwy 76 Branson, MO 65616

Bigfoot Discovery Expedition is no longer available.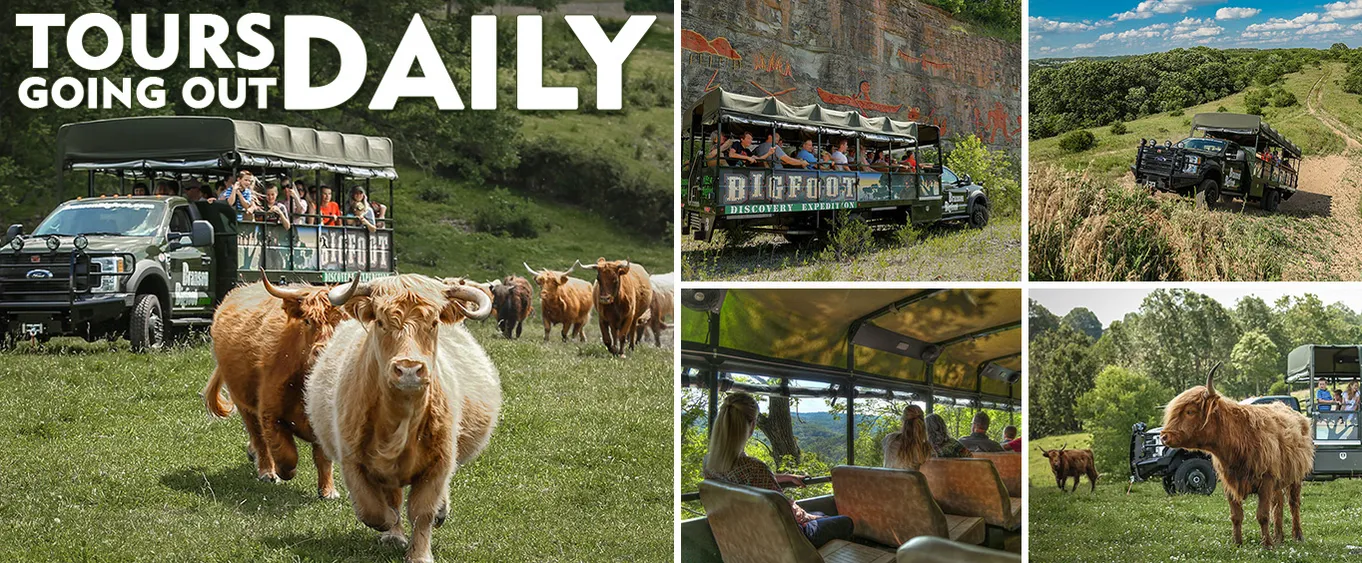 For an unforgettable 4x4 adventure in Branson, embark upon the Bigfoot Discovery Expedition in Branson, MO! Guests will head to Bigfoot on the Strip where they will be whisked away for an unforgettable exploration of the beautiful Ozark Mountain area where there is a history of frequent Bigfoot sightings! Climb aboard the 28-seat, open-air safari-style truck and prepare for a thrilling and informative all-ages adventure you won't soon forget.
Your tour begins with a fun ride to a real working farm, Bigfoot Farms. This ten-minute journey treats guests to views of some of Branson's most prominent attraction icons. See favorite places such as the Bigfoot Tower (the tallest structure in Branson), Butterfly Palace, Acrobats of China theater, and Inspiration Tower! Plus, you'll be afforded some fantastic views of the 76 Strip, Branson's most famous area adorned with all of the great theaters and more that call the Ozark Mountains home.
About the Bigfoot Expedition Branson
Also along the way, visitors will be able to learn about the history of Branson. Hear all about the original Baldknobbers, the renowned Shepherd of the Hills novel, homestead, and outdoor theater, Branson Landing, Silver Dollar City theme park, and Parakeet Pete's Waterfront Zipline. The ride itself is adrenaline-pumping as guests will feel the wind in their hair all the way!
About the Farm Tour & Scottish Highland Cattle Interaction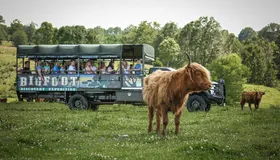 Upon arrival at Bigfoot Farms, safari-goers will be treated to the sights of some beautiful Scottish Highland Cattle. Learn all about these magnificent creatures while observing them upon their 450-acre farm home. As well as getting to know them, guests can get the opportunity to feed them with provided pellets. Any and all questions can be answered by the tour guide who is extremely familiar with the creatures which are used for both food sourcing and breeding. These cows hail from one of the largest Scottish Highland Cattle producers in the Midwest and is the largest herd in the region, so a visit with these bovine celebrities is sure to be a wonderful one.
About the Bigfoot Branson 4x4 Off Road Adventure & Bigfoot Tour
The most fun and thrilling part of the Bigfoot activity tour is definitely the off-road adventure! Journey through a beautiful wooded area where the driver will expertly navigate through twists and turns along the beautiful cliffside. Some stunning views await as well as plenty of unique information about the farm and the sasquatch sightings that have occurred here. Learn how the Native Americans in the area interacted with these elusive 'hairy people', hear the stories of the cave-dwelling moonshine makers, and uncover the legends that have turned this area into well renowned cryptozoologist territory. Keep your eyes peeled for the hairy beasts known as sasquatches, because you definitely do not want to miss out.
Guests may be able to see some stunning local wildlife as well. From lizards and snakes to birds, squirrels, deer, and turkey, these woods are a prime location for animals of all shapes and sizes.
Once the expedition is completed, guests will be transported back to family fun park on the Strip where they can choose to have a blast with some extra, kid-friendly activities! End your day with some fun in the Arcade, a trek in the Adventure Maze and maybe even a dive off the Monkey Jump. For braver visitors, the Action Tower is the place to be!
Did You Know? The Highland breed is the oldest registered cattle breed in the world!
With plenty of adventure to be had on the Bigfoot Discovery Expedition, you will want to bring along the entire family! Just be prepared for an encounter you will never forget in the beautiful Ozark mountain area.
After your amazing Big Foot search, enjoy one of the best amusement parks in Branson, Bigfoot on the Strip! Here, visitors of all ages will enjoy fun activities from thrilling rides, a 10-foot Monkey Jump, the Yeti fun zone, a maze, mini golf, and an arcade with your favorite game stations. Whether you're visiting with mystical Scottish Highland Cattle, zooming along rugged terrain, conquering the Yeti fun zone, or winning prizes at Bigfoot's Arcade, your Bigfoot experience is bound to be a memorable one!
Reviews

Jennifer McCale
Kansas City, MO
✓
Verified Traveler
This was a wonderful adventure for my kids and i. He did a great job explaining and telling us about the sites. And made it a lot of fun. The part at the end. I'm not so sure about. Scared my kids a little bit and they are even a little older. Otherwise a good experience

Caroline Jean-Jules
Miami, FL
✓
Verified Traveler
Very fun expedition for both adults and kids! Great scenery on the ride to the cattle farm. Then, we got to feed the cattle as well. Kids loved that. Our guide made our trip super fun and would rev up and speed up and down hills, lots of fun!

Karen Ordos
Lacey, Washington
✓
Verified Traveler
This trip is full of surprises and turned out to be one of our most fun memories of branson. Great excursion.

Brad Riley
Tuttle, OK
✓
Verified Traveler
We are happy we went on the bigfoot adventure ride. It was truly worth it. Our kids, ages 6-14, loved it.
Frequently Asked Questions for Bigfoot Discovery Expedition:
What is the dress code?

Dress code is casual.

Approximately how long is it?

The Expedition is approximately 2 hours long.

What amenities are available?

There is a gift shop, arcade, mini-golf, and more onsite.

Is photography & video recording allowed?

Yes.

For what ages is it appropriate?

This is great for all ages.

Is parking available? Is it free?

Yes. Parking is free.