Jim Barber and Friends Dinner Show
Location: The Shepherd of The Hills Historic Homestead & Old Mill Theatre,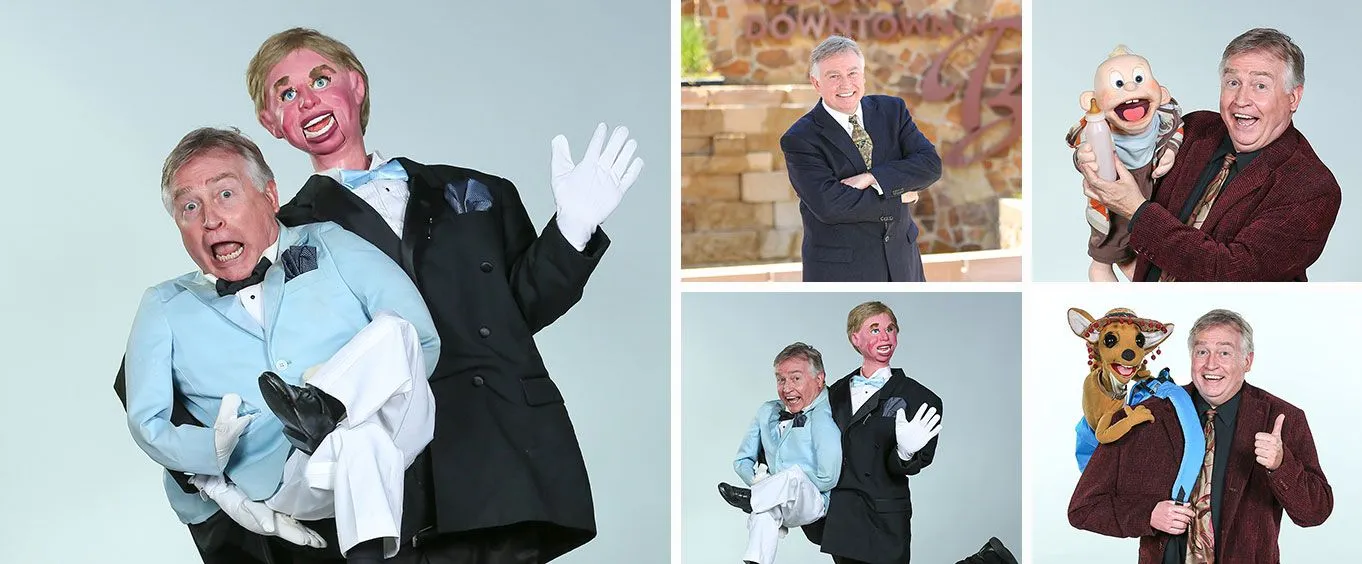 For a fantastic afternoon of entertainment, head to see comedian ventriloquist Jim Barber at the Jim Barber and Friends comedy and dinner show in Branson, MO. The entire family will be treated to an amazing time and quality amusement from Jim Barber, a talented ventriloquist, and comedian. You'll get plenty of laughs and entertainment, so get your tickets today to experience this Shepherd of the Hills performance.
During the Jim Barber and Friends Dinner show in Branson, guests will be treated to the charisma and comedy that famous ventriloquist Jim Barber is known for. Joining him on stage, his ingenious comical characters are sure to delight! You'll witness him 'throwing his voice' as this performer weaves comedic tales and jokes with the wacky cast of puppets. There are also opportunities for hilarious audience participation. His talents are insurmountable and have earned him several awards and accolades. Additionally, he is known as one of Branson's greatest performers and is sure to bring an amazing production to the Shepherd of the Hills Playhouse Theater.
About the Dinner
Before the production, visitors will also be able to dine on a delicious meal! Enjoy a spread of pulled pork, smoked chicken breast, and all of the mouthwatering sides for an unforgettable evening.
About Jim Barber

This talented ventriloquist has a personal style that impresses guests of all ages. His unique energy is captivating as he performs amazing acts such as songs from famous musicals, brings hilarious comedy to the stage and entertains all who attend. His repertoire is enormous, having been a featured comedian on the Late Show with David Letterman, Comedy on the Road, and with Yakov Smirnoff and were special guests for Reba McEntire, The Temptations, Debbie Reynolds, and more. Some of the most notable national television shows that he has appeared on include NBC, CBS, ABC, Fox, and A&E.
Not only has he appeared on many television programs, but he has also been a star in Branson for many years. During his career, he has performed in many famous Branson shows, including the Glen Campbell Goodtime Show. He has also performed at notable local theaters including the Hamner Barber Theatre and the Osmond Family Theater. No matter where he has performed, he has left audiences in stitches!
Awards & Accolades
Merlin Award for 'Ventriloquist of the Year'
National Association of Campus Activities 'Campus Comedy Entertainer of the Year'
National Association of Campus Activities: 5 Nominations for Entertainer of the Year
International Ventriloquist of the Year
Named 'Funniest Person in Tennessee' by Showtime the Movie Channel
About the Shepherd of the Hills
The Shepherd of the Hills Historic Homestead is one of Branson's finest landmarks. It was the inspiration for the famous novel of the same title, written by Harold Wright Bell who had made his home in the Ozark mountains. During this time, he detailed his experiences in the area, and the Shepherd of the Hills operation strives to preserve the original buildings and atmosphere. Thus, visitors will be able to visit many historic places including Morgan Chapel and Old Matt's Cabin. The Shepherd of the Hills also operates an adventure park, Inspiration Tower, and puts on live shows such as the Chuckwagon Dinner Show and the famous Outdoor Drama. From country music to country-style food, there's tons of fun! No matter what you choose to do at the homestead, you're sure to have a great time enjoying the history of the Branson area.
Do not miss out on the opportunity to see a fantastic comedy performance that you won't soon forget with the Jim Barber and Friends show! Be sure to check out all of the other awesome shows and attractions at Shepherd of the Hills and combine a hotel with your itinerary to enjoy a complete Branson getaway. Whether you catch a tribute show or enjoy ventriloquism, Branson audiences will be impressed!
Frequently Asked Questions for Jim Barber and Friends Dinner Show:
What is included in the admission price for Jim Barber and Friends ?

Includes show and dinner.

Approximately how long is the Jim Barber and Friends ?

It is approximately 2 hours.

In what theater is the show held?

Shepherd of the Hills Playhouse Theatre.

What type of parking do you have?

Parking is free.

If this is a dinner show:When is the meal served at Jim Barber and Friends Dinner Show?

The meal is served before the show at 6:00 PM.