Xcape Branson
236 WILD VALLEY WAY REEDS SPRING, MO 65737

Xcape Branson is no longer available.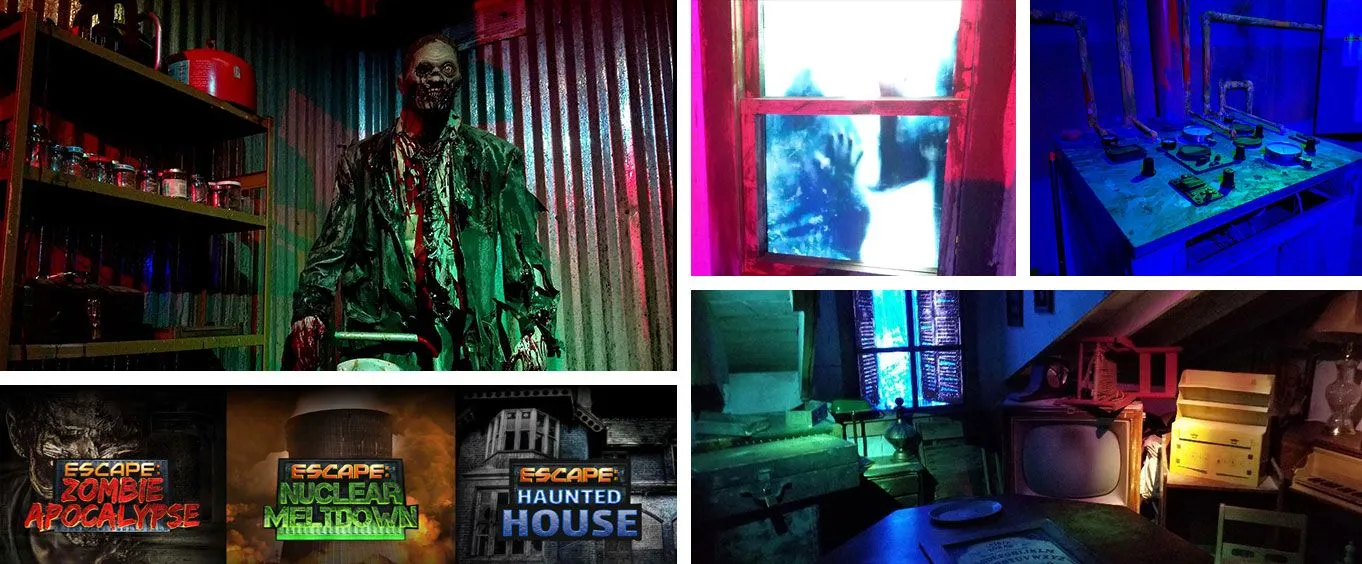 Head to Xcape Branson for a challenging and thrilling escape room experience the whole family can enjoy together! Called the best in the Ozarks, these escape rooms will help you create memories that you will talk about for years to come. This high-energy activity provides plenty of fun for any age and brings the team together for an unforgettable time. The goal sounds easy in theory- find a way to escape!
About this Escape Room Branson
Did you think it was that simple? It's not - teams will have to decipher secret messages, solve the clues, and put their heads together to figure out the mystery behind each room. When your team figures out all of the clues and secrets, then you will know the code to conquer and survive the room. Best of all, you'll have bragging rights!
Xcape offers tons of fun with three rooms to challenge everyone who comes through. Each room has a different story. Whether you are interested in surviving a zombie apocalypse and fighting your way out or trying to get out of a nuclear meltdown, each room will offer something unique and exciting.
Whether you want to test your brain and give it some exercise or simply bond and create memories for the whole family, this is the activity. Great for any vacation that you have planned!
Reviews

Mike Stauffer
Glen Elder, KS
✓
Verified Traveler
"Absolutely loved the escape room"
Absolutely loved the escape room. We wanted to do another one but ran out of time. We did the haunted house one and loved it! The guy running it was great and accommodating to us!

Brenda Eddy
Longview, TX
✓
Verified Traveler
"I would do it again in a heartbeat."
This was my first time to try this and it is fun. Sometimes a little frustrating cause i was not smart enough to know what to look for . I would do it again in a heartbeat. The guy in charge was very helpful and i wish them the very best in the future.
Tip: Look for the unexpected!!

Antonio Cirami
O'Fallon, MO
✓
Verified Traveler
" It was our first time doing anything like that, and we loved it."
The escape room was an awesome time. It was our first time doing anything like that, and we loved it. We wanted to do it again and/or do the other room, but time didn't't allow that this time. Next time.
Frequently Asked Questions for Xcape Branson:
Approximately how long could a customer plan to spend at Xcape Branson?

These activities last approximately one hour (to escape) and fifteen minutes briefing before the activity.

Are we really locked in?

No, you will be able to leave if you need to.

Are the rooms scary?

The goal is not to scare you, but some themes may be scary for younger children.

Is photography & video recording allowed?

No.

For what ages is Xcape Branson appropriate?

All ages are allowed, but the recommended age is 12 and up.

Is parking available at Xcape Branson?

Yes. Parking is free.