Amazing Pets Branson
Location: Grand Country Music Hall, 1945 W 76 Country Blvd Branson, MO 65616-2181
1-800-987-6298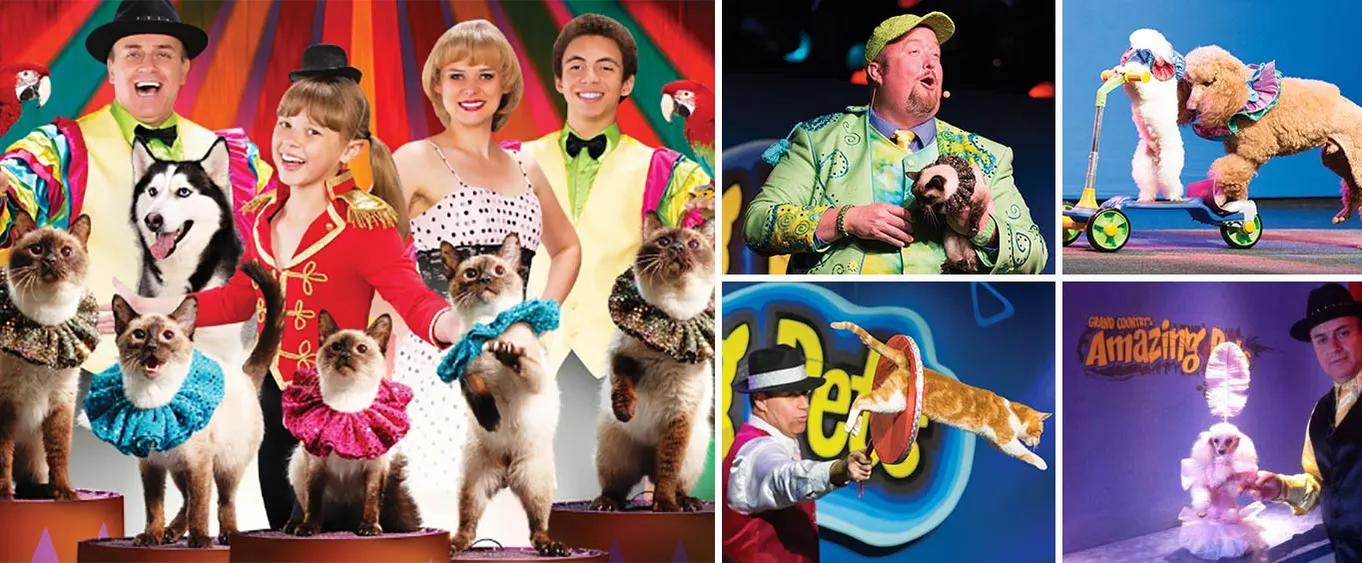 For one of the best activities in the Ozark Mountains area, be sure to check out Amazing Pets Branson where you will find a talented troupe of dogs, cats, and exotic birds in a variety show that will leave you both laughing and amazed.
The felines and canines featured throughout the performance (many rescued from dog pounds and Humane Societies) and the group of exotic birds make for a thoroughly entertaining show. There's also a performance by a counting donkey and even performing pigs. See cats hopping through hoops, walking along tight ropes, dogs riding silly bikes, barking, meowing, and flying. Light-hearted fun for the entire family is key to this fast-paced show, so no matter what ages your group is comprised of, come out for a unique time of entertainment in Branson, MO!
About the Animals at Amazing Pets Branson
See an incredibly talented troupe of animals at this unforgettable Pets show. These astounding furry creatures will impress with tricks and intelligence. Guests are sure to be stunned as they watch house cats walk across tight ropes, roll barrels, and perform other tricks for the audience. This live show features these cats as well as dogs and exotic birds. A huge portion of the animals have gone from a kennel at an animal shelter to the stage only in Branson, MO!
About Grand Country Music Hall
Grand Country Music Hall is the home of Branson Amazing Pets and is located at the Grand Country Resort. The theater has brought a wide range of variety shows to the Ozarks area since it opened, and visitors of all ages will be able to find something to their liking. The theater showcases morning, afternoon, and evening shows daily. Enjoy some amazing entertainment and fun during your Branson vacation at this resort which also provides a beautiful place to stay on your next getaway.
Animal lovers everywhere go crazy for Amazing Pets in Branson MO because it offers tons of awesome fun that kids and people of all ages can enjoy, and there's no doubt you will, too! Let these brilliant animals make your day. You can't help but smile at their heartwarming tricks. Guests are sure to have a great time at this exciting live show! Get your tickets today!
Reviews

Scott Simon
Little Rock
✓
Verified Traveler
"It was very funny and entertaining"
My wife's parents treated our family including 3 kids ages 12, 9 and 6 to this show last week. It was very funny and entertaining. There is something in this show for everyone of all ages. And although mr. Popovich is not appearing on stage this season, others in the lobby who saw the show in previous years said they like the new version even better. They said there were more pets, more variety and more laughs. My kids liked the poodles and the hula-hoops the best. I liked the cats and the sarcastic emcee.

Rebecca Randles
Kansas City, Missouri
✓
Verified Traveler
"This is a fun, heartwarming and absolutely charming show"
This is a fun, heartwarming and absolutely charming show by an absolutely charming man and his family. If you haven't seen the gregory popovich comedy pet theatre you are missing an incredible treat.

Eleanor Culberson
Houston, Texas
✓
Verified Traveler
"absolutely marvelous show"
I had the great good fortune to see this absolutely marvelous show 2 times in houston and continue to hope the popovich comedy pet theater will return to houston because i can't get to branson. How can i keep up with any road show schedules?

Matthew Lechler
Waco, TX
✓
Verified Traveler
"Excellent for the kiddos!!"
Excellent for the kiddos!!
Frequently Asked Questions for Amazing Pets Branson:
Approximately how long is the Amazing Pets?

The show lasts approximately 2 hours.

In what theater is the show held?

The show is held at the Grand Country Music Hall.

What type of parking do you have?

Parking is free.
Book Now!