Amazing Pets
Click for More Information

Exclusive Online Offer: Family Pass Available
(Must purchase in advance online or toll-free at 1-800-987-6298)
Location: Grand Country Music Hall, 1945 W 76 Country Blvd Branson, MO 65616-2181
1-800-987-6298
Description
Amazing Pets Photos (6)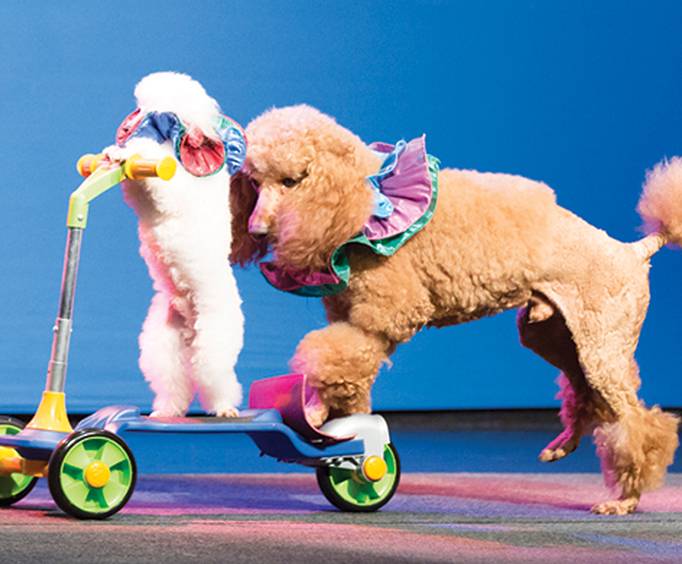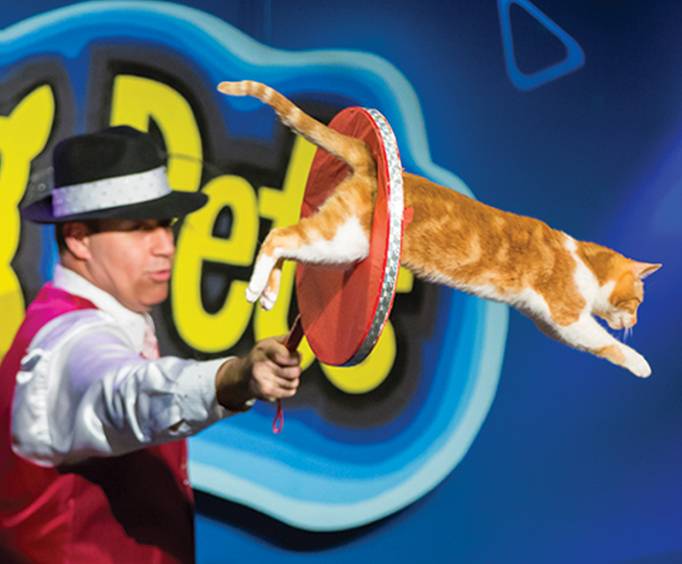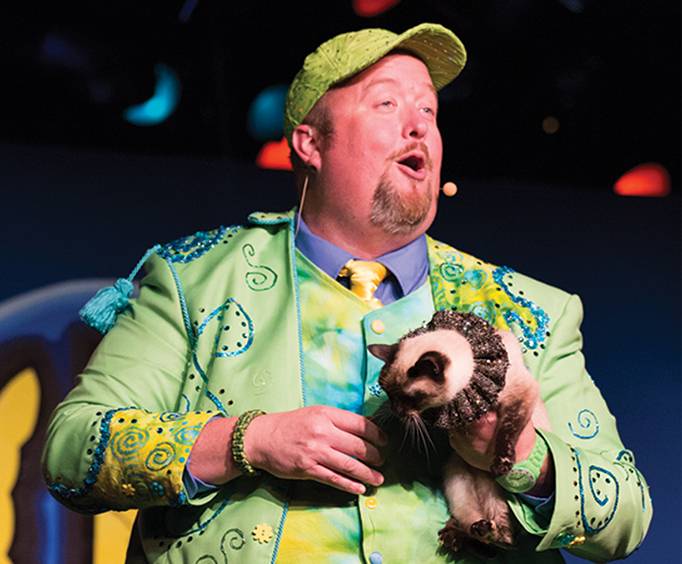 For one of the best activities in the Ozark Mountains area, be sure to check out Amazing Pets Branson where you will find a talented troupe of dogs, cats, and exotic birds in a variety show that will leave you both laughing and amazed.
Throughout the two-hour performance you will witness a number of tricks performed by ringleader Sean Paul's cast of furry creatures. The felines and canines featured throughout the performance (many rescued from dog pounds and Humane Societies) and the group of exotic birds make for a thoroughly entertaining show. There's also a performance by a counting donkey and even performing pigs. See cats hopping through hoops, walking along tight ropes, dogs riding silly bikes, barking, meowing, and flying. Light-hearted fun for the entire family is key to this fast-paced show, so no matter what ages your group is comprised of, come out for a unique time of entertainment in Branson, MO!
About the Animals
See an incredibly talented troupe of animals at this unforgettable show. These astounding furry creatures will impress with tricks and intelligence. Guests are sure to be stunned as they watch house cats walk across tight ropes, roll barrels, and perform other tricks for the audience. This live show features these cats as well as dogs and exotic birds. A huge portion of the animals have gone from a kennel at an animal shelter to the stage only in Branson, MO!
About Grand Country Resort Theater - Grand Country Music Hall
Grand Country Music Hall is the home of Amazing Pets Branson and is located at the Grand Country Resort. The theater has brought a wide range of variety shows to the Ozarks area since it opened, and visitors of all ages will be able to find something to their liking. The theater showcases morning, afternoon, and evening shows daily. As well as Amazing Pets, the Grand Country Music Hall features great shows such as Comedy Jamboree, Grand Jubilee, Down Home Country, New South Gospel, Branson Country USA, Ozarks Country, and Ozarks Gospel. Enjoy some amazing entertainment and fun during your Branson vacation at this resort which also provides a beautiful place to stay on your next getaway.
Animal lovers everywhere go crazy for Amazing Pets in Branson MO because it offers tons of awesome fun that kids and people of all ages can enjoy, and there's no doubt you will, too! Let these brilliant animals make your day. You can't help but smile at their heartwarming tricks. Guests are sure to have a great time at this exciting live show! Get your tickets today!
Frequently Asked Questions for Amazing Pets:
What is included in the admission price for Amazing Pets?

The price includes the show.

Approximately how long is the Amazing Pets?

The show lasts approximately 2 hours.

In what theater is the show held?

The show is held at the Grand Country Music Hall.

What type of parking do you have?

Parking is free.
Reviews
3.3 | 32 reviews
Sherry Conner
TX
✓
Verified Traveler
"Fun to watch!"
Fun to watch!
Sherry Slay
AR
✓
Verified Traveler
"I recommend this show for a good family time."
My youngest son was amazed by what all the animals could do. I recommend this show for a good family time.
Judy Bradley
OK
✓
Verified Traveler
"We loved Amazing Pets"
We loved amazing pets, it was very, very good and much more than we thought it would be. Thank you
Joe R
MO
✓
Verified Traveler
"very fun and entertaining show."
Very fun and entertaining show. Very family friendly. Intermission was a bit long.
Book Now!
Exclusive Online Offer: Family Pass Available