Bad Moon Risin Creedence Clearwater Revival Tribute Show
Location: Tribute Theatre,

Bad Moon Risin Creedence Clearwater Revival Tribute Show tickets are no longer available for 2017. It is unknown if or when they will be available again.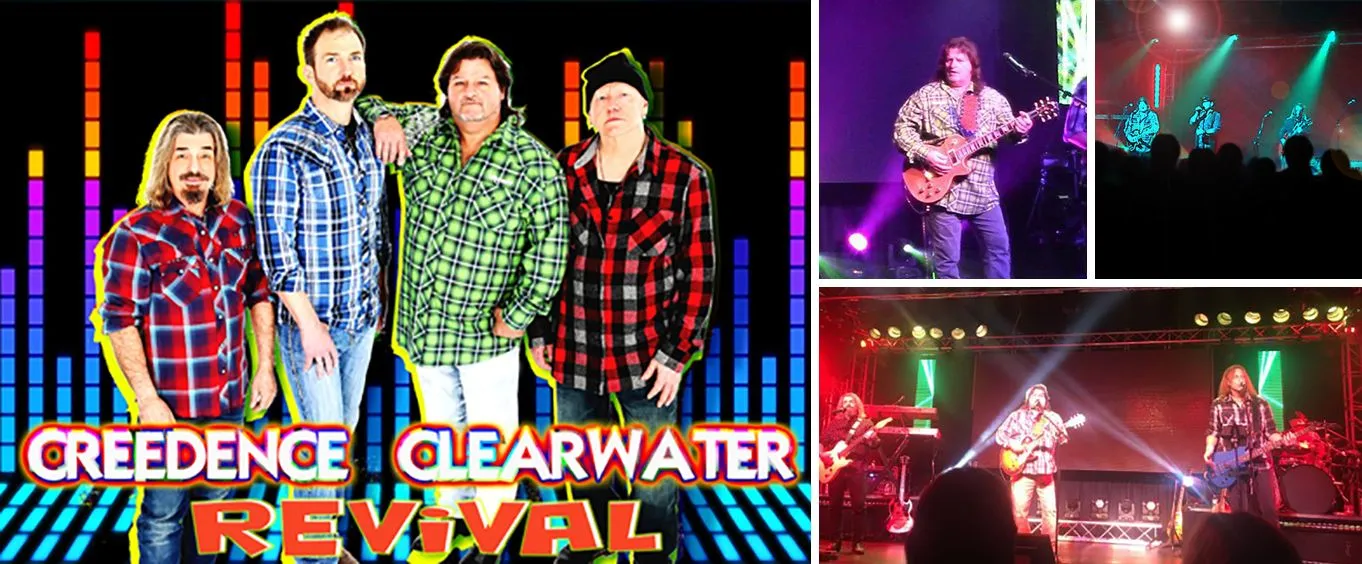 Sing and clap along with Bad Moon Risin', the Creedence Clearwater Revival Tribute Show that will play all your favorite Southern-rock tunes and will leave you convinced CCR is on stage.
Celebrate Creedence Clearwater Revival with this two-hour show, where the incredible musicians transform the stage into a mesmerizing concert tribute to a band that offered so much to the listeners and other musicians. In this fun show, you can listen to hits like "Proud Mary," "Who'll Stop the Rain," "Susie Q," "Run Through the Jungle," and many more, as well as hear about the lives and careers of the band members, including their origins in San Francisco to their development into the CCR that we know and love.
This amazing tribute show will let you reminisce about the 1960s and '70s, when Creedence Clearwater Revival wowed the crowds with their unique musical style, a combination of roots rock and swamp rock genres. With lyrics about bayous, catfish, the great Mississippi, and the South, CCR developed a Southern rock style and influenced many genres, including Southern rock, grunge, roots rock, and blues, and their fantastic sounds are still a staple of American radio.
Active from 1967-72, Creedence Clearwater Revival consisted of lead vocalist, lead guitarist, and primary songwriter John Fogerty, rhythm guitarist Tom Fogerty, bassist Stu Cook, and drummer Doug Clifford, the four of which have influenced so many genres and artists with their unique sounds. With over 26 million albums sold in the United States alone, CCR is a staple of American rock, and the band was inducted into the Rock and Roll Hall of Fame in 1993 and is the 82nd ranked band on Rolling Stone's list of the 100 greatest artists of all time.
Enjoy all your favorite Southern rock tunes with this star-studded performance in Branson, perfect for the entire family to stomp and sing-along to!
Reviews

craig turner
Johns Creek, GA
✓
Verified Traveler
The band did a great job playing all the creedence songs. We had a fantastic time. Looking for a place to eat, i would recommend the uptown cafe.
Tip: The earlier you order the tickets the closer to the front you will be.

Johanna Vallance
Warsaw, MO
✓
Verified Traveler
Greatest show i've seen in branson and i've seen many. I would encourage everyone to see this excellent show. There was never a dull moment. The singers, guitar players, bass player and drummer all were the best. The great music made you want to dance. Everyone clapped hands, sang along and enjoyed the show. I was sorry to see it end.
Tip: The seating is limited, so make a reservation!

Robert W Manna
Parker, CO
✓
Verified Traveler
We saw 7 shows while in branson & this one was the best.

Mark Cragin
Blue Springs, MO
✓
Verified Traveler
"We really enjoyed this show."
We really enjoyed this show. The talent of the musicians was superb, vocally and instrumentally. Like the other reviewers, we appreciated the information about ccr as well. Great job, guys - you made it fun and entertaining!