George Jones, Haggard & Friends
3562 Shepherd of the Hills Expy Branson , MO 65616
1-800-987-6298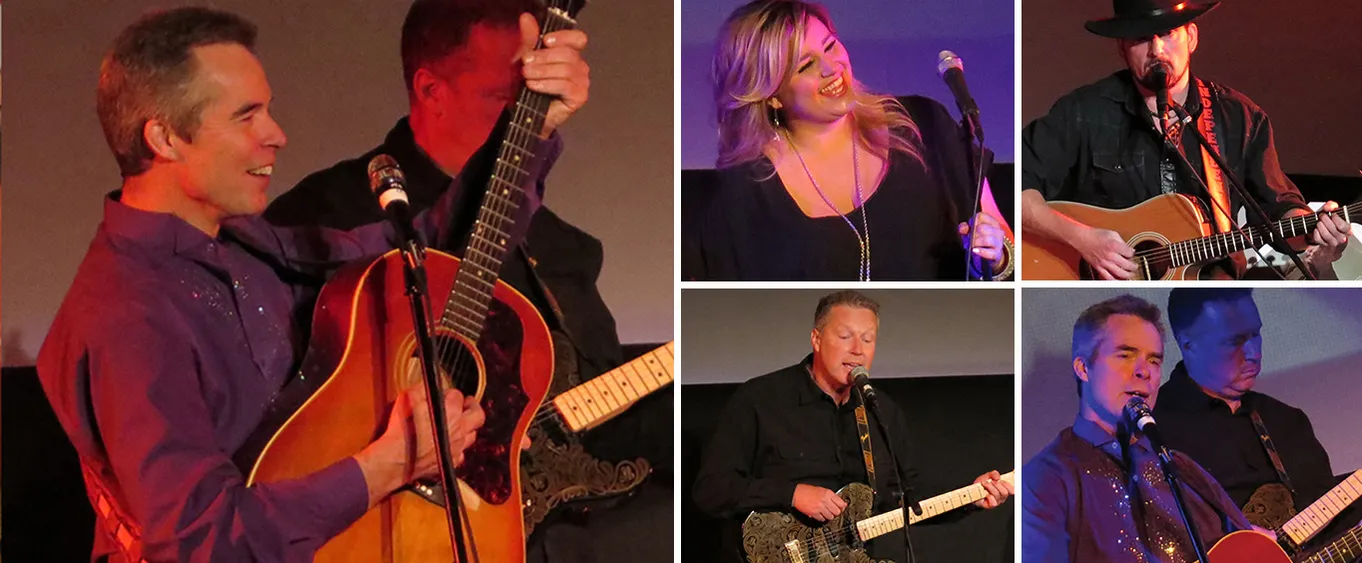 For an amazing time in Branson, MO head out to the IMAX to see George Jones, Haggard and Friends live; this fantastic tribute show is sure to impress music lovers of all ages through the music of country legends. The show pays homage to some of the greatest artists in country music history. Of course, George Jones hits will be played, creating the perfect atmosphere for dancing and singing along. From 'He Stopped Loving Her Today' to 'I Don't Need Your Rockin' Chair', Jones is embodied by the talented George Geisser who got his start as the fiddle player and guitarist for the Re-Cliners, a Patsy Cline tribute band.
As well as George Jones, many other notable artists are also given their time to shine during the show including Willie Nelson, Waylon Jennings, Randy Travis, and plenty more. With Geisser's masterful performances, this show is sure to be a great time for country music enthusiasts, so don't hesitate and book tickets to this amazing concert featuring country classics. These performers bring some of the greatest talent and fun to the Ozarks.
About the Little Opry Theatre
The George Jones and Friends show Branson is a featuring show at the Little Opry Theatre in the Branson IMAX. This amazing theatre is known for its awesome live music shows and live entertainment that audience members and fans can enjoy year after year. Each guest is treated to friendly service and is sure to enjoy a great time at the theatre. Featuring comfortable seating, state-of-the-art sound, and screens, as well as plenty of amazing people performing your favourite music, it is clear as to how this theatre is considered a Branson icon. The Little Opry Theatre provides other live shows as well. Whether you want to hear music or comedy performed right on the Ozarks stage, these tribute shows are fun entertainment for everyone regardless of age or taste. Do not miss out on a trip to this iconic Branson country music hall. A guest to the IMAX can also choose to enjoy a dining experience at the theatre. This includes McFarlain's Family Restaurant, Florentinas, and Montana Mike's.
This country music experience is one of the best in the area. Get your tickets today and add it on to your next Branson vacation for an unforgettable time in the Ozarks! Dance and sing along with your favored songs while enjoying this classic country genre.
Reviews

June Sanders
Moorhead, MN
✓
Verified Traveler
A bit more low key than expected. Still it was very enjoyable.

Diane Boettcher
Prairie Du Sac, WI
✓
Verified Traveler
Very good show and performers. Enjoyed the variety of music.

Heidi KrenzBuchanan
Beloit, WI
✓
Verified Traveler
We did this on my husband's birthday because he loves george jones music. It was a good show. Didn't disappoint.
Frequently Asked Questions for George Jones, Haggard & Friends:
Approximately how long is the George Jones, Haggard & Friends?

The show lasts approximately 2 hours.

In what theater is the show held?

This show is held at Branson IMAX's Little Opry Theater.

Do the performers of the George Jones, Haggard & Friends sign autographs and meet the audience after the show?

Yes, they are outside the theater for a meet and greet.

What is the length of intermission at George Jones, Haggard & Friends?

Intermission is fifteen minutes.

What type of parking do you have?

Parking is free.
Book Now!