Spirit of America Catamaran Cruises
380 State Park Marina Road Branson, MO 65616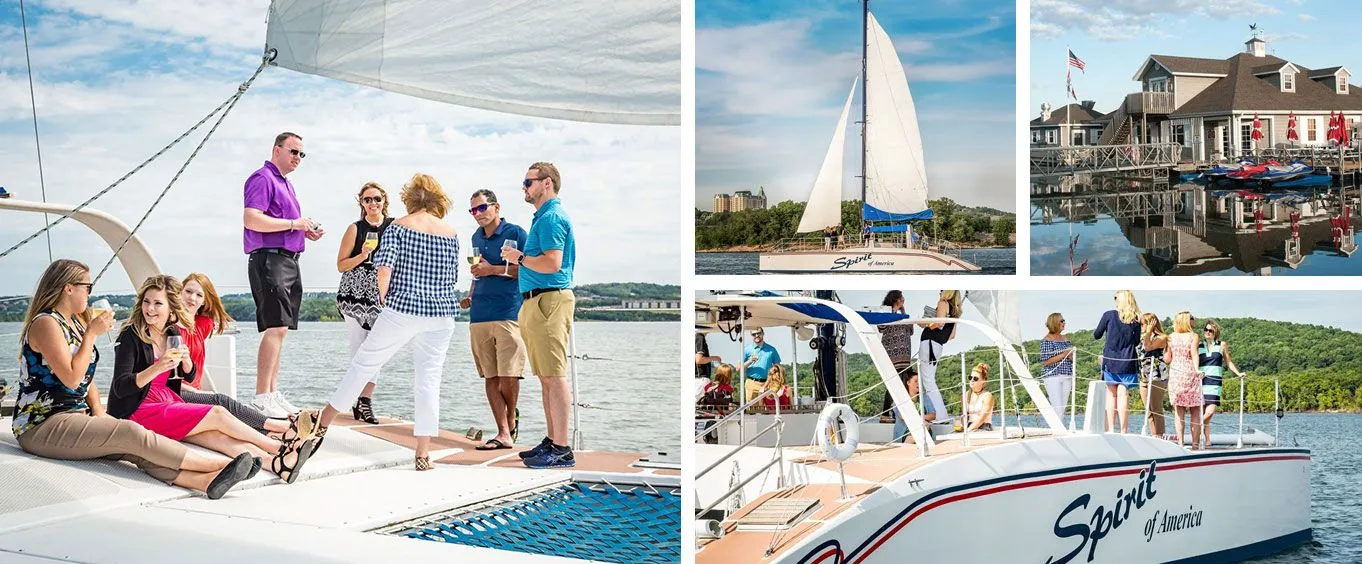 Set sail on crystal-like waters with Spirit of America Catamaran Cruises in Branson for a sort of sailing class you won't forget. On these adventures, participants will be taken out onto some of the most stunning waters to see picturesque views and the finest of Branson, MO scenery.
Climb aboard the beautiful Spirit of America catamaran. Upon boarding your cruise, you will meet the talented and personable local captain, Captain Matt. Captain Matt has sailed along the Ozarks' lakes for years, allowing for a unique perspective on a Coast Guard-certified journey. The tour boat itself is a majestic 48 foot sailing catamaran built for sailing. It features comfortable seats as well as room for up to 49 passengers. Of course, passengers are also given a life jacket to wear.
About Table Rock Lake
After checking in at the Boathouse Store on beautiful Table Rock Lake's State Park Marina, you will climb aboard the catamaran for a sail along the sparkling waters' surface. The boat launches from State Park Marina, and from there you will sail along the gorgeous surface of the lake. Table Rock Lake is known locally for its recreational options, allowing guests of all ages to enjoy everything from Stand Up Paddleboarding to kayaking to bass fishing, water skiing, swimming, and boating. Table Rock Lake is a man-made lake located off of the White River and is located in gorgeous Branson, MO, part of the Ozark Mountain region. Table Rock Lake is comprised of more than 800 miles of accessible shoreline and 43,000 acres of water. It is an awesome sight to see, and it is even better when you are out on the water. When you are finished enjoying the cruise ship fun, embark upon other awesome ventures. From the campground and its camping opportunities to gorgeous hiking trails and Table Rock Dam, Table Rock State Park is brimming with things to do for a fun outdoor adventure!
These adventures offer up a great opportunity for viewing the scenery and having fun in the Ozarks. Whether you want to inhale the crisp autumn air and see the reds, oranges, and yellows of fall foliage on the Fall Cruise or enjoy a stunning Branson sunset on one of the evening of cruises, you are sure to have a blast sailing Table Rock Lake with Spirit of America Catamaran on your next trip.
Branson, MO is full of great adventures!
Whether you are cruising along beautiful Table Rock Lake or exploring Downtown Branson or the Branson Landing, tons of fun is waiting. Be sure to book your complete activity itinerary as well as make reservations at your favorite resort or hotel for a complete vacation!
Reviews

Jean koenig
Pine Island, MN
✓
Verified Traveler
"we got a beautiful sunset on one side and the full moon rising on the other"
It was really nice as the weather totally cooperated with us and we got a beautiful sunset on one side and the full moon rising on the other.

Karyn Neighbors
Owasso, OK
✓
Verified Traveler
It was relaxing. Beautiful boat. The captain and his assistant were the best and very informational. I would definitely take it again. This was our 33rd anniversary.
Oterries Berdin
West Memphis, AR
✓
Verified Traveler
Love the boat cruise, me and wifey was sad to leave

john clark
Iowa City, IA
✓
Verified Traveler
Great experience. Captain matt is a friendly and competent host. Highly recommend the sunset cruise.
Frequently Asked Questions for Spirit of America Catamaran Cruises:
What type of parking do you have?

There is plenty of parking at the meeting point.

What lake or river does the Spirit of America Catamaran Cruises cruise on?

Table Rock Lake

How many passengers does the boat hold?

49

What is the dress code?

Dress code is casual.