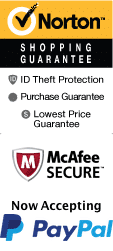 WonderWorks Branson
2835 W 76 Country Blvd Branson, MO 65616
1-800-987-6298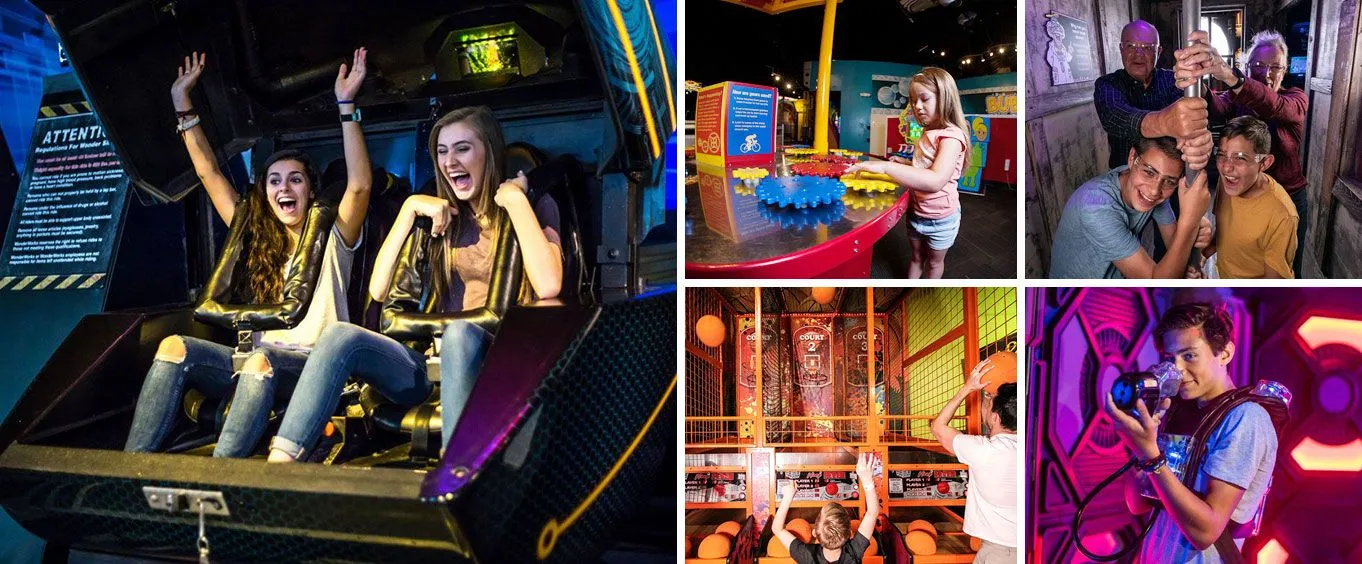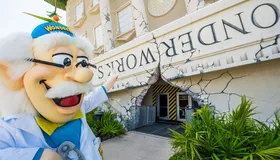 As Branson's newest interactive attraction, WonderWorks Branson Missouri exemplifies the most intriguing aspects of our wondrous world with awesome interactive exhibits, attraction options, and indoor amusement park fun , giving guests of all ages the opportunity to participate in fun immersive adventures as well as to educate themselves about phenomena found on earth. Have a blast when you get Wonderworks Branson tickets!
More than one hundred hands-on exhibitions are available to teach and entertain, filling up an impressive 45,000 square feet of center space. Visitors will appreciate the spark it gives to their imagination, allowing kiddos and adults alike to create and experience STEAM adventures.
Wonderworks Branson MO Exhibits
Meteorology & More

: At this exhibit, guests will be able to feel what it is really like to be at the center of a Hurricane. Step inside the Hurricane Shack to experience winds of up to 74 miles an hour, making it the same level as a Category 1 hurricane. Visitors can also experience just how cold it was the night that the Titanic tragedy occurred. See how long you can hold your hand under the 28 degree water.
Physical Physics

: Two experiences make up this section of WonderWorks, the Bed of Nails and the Tesla Coil. See what it's like to lay on 5895 nails and be amazed at the force of pressure. You can also get a hands on experience with a real Tesla Coil, where you'll put your hand into a steel armor glove and attract 100,000 volts of electric power right to your hand.
Lights, Sounds & Senses

: The XD Theater, Bubble Lab, and Strike a Pose exhibits make up this section of the center. At the Branson Wonderworks XD Theater, experience a 3D film combined with full motion seats that will create an adventure right before your very eyes. The Bubble Lab allows guests to create huge person-sized bubbles and examine the colorful spectrum of reflection created by refraction. Then, Strike a Pose and get your photo taken to learn about shadows and the effects of light.
Space Discovery

: Jet off to the stars at the Space Discovery, where you'll learn about the galaxy, gravity, and astronauts. The Astronaut Training Gyro gives the most in-depth experience to what it is like to achieve space travel. The four-person ride spins guests around in random directions and even gives the feeling of being in space and weightlessness. Visitors will also be able to get into a real Astronaut Space Suit, a replica that gives interesting insight. You'll also be able to visit the Mercury Capsule, a replica of the Project Mercury, the first efforts of human space travel.
Elements, Earth & Life

: The world is an interesting place, and visitors can experience most unique things with Elements, Earth & Life, an exhibit that provides Google Earth, a global interactive map, as well as Dig-IT, an interactive sandbox experience that allows you to create trenches and mountains combined with augmented reality. These Wonderworks rides are sure to be a great time.
Wonder Art Gallery

: Experience masterful illusions and mind-bending artworks at Illusion Art Gallery which features famous illusional art. Experience the oddities of Dr Seuss's Unorthodox Taxidermy which give reality to his imaginative creatures. It is also home to a Branson-only exhibition, Ozart, which features the works of local children from the Ozarks area.
Exclusive Wonder Works Branson exhibits include Ozart as well as the following:
The Branson Experience

: Learn about what makes Branson MO and the Springfield Plateau special with this display. Learn about Lake Taneycomo, the local ecosystem, fishing, Shepherd of the Hills, musical theater, and more. You will also be fascinated by the history of Route 66.
American Pride God & Country

: This exhibit has paired with the US Army to allow visitors to undergo activities like sharpshooting and PT testing to see if they have what it takes to be a member of the US Army. It also boasts American achievements in wonderful displays.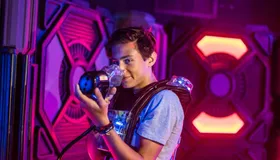 As part of the All Access experience, visitors will also be able to enjoy a fun game of Branson Laser Tag. Challenge friends and family to a shootout as you navigate the glowing arena zapping your opponents and racking up points.
About WonderWorks Branson MO
The WonderWorks brand has striven to provide family friendly engaging activities to visitors around the country! With six locations (Orlando, Myrtle Beach, Pigeon Forge, Branson, Panama City Beach, and Syracuse), the attraction brings amazing fun to the forefront. As you enter, you will be greeted by the WonderWorks museum's signature upside down house, which will immediately spark the imagination! Every location is brimming with adventure to enjoy, with unique featured exhibits that will delight. Learn about the wonders of the world and enjoy scientific fun at these amazing locations!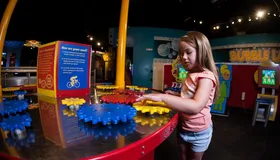 Do not miss out on all of the wonders at WonderWorks in Branson Missouri, which celebrated its grand opening in 2020! Your trip to the Ozark Mountain region will be full of fun, wonder, and tons of learning with Wonder Works Branson so snag your ticket today! Of course, be sure to check out all of the other awesome activities in Branson's entertainment district after you've finished enjoying all the interactive indoor amusement park fun! wonderworks branson coupon
Reviews

Marie Hill
Jackson, MS
✓
Verified Traveler
We loved this museum! It was clean, the staff were very friendly, the check in process was quick. My children had a great time here.

Sarah Wilson
Independence, Missouri
✓
Verified Traveler
"Lots of fun for kids ages 3-13."
Lots of fun for kids ages 3-13. We spent half a day there. They also have a snack stand that is reasonably priced.

Megan Grisenti
Canon City, Colorado
✓
Verified Traveler
Was a fun experience. It was more for small kids but still a great experience.

Jean Casey
Clarksville , TN
✓
Verified Traveler
Fun stuff for all ages! Lots of science!
Frequently Asked Questions for WonderWorks Branson:
What is included in the admission price for WonderWorks Branson?

The All Access Pass includes access to all exhibits as well as laser tag.

What amenities are available?

There is an onsite cafe as well as a gift shop.

Is WonderWorks Branson handicap accessible?

Yes. This attraction has exhibits with flashing lights and motion which might not be suitable for those with diabetes, heart problems, seizures, or vertigo.

Is photography & video recording allowed?

Yes.

For what ages is WonderWorks Branson appropriate?

It is great for all ages!

Is parking available at WonderWorks Branson? Is it free?

Parking is free.

What is included in the admission price for WonderWorks Branson?

Includes laser tag and all exhibits for a full day.

What level of physical ability is required?

Wonder Coasters, 360 Bikes, Clip 'n Climb, XD Theater, and Astronaut Gyro Training rides all have height and weight limits.

What type of clothing is appropriate?

Close-toed shoes are required. Please dress family-friendly.

Is food available or provided?

Yes. There is an onsite Route 66 Cafe.
Book Now!