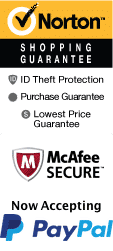 YOUR PEACE OF MIND IS OUR TOP PRIORITY
Should you need to cancel at any time, you have up to 48 hours from your vacation start date to do so for a 100% future travel credit.

Branson Airport near Branson, MO
4000 Branson Airport Boulevard , Branson Airport Hollister, MO 65672
The Branson Airport might be a smaller airport, but it still offers the same courteous customer service to passengers as well as new flights that are offered all the time. There are several services offered by the airport, such as an overhead paging system and accessible parking. Car rentals are also available at the airport for those who need transportation. When you arrive at the airport, you will see a large hangar area where the planes sit. This isn't an airport that you would find in a large city with flights to other countries, but the flights that are offered are inexpensive. You can often travel to most destinations across the country. Shuttle services are offered from local hotels and other locations. There is also limo service provided. You will find that there is always someone who is willing to help get your baggage to the proper destination and someone who is willing to help you find your way around the airport. There are areas of the airport where you can comfortable wait while watching television if your flight is delayed. This is an airport that focuses on customer service. Parking for a day is offered for a small fee, and there are transportation options available. You'll find that the lowest rates are offered at the airport so that you can reach your destination without any worries.