Big Air Trampoline Park Branson
3300 North Gretna Road Branson, MO 65616
1-800-987-6298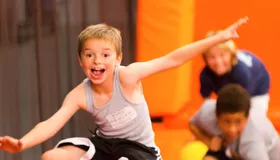 High-flying family entertainment awaits in Branson, MO with the Big Air Branson MO Trampoline Park, an awesome interactive attraction! This exciting trampoline park offers a variety of unique attractions and features that provide kiddos and kids at heart with the opportunity to bounce, play, climb, and have a blast in the Ozarks. Experience the different areas and activities in innovative ways that you won't find anywhere else!
There are more than 60 different features and attractions to enjoy during your time at Big Air Trampoline Park. From foam pits to a climbing wall, battle station, and trampolines, there is something for everyone. It is the perfect way to burn off some energy and make new memories during your getaway! Head to the trampoline park to enjoy everything it has to offer with this pass! There are 57 features included in regular admission from the Battle Beam to the zipline, warped walls, 20 different rock walls, log rolls, plenty of foam pit fun, and more.
Attractions at Big Air Branson
The Wall:

Channel your inner rock climber or Spiderman with this exciting climbing experience! The Wall is one of the fiercest-looking attractions at the trampoline park, and it makes for an exciting and satisfying challenge for those who are up to the test! If you conquer the Wall, you get to ring the victory bell and have all of the bragging rights! This intense course is great for those looking to test their skills.
Head to Head:

You and a friend will have to test your reaction time during this exciting activity! Head to Head is a reaction wall that will put your reflexes to the test and see just how quick you can react to new challenges!
The Gauntlet:

Move over Ninja Warrior! The Gauntlet is Branson's newest and most challenging obstacle course that is sure to challenge those who are brave enough to attend! The ninja warrior course known as the Gauntlet features three different difficulty levels and a variety of obstacle features to challenge, energize, and motivate! From monkey bars over foam pits to unique climbing walls and a rope wall, there are plenty of interesting things to keep you entertained. These unique activities are sure to delight.
The Orbit:

You have probably seen some pretty hilarious videos on the internet featuring an Orbit-style game. Here, guests will stand in their positions and wait as a spinning beam goes round and round. You will have to make split-decisions to jump high or drop on the bouncy floor to avoid getting battered by the beams. It puts your inner ninja skills to the test!
The Pit:

The Pit provides some awesome fun! The Pit features tons of foam blocks surrounded by trampolines that allow visitors to take a running jump into the 'abyss'! See if you can do flips, somersaults, and more as you vault yourself again and again into the pit. There are even side walls along the pit, so see if you can wall run or perform other awesome tricks!
Extreme Dodgeball:

With a new spin on a classic game, Big Air Trampoline Park revolutionizes dodgeball in a fun way! This playground features two side-by-side trampoline arenas where you will duke it out with your fellow jumpers. Twist, turn, dive, and jump to avoid getting hit by the foam balls during this game. The dodgeball court is expansive, so be ready to bounce around!
Big Slam:

Channel your inner NBA star as you take on the Big Slam challenge. This awesome basketball court is transformed with trampoline features that take the game to new high-flying levels. Feel like you are one of the Harlem Globe Trotters as you slam dunk again and again. There are a variety of rim heights so all ages can get it on the dunking fun.
Battlebeam:

Go head-to-head and toe-to-toe with friends and family at the Battlebeam station! This exciting gladiator-style adventure combines jousting fun and balance for a unique challenge. Bop your opponent to send them falling off the balance beam and into the trampolines below to conquer the challenge and become a Battlebeam champion.
The Bullpen:

Giddy-up, Cowboy! The Bullpen awaits with an exciting twist on a classic. This Big Air experience puts you right in the middle of a trampoline rodeo as you try to hang on tight to a spinning mechanical bull. With one hand, will you be able to stay on the bull for more than seven seconds?
Big Court:

This is the main feature of the trampoline park! At the Big Court, trampolines make up the floor and the walls so guests can bounce to their heart's content. Perform awesome tricks and spin and flip on this awesome court. From warped wall fun to the dodgeball court, the entire family will find something to enjoy.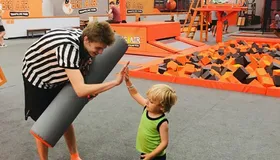 There are also specially-designed attractions for the little kiddos. At the Lil' Air course, littles will enjoy bouncing at their own pace without the older kids. This pint-sized playground features trampolines they can bounce on, balls they can play with, and other features that will ensure that they have a fun and gentle bouncing experience. For those who are interested, there is also a special Toddler Time throughout the week in which the entire park is opened to little ones. Be sure to bring your camera too to capture some great Big Air Trampoline & Adventure Park photos.
Of course, if you aren't jumping, you are free to spectate! There are even things for the adults to do such as take advantage of the free WiFi, grab a bite to eat at the Big Eats Cafe, or simply wait for the hilarity to unfold as your little one bounces around.
About Big Eats Cafe
Jumping around at Big Air Branson MO takes up a lot of energy, and guests can refuel at Big Air Cafe. Here, there are great food options available for purchase. Sink your teeth into a gooey slice of pizza, enjoy candies, and sip on Pepsi products. There is also comfortable seating available for the entire family.
There are also multiple ticket options available. If you want to enjoy all of the premium attractions, be sure to book the premium attractions pass which is good for the entire day and also includes the original 57 attractions plus the Flight Simulator, Spin Cycle, Big Leap, Drop Slide, and Flight Simulator. Whether you are enjoying thrilling trampoline dodgeball, conquering the ninja warrior course, zooming along the zip line, or trying your hand at the mechanical bull ride, you are certain to feel like a kid again as you create unforgettable memories with the entire family!
Do not miss out on all of the brand new fun at Big Air Trampoline Park Branson MO. This exciting adventure park has everything you need and more to enjoy a thrill. From foam pits to slam dunk courts, dodge ball, the Battlebeam, and obstacle courses, you and your loved ones will have a fantastic time playing at this Branson trampoline park! Guests can also see some amazing Branson Shows like the Gatlin Brothers or browse articles about topics like Big Cedar Lodge Branson MO and Places to Eat Branson MO.
Options:
Big Air Trampoline Park Branson Full Day
Available Now until 12/31/2024 View Detailed Schedule
Have a blast at Big Air Trampoline Park! This exciting adventure park offers up tons of features like climbing walls, obstacle courses, and dodge ball. With basic admission, guests can enjoy 57 different attractions.
Reviews

Andinesha Neely
Gunnison , MS
✓
Verified Traveler
The food and staff was great and it was fun. The massage chairs was great for adults and my son enjoyed it as well.
Frequently Asked Questions for Big Air Trampoline Park Branson:
What is included in the admission price?

Standard admission includes 57 different obstacle features. The Premium Pass includes the original 57 features as well as premium attractions such as the Flight Simulator, Virtual Reality, and more.

What type of clothing is appropriate?

It is recommended that guests wear comfortable athletic

What age is it appropriate for?

This is appropriate for all ages.

Is food available or provided?

There is a cafe onsite.

Is parking available?

Yes.

Is photography & video recording allowed?

Yes.
Book Now!