Hughes Brothers

Location: The Hughes Brothers Celebrity Theater, 3425 W 76 Country Blvd Branson , MO 65616
1-800-987-6298
Description
Hughes Brothers Photos (16)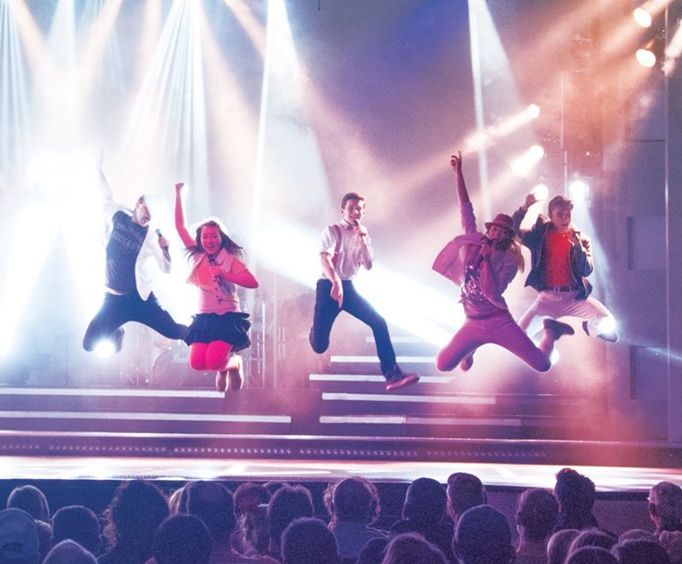 These five handsome and talented brothers will treat you to a show filled with a variety of music from pop, rock, and country to Broadway, gospel, and hip hop as they dance in unison with grace and style that leaves audiences breathless.
The Hughes Brothers have been performing together for over 28 years, but they started so young that they're all under 40 years old. The brothers' impressive dance moves, amazing instrumentals and spot-on harmonies promise to deliver an unbelievable time of music, and their antics add a certain boy-like charm to the show. You can also have a tasty southern meal before the evening show begins if you make plans to come a little early.
The show boasts a cast of over 50 members (and growing), as they 'keep it in the family'. Audiences delight when Marty, Jason, Adam, Ryan, and Andy bring their beautiful wives and children, who inherited their folk's many talents, onto the stage to join them. The amount of entertainment brought from such a wide range of cast makes for a fantastic performance that includes waltzes and ballet, a violin segment by the kids, and a lot of funny moments. It is complete with moving lights, dazzling costumes, and dynamic productions. You'll be clapping, dancing, and singing with the Hughes Brothers Show.
Hughes Brothers Music Dinner Show
Enjoy amazing music and a delicious dinner at the Hughes Brothers Music Dinner Show! This ticket includes dinner and the show.
Hughes Brothers Music Show Only
More than 50 singers, dancers and musicians come together on stage to share their talent in one incredible performance. The brothers, their wives and their children join together on stage in this exceptional production, called "electrifying," as harmonies, comedic antics, dance moves, instruments, creativity and brotherly love move audience members.
Frequently Asked Questions for Hughes Brothers:
What is included in the admission price for Hughes Music Show?

It includes the show.

Approximately how long is the Hughes Music Show?

The show lasts approximately 2 hours.

In what theater is the show held?

Hughes Brothers Theatre

What type of parking do you have?

Parking is free.
Reviews
4.8 | 86 reviews
Robert & Vicki
LA
✓
Verified Traveler
The morning show was quite entertaining--all brothers were there with all their wives and tons of kids--such a wholesome show and great talent to boot. The guys love to chat with you at intermission.
Chuck and Sharon Carpenter
KS
✓
Verified Traveler
We have been attending the hughes brother's show for 12 years now. They first were at silver dollar city and we fell in love with them at that time. It has been fun to watch their children grow up and become a part of the show along with the wives.
Reidyth Daech
IL
✓
Verified Traveler
Best show we've ever seen in branson. The family is unbelievably talented -- the children are exceptional -- we have been raving about the hughes show since we got home. Couldn't have been better. Amazing indeed.
Ann Russell
North Little Rock, AR
✓
Verified Traveler
The show was great, and the entire cast was phenomenal but the meal was the worst we've ever had. Chef cameron was very personable but the salads looked as if they had been sitting out 2-3 hours, the green beans and potatoes were cold, the pork loin was like leather and the chicken was just okay. Also, the dessert had thawed, very sad looking raspberries rather than fresh and the fact that there were only 12 dinner guests, all of these mistakes could have been avoided with a more experienced chef. We would like to see the hughes show again sometime.
Tip: You have an opportunity to be a real culinary experience for you guests but i'm sorry, the food was just terrible.
Book Now!