White Water Branson MO
3505 W 76 Country BLVD Branson, MO 65616
1-800-987-6298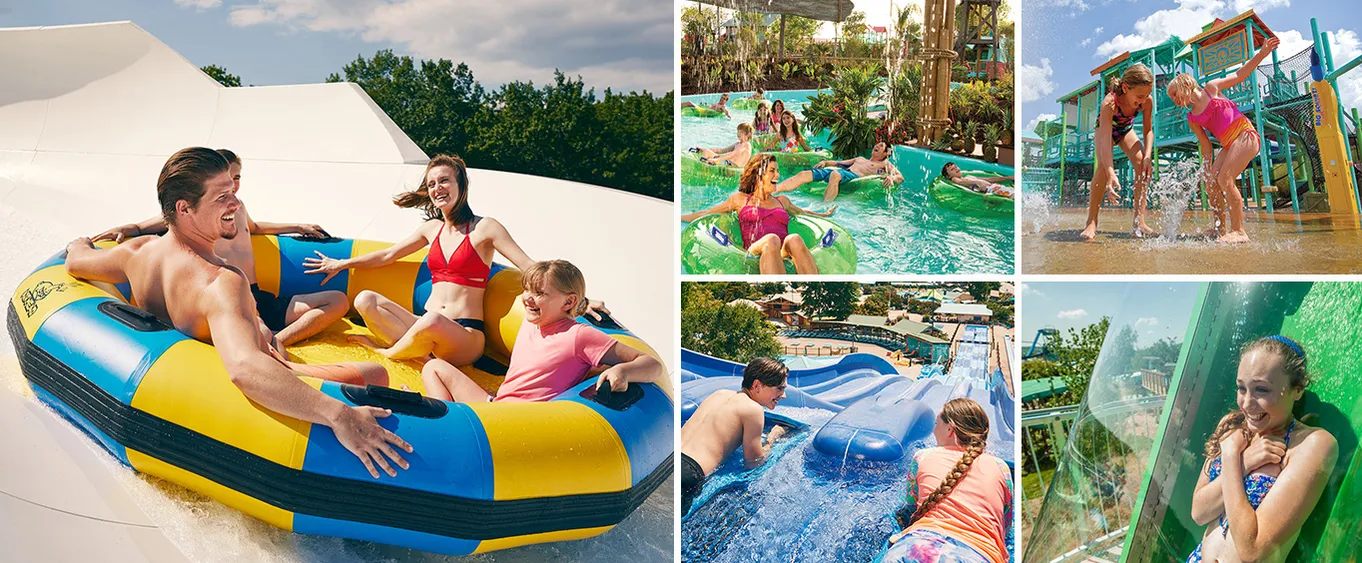 This exciting Branson Whitewater water park was created with the family dynamic in mind and features something fun for everyone. Rides, relaxation, shopping, and dining make for an all-encompassing park experience that can be found at none other than White Water Branson . It has been called one of the Top 10 Best Water Parks in the USA by Fodor's Travel.
Visit the Silver Dollar City Water Park for an amazing time in Branson MO!
Advertised as a 'beach within reach', Whitewater in Branson opened in 1980. This midwest tropical paradise features an exciting variety of thrilling rides, water slides, hemed attractions , relaxing poolside hangouts and delicious summer snacks and is conveniently located in the midst of several other Branson theaters and attractions . The popular night time event even allows visitors to come early and stay late with extended park hours, dive-in movies, and more.
White Waters Branson Rides at Branson Water Park (Included with White Water Tickets): Have a blast at One of the Best Water Parks in Branson MO with exciting rides at this Branson Water Park.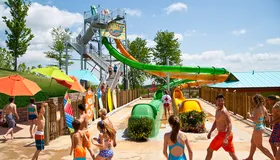 KaPau Plummet: The newest addition to the park, these dueling 245 foot slides will get your heart racing with a free fall at 26 feet per second. You'll make one heck of a splash after your 70 degree plunge down through the encapsulated slide.
Aloha River at Hula Hula Bay: Let the calm waters of the Polynesian jungle take you on a relaxing ride through cooling misters, bubblers, geysers, a 30 foot tiki tower and more.
Coconut Cove: This cove is perfect for kiddos who love to splash. Multi-lane slides and spraying and shooting nozzles in a shallow pool provides the little ones with a special place to play while parents watch over.
Kalani Tower: Body surf at 40 miles per hour down these 300 foot drop slides and race all the way down to the big splash.
Ohana Falls: Cool off with this raft ride for all ages as you face unexpected twists and turns, drops and dips.
Pipeline Plunge: You'll love this fast and furious race as you careen around corners and plunge to the pool at the bottom.
Raging River Rapids: Take a fast and furious trip to the pool below as these two 200 foot, interactive double-speed slides send you racing to the finish line.
Splashaway Cay: With 20,000 square feet of island adventure, kids of all ages will have fun splashing and playing in the spraying geysers, elevated walkways, aqua shooters and 150 foot long escape slide.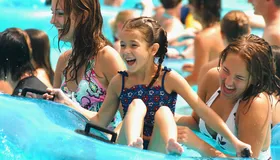 Surf's Up Wave Pool: This pool holds 500,000 gallons to swim and float in. Listen for the bell that signals the eruption of 4 foot waves that will have you clambering for your inner tube.
White Water Branson MO Dining Options: Get a bite to eat at White Water Water Park Branson MO
There are also plenty of yummy dining options at the Silver Dollar City water park to make sure you stay fueled up. Plus, theme park food is an attraction in of itself! Whether you want to sample the crunchy goodness at Hula Hula Taco or grab some barbecue at Big Kahuna Pizza & BBQ, there is something for every set of taste buds. Kid friendly choices are plentiful at High Tide Hannah's Island Cafe and adults will enjoy a brew at North Shore Coffee & Cones.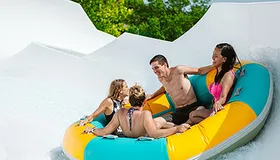 White Water Park Branson MO also has some fun events going on, including the famed Night Water, where guests can take to their favorite water rides after hours. Guests can also choose to reserve a cabana at an additional price. Thrill seekers and families alike should not miss out on the awesome summer fun to be had at White Water Branson Missouri.
A part of Silver Dollar City attractions, White Water Park Branson is sure to impress! When you're not floating around the lazy river or conquering your favorite water ride, be sure to check out Silver Dollar City theme park, another one of the famous Branson attractions. Visitors can also complete their Branson vacation with other attraction options before booking a room at their favorite hotel.
White Water Branson Shopping: Browse some great options at this Branson Water Park!
Surfside Trading Company: Pick up all kinds of beach wear and souvenirs like sunglasses, t-shirts, beach towels, swimsuits, jewelry, hats and more.
Be sure to also browse the Branson Missouri Water Park FAQs for White Water Hours and other Whitewater Water Park Information.
Be sure to check out the White Water Schedule to get your White Water tickets for this year's splashing fun! Whether you're a kid or a kid at heart, get your White Water pass to enjoy tons of fun at this Branson water park. There is tons of fun to be had at White Water water park Branson MO! While in Branson, you can also enjoy a variety of other great adventures like Mini Golf Branson MO. Whether you see a show like the Gatlin Brothers, Jimmy Fortune, It Was Almost Like a Song Ronnie Milsap Tribute, ABBA Thank you for the Music Tribute, Oak Ridge Boys, or Ronnie McDowell, or if you visit the Adventure Ziplines of Branson, enjoy the Branson Car Museum, visit the IMAX Branson MO, or see the Wax Museum Branson MO exhibits, you are sure to have a great time. You can also stay at fantastic hotels like the Branson Towers Hotel. Among the best shows in Branson, visitors will also find some helpful articles about topics like the Missouri State Bird, Branson MO Strip, fine dining Branson Missouri, Big Cedar Lodge Prices, and more!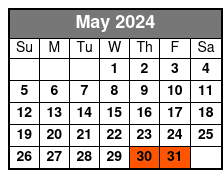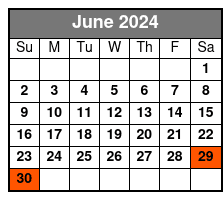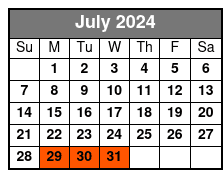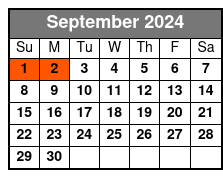 Reviews

Jerry Stivers
Pearcy, AR
✓
Verified Traveler
Absolutely loved it. We enjoyed every moment of our stat. Staff was top notch and truly cared about how we felt. We will visit again in december. Thanks to you all! Stivers family

Jason Dellett
La Crosse, KS
✓
Verified Traveler
"Very fun attraction for the whole family."
Very fun attraction for the whole family. The park was clean and the workers were very friendly and helpful. Great vacation spot.

Ashley Marti
Saint Elmo, IL
✓
Verified Traveler
Had lots of fun here! The big blue slides were amazing!

Daniella
Atlanta
✓
Verified Traveler
"we have a great time every time we go!!!!"
Its fun and we have a great time every time we go!!!!
Frequently Asked Questions for White Water Branson MO:
What is the dress code?

All guests participating in pools and attractions must be wearing appropriate swimwear. Swimwear may not have buckles, rivets, protruding metal or sharp objects. Corduroy, cutoffs or denim swimwear are not allowed. Cotton shirts are not permitted on any body slides (no exceptions). Body piercings that come in direct contact with the slides are not permitted. White Water is a family park and as such, thong swimsuits and shirts with profanity are not permitted. Inappropriate tattoos must be covered.

What is included in the admission price?

Includes all rides and attractions.

Is food available for purchase at the park?

Yes; there are many dining options.

What on-site amenities are available?

There are shops, restaurants, ATMs, etc.

What style of dress is recommended?

Family-friendly swimwear.

Is parking available on-site?

Yes. Parking is free with paid options.

Are lockers available?

Yes. There is a rental fee.

Are tubes available?

Tubes are free on tube rides.

How large is the park?

It is 13 acres.

Is smoking allowed inside?

There is a designated smoking area.
Book Now!