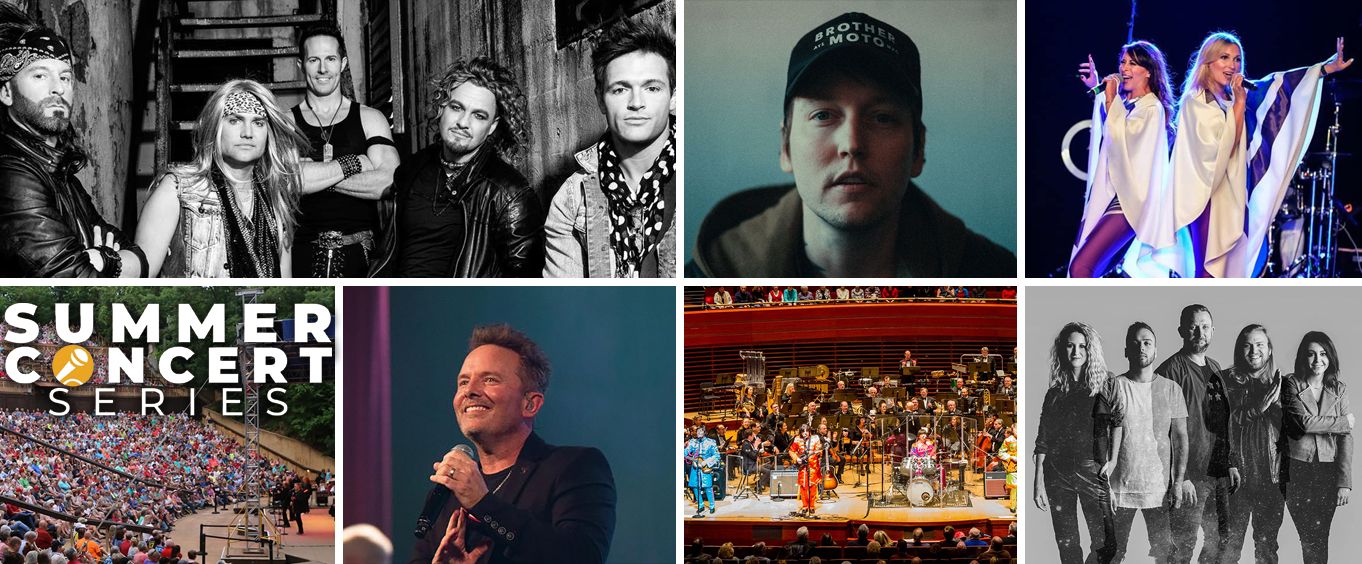 Silver Dollar City's Summer Concert Series
Enjoy the annual Summer Concert Series at it brings some of the finest music from gospel artists to 80s tribute bands to the
Silver Dollar City
stage!
This beloved concert series runs from May 29 - May 31, 2020 and June 5 - 7, 2020. During these two weekends, guests will be able to see a variety of performers who bring music and talent to the forefront. From gospel hits to the songs from the Beatles and ABBA, these performances will impress. There are two weekends, each with a different them. During the first weekend of May 29 until May 31, guests will be treated to Christian and gospel music. Then, the second weekend, which runs from June 5 until June 7, features tributes to the Beatles, ABBA, and the best music of the 80s.
May 29, 2020
Mack Brock: As well as leading worship and forming the Elevation Worship group, Mack Brock is a talented artist who uses his skills to bring the word of God to the world. It all began when his band, Elevation, released their first album, Kingdom Come, in 2010. Although Brock later went solo, he never lost his roots and continued to play gospel music for venues across the country. Some of his greatest hits include 'Christ is Risen', 'Heart Wide Open', and 'Into Dust', which are all off of his Greater Things album.
May 30, 2020
Chris Tomlin: Chris Tomlin offers up a concert that you will definitely not want to miss out on. Some of his most notable songs include, 'Whom Shall I Fear (God of Angel Armies), 'Good Good Father', and 'How Great Is Our God'. He has sold more than 7 million records throughout his career and has won an impressive 23 GMA Dove Awards and a Grammy Award. Two of his albums were also certified platinum.
May 31, 2020

Vertical Worship: This band began its music career known as Vertical Worship from the Harvest Bible Chapel in Chicago. After signing to Provident Label Group, the band went on to release six albums. Their latest, Bright Faith Bold Future, was released a couple years ago. Their album, The Rock Won't Move earned a spot at No 58 on Billboard's 200 as well as No 2 on the Christian Albums Chart. Some of their most beloved songs include, 'Yes I Will', 'Spirit of the Living God', and 'Open Up the Heavens'.
June 5, 2020

Classical Mystery Tour: A Tribute to the Beatles' Abbey Road with the Springfield Symphony: Paying homage to the classic music of the Beatles, this musical group is bound to impress! With artists that look like and sound like the Beatles, you will be transported back to the times of the British Invasion to hear songs such as, 'Yesterday' and 'Penny Lane' - all backed by live music from the Springfield Symphony!
June 6, 2020

Abba Tribute: Dancing Dream Direct from New York: Bring your dancing shoes along to Silver Dollar City to experience the finest hits of Swedish pop band, ABBA! Dancing Dream has been entertaining audiences since 2009 with hits like, 'Dancing Queen' and 'Mama Mia', all performed in the style of ABBA! It is a wonderful way to experience nostalgia or discover the music of the past.
June 7, 2020

Members Only: Rounding out the weekend dedicated to tributes, Members Only will impress with the hairband flair of the 80s! The group prides itself on providing energetic full concerts with the greatest hits of the decade. Experience songs from the likes of Michael Jackson, Bon Jovi, Journey, and Guns & Roses all on one stage!
While these concerts are the star of the show, guests will also be able to enjoy a variety of other Silver Dollar City adventures. Ride some of the greatest rides including the new Time Traveler, grab a bite to eat at one of the classic restaurants, and enjoy perusing the craft booths for fun souvenirs.
Create Your Custom Package
This Event is held at: