Ozark Valley Inn
2693 Shepherd of the Hills Expressway Branson, MO 65616-8101
1-800-987-6298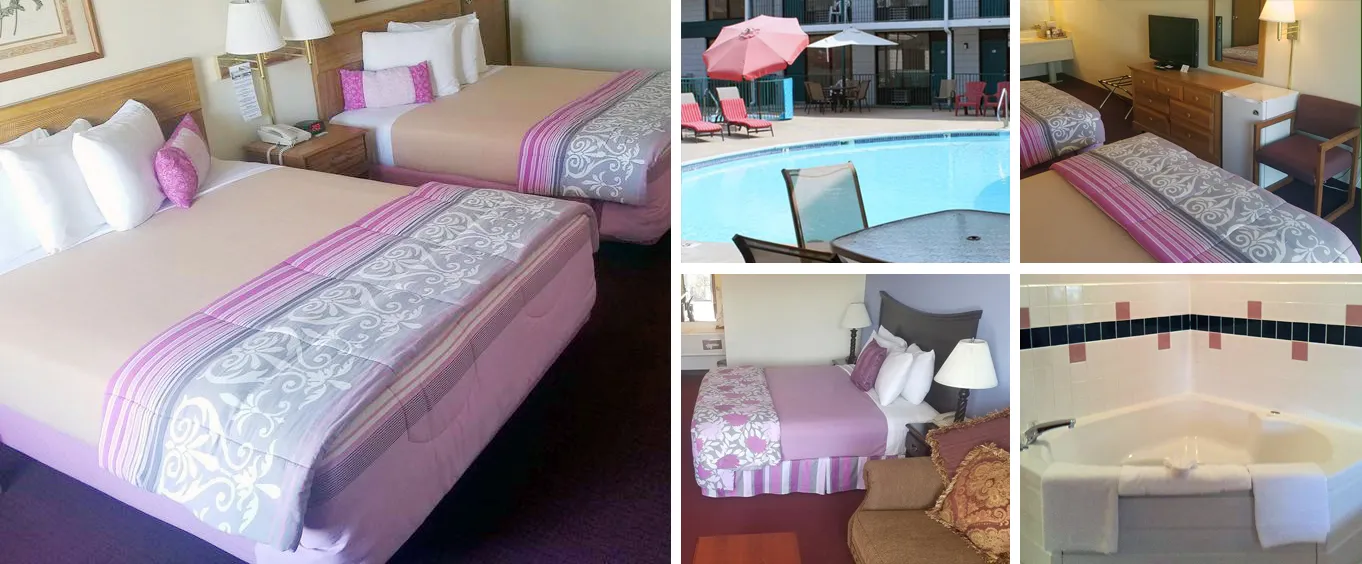 Related Lodging by Category:
The Ozark Valley Inn is located just two miles away from Branson's leading attractions such as the King's Castle Theater and the Amazing Acrobats of Shanghai. At this hotel, guests are also within a few miles of other leading events and attractions including the Reza Edge of Illusion Magic Show, the Christmas Wonderland and the Shepherd of the Hills Dinner shows. As well as being within close proximity to many of the area's leading attractions, the Ozark Valley Inn offers plenty of amenities to help guests feel at home. At this hotel, guests can take full advantage of a free continental breakfast, a swimming pool, a hot tub and a fitness center. With all of these amenities, the hotel provides visitors with an ideal place to stay during their trip to Branson, Missouri.
About the Ozark Valley Inn Hotel
When entering the hotel, guests can expect to walk into a large spacious lobby full of modernized furnishings and technology. The lobby also includes artwork of elegant paintings to create an appealing environment for visitors. While entering the hotel, guests can talk to staff members who are willing to help them get situated in the hotel. These staff members will check you in as well as answer any questions you have about the hotel and the available activities in the area.
About the Rooms
The rooms have even more amenities for guests to enjoy. Once you get into your room, you will have access to a clean and spacious area. Each room comes with one or two beds, a desk and a television. At the Ozark Valley Inn in Branson, guests can enjoy some other amenities. These include room service and high speed internet access. The hotel's amenities also include cable television with pay per view and free local calls. You will have everything you need to be comfortable during your Branson stay.
When going outside of the hotel, visitors can walk to some of the area's most popular restaurants, shops and entertainment venues. Explore activities like Branson dinner shows, the Dollys Stampede, Christmas Lights in Branson MO, explore the Titanic Branson, stay at great Great Cedar Branson MO, and more. After booking your hotels and itinerary, you can even learn about the Branson Landing Restaurants in Branson Missouri with helpful articles. Your vacation in the Branson area is sure to be a blast!
Reviews

Denisa Newton
Sand Springs , Oklahoma
✓
Verified Traveler
"We had a nice stay here."
We had a nice stay here. Room was clean and nice.

Carol Gardner
Topeka, KS
✓
Verified Traveler
Clean rooms. Staff was friendly and helpful.

Natasha Klue-Michael
Joplin, Missouri
✓
Verified Traveler
Everything was great except the comfort of the bed. The non smoking room was clean and no odors. Breakfast was good. The only eggs were boiled but i didn't mind. The pool was pretty nice and so was the hot tub although it's older and didn't seem as warm as some. The game room was fun for pool and air hockey. Don't bother with the video games. The flowers around the place were lovely.
Location Highlights
Located just a few blocks from Paradise Grill & Steakhouse where you can get excellent appetizers such as fried mushrooms, and wing dings, as well as enjoy sandwiches, steaks, seafood, and down-home country dinners. There is even a buffet if you can't decide on one thing. The Ozark Valley Inn is also a short drive from Made In The USA General Store, where it is easy to pick up something you left at home such as a swim suit, or shorts for the lake. Also grab your favorite American-made delicious jellies, jams, candies, and snacks. They even have a great selection of Amish foods, honey, and popcorn which are sure to please everyone's taste. If your looking to stay inside for a night on your vacay, then check out the selection of children's toys, family-fun games, or pick up a new book to read. While in Branson head to the family-owned and operated Amish Country Store where the Whalen family has built quite a collection of household favorites. They have gumbo, relishes, soups, butters, cake mix, pasta, jerky and mixes of all types. Enjoy some of the hotel's perks such as starting out the day right with a free hot deluxe breakfast that includes waffles, hard-boiled eggs, biscuits and gravy, cold fruit, yogurt, pastries, cereal, juice, fresh coffee and more. Some rooms offer a bathtub for 2, which would be a cozy addition to any honeymoon.
Book Now!