Branson, MO Christmas Lights Attractions
Branson Christmas Lights Attractions
Celebrate the Christmas season with your family exploring the 160-acre trail of light display. The lights range from traditional religious theme to showing patriotism. This Christmas lights attraction is a great addition to your holiday traditions, allowing visitors of all ages to enjoy festive fun. Meet Santa, enjoy sparkling Christmas lights, and make memories with your entire family. Branson, MO is such a popular place for the holidays, and you can enjoy an Ozark Mountain region Christmas with the Trail of Lights! Have a great time and happy holidays during this amazing season of fun and wonder in Branson, MO. Get your tickets today to enjoy some of the finest seasonal fun in the Ozark Mountain region. A glowing winter wonderland awaits!
Available 19 days between Now & Dec 30
The holidays wouldn't be the same without a visit to a Christmas lights attraction. At the Let There Be Lights at Promised Land Zoo, guests can explore a holiday-themed courtyard, visit Santa, see a nativity scene, and experience a fun drive-thru lights tour. The Let There Be Lights celebration allows guests to explore places such as Candy Land Court for tons of festive fun. Create new memories with you and your family during your winter adventure to Branson, MO. The Ozarks truly come alive during the holiday season, and this attraction is a must-have holiday experience for those who want to celebrate the Branson way! This themed celebration will help you and your loved ones celebrate the reason for the season and have a fun and memorable evening of age-appropriate fun.
Available 81 days between Now & Dec 31
See thousands of lights, visit a petting zoo, see Santa, and so much more at this attraction! This Christmas lights attraction is great for all ages so bring the whole family. From pictures with Santa to hot cocoa and tons of views of dazzling Christmas lights, the North Pole Adventure offers up festive fun at the Shepherd of the Hills Historic Homestead. Look out at the Ozark Mountain region below and you will feel as if you are in a magical snow globe scene. This awesome adventure will help you and your family create memories that will last a lifetime! Get your tickets today.
Available 73 days between Now & Dec 31
Dec 16
N/A
Sold Out
Dec 17
N/A
Sold Out
Dec 18
N/A
Sold Out
Dec 23
N/A
Sold Out
Dec 24
N/A
Sold Out
Dec 25
N/A
Sold Out
Dec 30
N/A
Sold Out
Dec 31
N/A
Sold Out
>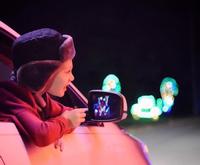 Your whole family can experience the magic of Christmas from the comfort of your own vehicle on the drive through the Branson Lights of Joy Christmas Drive-Thru tour.
Available 21 days between Now & Jan 1