Now Accepting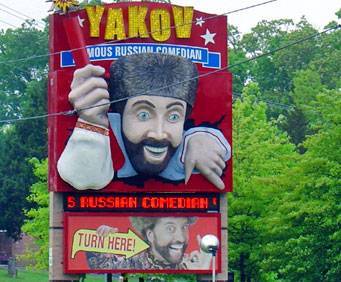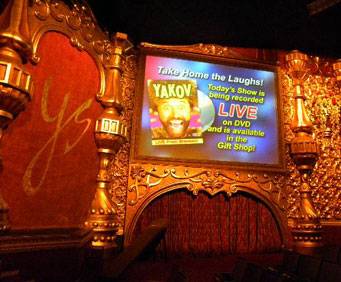 Yakov Smirnoff Theater in Branson, MO
470 State Highway 248 Branson, MO 65616
Yakov Smirnoff retired in 2016 and no longer performs at his namesake theater.
The Yakov Smirnoff Theatre remains one of the top theaters in Branson, Missouri for travelers wanting to catch an entertaining show at a reasonable price.
Smirnoff began his entertainment career in the 70s, and had a recurring character on the popular sitcom Night Court. He has also appeared alongside popular celebrities like Meryl Streep, Tom Hanks, Jack Nicholson, Robin Williams, and Richard Pryor in movies like 'Moscow on the Hudson,' 'The Money Pit,' 'Heartburn,' and 'Brewster's Millions.'
The theater itself is a fantastic 2,000 capacity venue with an on-site gift shop. It is located right off of highway 65 and the Branson Hills Parkway exit, and can be seen from the highway.
Theater Details
Seating Capacity: 2,000
Gift Shop: On-site Gift Shop
Parking: Free, ample parking
Handicap Accessibility: Yakov Smirnoff Theater is handicap accessible.
Photography: Cameras are allowed inside the theater.
The following shows play at Yakov Smirnoff Theater:

7/4/2019 - 12/7/2019
The Yakov 'Make America Laugh Again' Show should require a caution sign as you enter the Yakov Smirnoff Theatre in Branson reading: Warning-Hold on to your seat 'cause this guy is about to blow you away with dynamite comedy!