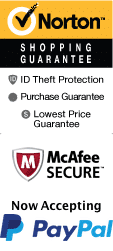 The Best Things to Do in Branson
In no particular order, these are a few of our customers' most popular and best-loved attractions in the Ozarks. Make sure you book in advance, because these amazing shows sell out early! Check out all of the awesome activities here!

Haygoods
This popular Ozarks group create a must-see performance. Comprised of five brothers and a sister, this troupe of talented singers have been entertaining audiences for over two decades! Each of them is multi-talented with various instruments and shows truly come alive with state-of-the-art special effects, music, pyrotechnics, and choreography. Experience their on-point harmonies, charisma, and an undeniable energy during your next getaway.

Branson's Murder Mystery Dinner
Spend the evening participating in a classic tale of mystery and murder at this mystery endeavor. This experience is a unique experience that allows you to immerse yourself in the story as characters try to figure out who committed the dastardly deed. It features fantastic acting, interesting story lines, and a delicious baked chicken and barbeque beef feast.

Legends in Concert
Prepare to be entertained by superstars Elvis Presley, Marilyn Monroe, Old Blue Eyes and the Blues Brothers, just to name a few! You'll truly believe these first-class impersonators are the real thing...aren't they? The lineup changes throughout the year with this classic show, so there is always something new and fresh going on!
Snowflex Tubing Hill
Take a break from awesome shows and head out to get in some outdoor thrills at Snowflex Tubing Hill! This attraction is awesome for the whole family and allows guests to zoom down the slope at fun and exciting speeds. Make it an afternoon adventure you won't soon forget!

Dolly Parton's Stampede
Thirty-two horses, southern belles, gallant heroes, racing pigs. The Stampede is an exciting exercise in extravagance. From comedy to trick riding, and finally the patriotic finale, the entire performance offers entertainment for all. Be sure to go to the show, but don't miss the dinner.

Amazing Acrobats Of Shanghai
Experience high-quality entertainment like never before with the Amazing Acrobats of Shanghai. This production features tons of stunts that will keep all ages captivated. Just a few of these acts include chair juggling, flips, aerial acrobatics, mask changing, foot juggling, and so much more. As well as these high-flying feats, guests will be treated to stunning, state-of-the-art special effects, sounds and lighting and beautiful costumes. Don't forget to give the gift shop a visit too!

Broadway's Greatest Hits
Head to the King's Castle Theatre for an unforgettable evening! The Broadway's Greatest Hits is home to a talented cast and stunning vocals that will leave audiences awestruck. Whether you are a longtime Broadway fan or are simply looking for a fun night out on the town, this is the place to be. Song selections are taken from popular Broadway musicals such as Phantom of the Opera, Les Miserables, Cats, Wicked, and more.

Grand Jubilee
Don't miss Grand Jubilee, Grand Country Theater's signature display that features a high-energy cast of outstanding entertainers. You'll love the performances of New South, one off the most coveted quartets.
Silver Dollar City
Fashioned after an 1800s Ozark town, Silver Dollar City is the best of both worlds: a thrilling theme park and an excellent educational opportunity. With 30 roller coasters and water rides, children's play areas, culinary and craft classes and over 40 shows, Silver Dollar City is the best theme park in town!

Hamners' Unbelievable Family Variety Show
For an unbelievable family-friendly variety production that you won't soon forget, make sure to check out Hamners' the next time you are visiting! This popular display captivates audiences with awestriking illusions, tricks, acrobatics, and more. The show has also been awarded the prestigious Merlin Award by the International Magicians' Society, so if you love mindbending trickery and good wholesome fun, this is the one for you.