Now Accepting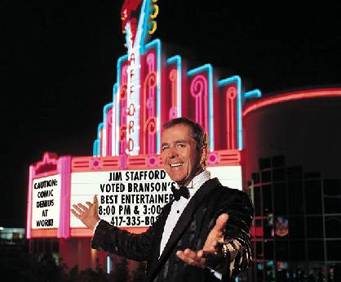 Jim Stafford Theatre in Branson, MO
3440 West 76 Country Boulevard Branson, MO 65616
The Jim Stafford Theatre features the amazing works of Jim Stafford.
This theatre is most famous for comedian and musician Jim Stafford's vaudeville-like show.
The Jim Stafford Theatre is proud to present Rock and Roll Revival, The Magic & Comedy of Taylor Reed, Buck Trent Country Music Show, and the Jim Stafford Show.
Guests at this theater are just steps away from Branson attractions and dining like the Branson Titanic, the Hollywood Wax Museum and Acrobats of China. Less than half a mile away, you'll find great lodging like the Carriage House Inn, Clarion Hotel at the Palace, and Radisson Hotel Branson.
Theater Details
Seating Capacity: 913
Gift Shop: The theater's gift shop sells videos, CDs, tapes, and other Jim Stafford merchandise.
Parking: Free parking is available at the Jim Stafford Theater.
Handicap Accessibility: The theater has ramps for easy wheelchair access.
Photography: Still photography is allowed, but video cameras are not.
Concessions & Dining: The theater has a concession stand, and concessions may be brought into the show.
Child Care: The theater has an un-staffed nursery room with a picture window, giving parents a full view of the show.
The following shows play at Jim Stafford Theatre:

4/25/2019 - 12/14/2019
Jim Stafford will present you with an endearing combination of music and comedy that will have you laughing in your seat and swinging to the beat.
4/22/2019 - 12/21/2019
Head to the Jim Stafford Theater in Branson, MO to catch the amazing Parrotville Show.
Events at Jim Stafford Theatre