Branson, MO Comedy Shows
The comedy shows featured in Branson are sure to make your family roll from their seats with laughter and Branson comedy shows are some of the greatest things to do. Home of a number of different performances that promote fun for all ages, Branson is a great place for adults and kids alike to have a good time full of laughs. Check out some of the different comedy show Branson Mo options and Read More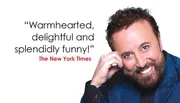 Born in Odessa, Ukraine, Yakov Smirnoff became a stand-up comedian in the United States in the late 1970s. Since that time, he has appeared in multiple movies as well as having a role in the sitcom Night Court and a starring role in the sitcom What A Country! In 1992, Yakov Smirnoff opened his own theater in Branson, Missouri, and he has entertained over 4 million people who have attended the sold out comedy show performances at his theater. Now, visitors to the Yakov Smirnoff Theater in Branson can enjoy Yakov's Make America Laugh Again show which features the comedian's side-splitting commentary on American culture, the differences between men and women, and life in general.
Jun 07
N/A
Jun 09
N/A
Jun 11
N/A
Jun 12
N/A
Jun 13
N/A
Jun 14
N/A
Jun 15
N/A
Jun 16
N/A
Jun 17
N/A
Jun 18
N/A
Jun 19
N/A
Jun 21
N/A
Jun 23
N/A
Jun 25
N/A
>
Comedy shows vary and the Comedy Jamboree is pleased to bring you hilarious slapstick comedy and great country music to delight the whole family. Visit the Grand Country Music Hall's Comedy Jamboree for a nonstop dynamic performance of Country, Rock, and Gospel music, as well as hilarious sketches performed by a cast of seasoned pros. The event is likely to be a blast for the entire family, with entirely G-rated comedy that will certainly impress, as well as wonderful country melodies, audience participation, and plenty of fun. The show has comedians, dancers, singers, and more. Relax and unwind in your armchair, or tap your toes! Whether you're 9 or 90, the Comedy Jamboree is a sure-fire way to add some laughter and fun to your Branson vacation.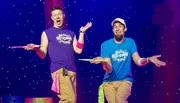 This great Comedy Show features humorist musicians Gareth Server and Matt Levingston as they drum and tap their way into the audiences' funny bone; the show offers a great way to spend a captivating evening laughing at their amusing antics! This show weaves together elements of comedic hilarity and percussion tunes to create an unforgettable and completely mesmerizing experience for all who attend. Witness the talents and "wizardry" of Matt Levingston and Gareth Sever as they bring to the stage comedic flair and music that will have you tapping along in your comfortable theatre seats. The show takes place at Dick Clark's American Bandstand Theater and remains one of the most explosive experiences in the gorgeous Ozarks mountain region.
Jun 22
N/A
Jun 23
N/A
Jun 25
N/A
Jun 26
N/A
Jun 27
N/A
Jun 29
N/A
Jun 30
N/A
Jul 02
N/A
Jul 03
N/A
Jul 04
N/A
Jul 06
N/A
Jul 07
N/A
Jul 09
N/A
Jul 10
N/A
>