Branson, MO Gospel Shows
Singing gospel hits such as 'I'll Fly Away' and 'Turn Your Radio On,' the performers of these Branson Gospel Shows will have audiences clapping, stomping, and singing along with the music. Four-part harmonies take old church favorites to a new level ensuring the enjoyment of all gospel fans. Check out the different options below!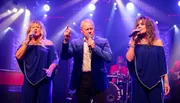 Gospel fans will love this gospel show that's offered to all age groups in Branson, Missouri for certain shows dates and times to all who want to book their seat, and the fact remains, that will have a joyous time and be able to take pictures of their activity. See a truly uplifting experience at the Ozarks Gospel Music Show in Branson, where the Bilyeu sisters will dazzle you with their country gospel performance that features gospel favorites that are sure to have you dancing along! This show will be a blast combining Branson show quality with gospel music and tons of fun. Do not miss out! Get your tickets today to feed your soul in the Ozark Mountain Region of Branson, MO!
Jun 05
N/A
Jun 06
N/A
Jun 07
N/A
Jun 08
N/A
Jun 09
N/A
Jun 10
N/A
Jun 12
N/A
Jun 13
N/A
Jun 14
N/A
Jun 15
N/A
Jun 16
N/A
Jun 17
N/A
Jun 19
N/A
Jun 20
N/A
Jun 21
N/A
Jun 22
N/A
Jun 23
N/A
>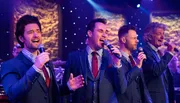 Get ready for some toe-tapping music as the New South Gospel group performs amazing, beautiful harmonies and show their awesome personalities at this high-powered gospel show featuring country, modern and oldies hits. The New South Gospel performance in Branson will entertain and amaze visitors of all ages with a spectacular variety of new and old Gospel and rock music and the rich and vibrant tones of their harmonies. This performance group has long been one of Branson's most beloved groups. Do not miss out on their amazing energy and music with this Branson, Missori production. Get your tickets today and make some new musical memories with your loved ones in the Ozarks.
Jun 02
N/A
Jun 03
N/A
Jun 04
N/A
Jun 05
N/A
Jun 06
N/A
Jun 07
N/A
Jun 09
N/A
Jun 10
N/A
Jun 11
N/A
Jun 12
N/A
Jun 13
N/A
Jun 14
N/A
Jun 16
N/A
Jun 17
N/A
Jun 18
N/A
Jun 19
N/A
Jun 20
N/A
>